LuLu International Shopping Mall is a shopping mall located in Kochi, Kerala. It is the largest shopping mall in India in terms of total area. With an average daily footfall of more than 80,000, it is one of the most visited places in Kerala.
It was built at an approximate cost of INR 1600 crores and is one of the largest of its kind in India. It possesses the look & feel of an international mega mall.
The name Kochi has always been synonymous with trade and shopping. As a region that embraced the idea of globalization some thousands of years ago, this port city welcomed travellers around the globe to have trade with her.
Lulu Mall Kochi; The Largest Shopping Mall in India
As the world stepped into the 21st century, Kochi also redefined its notion of shopping. Adding to this is an imposing structure at the Edapally neighborhood called Lulu International Shopping Mall, one of the biggest malls in the Indian sub-continent.
Spread over 2.5 million sq ft, this giant crystal palace with ceilings and sides made of spider fitting glass, can occupy 100,000 people at a time. The mall, which was opened to the public on 10 March 2013, houses more than 300 outlets pertaining to jewellery, food courts, fashion accessories, electronic home appliances, footwear, sportswear, travel accessories and many more. More than 320 international brands are brought under this colossal shopping space. A huge hypermarket arranged in two floors caters to all kind of customers. And Lulu Celebrate is the complete solution for all your wedding purchases.
More than a shopping space Lulu opens before you a wonder world with countless entertainment options. The third floor houses an amusement area of 81,000 sq ft with facilities for indoor climbing wall, 5000 sq ft ice skating rink, 5D Cinema, arcade gaming zone, rides, party hall and a 12 lane bowling alley.
The nine-screen multiplex in the second floor can accommodate more than 2000 audience at a time. If exhausted, one can go for a delicious break at the food court of Lulu that has nine restaurants and 27 multi-cuisine counters. From the traditional ethnic cuisine of Kerala to original Arabian delicacies the food counters offer many culinary delights to the customers. McDonald's, the world's largest chain of hamburger, has opened their first outlet in Kerala here.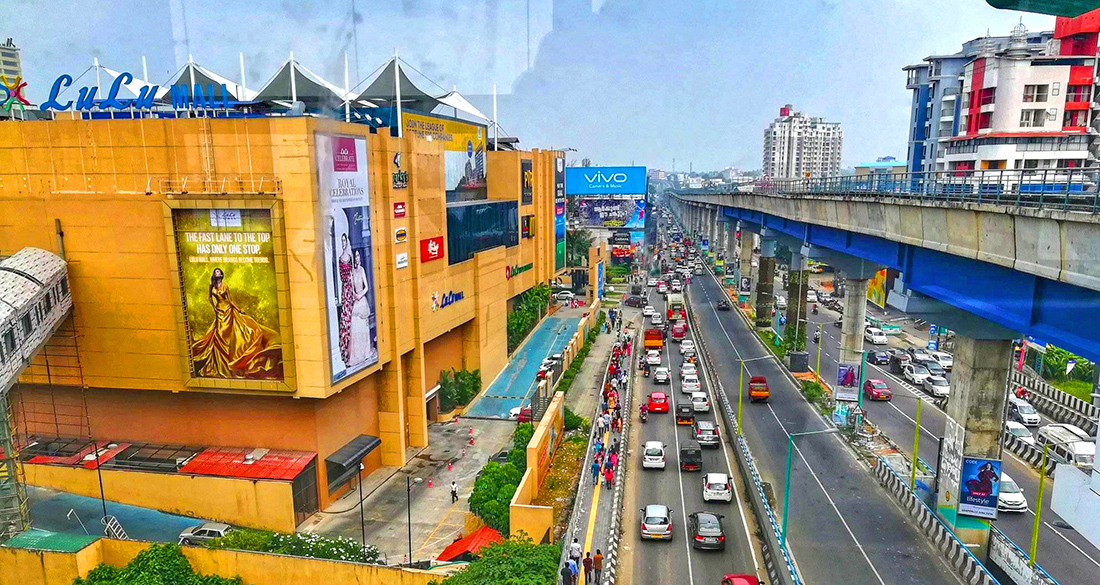 A parking space for 3000 cars, 16 pairs of escalators, moving walkways, ATM counters, money exchange centres, baby rooms, ambulance, cab services, and Wi-Fi are some of the other facilities provided in the mall. A 20 storey 5-star hotel, with royal suites and helipad facilities, located next to the mall is another highlight of Lulu. Undoubtedly, Lulu has become the last word for shopping in the God's Own Country.
The Lulu International Mall is Kerala's most preferred shopping destination. The mall has an amazing look and matches international standards for a shopping mall. Almost all shopping brands are available at the mall along with superb food courts.
Contact Info : LuLu International Shopping Mall Pvt. Ltd. 34/1000, N.H 47, Edapally, Kochi, Kerala 682024. Phone: +91 484 2727776. Website : www.lulumall.in.
Source : keralatourism, experiencekerala, Wikipedia.