Kochi is a major port city in the Indian state of Kerala. The city is widely known as the commercial or economic capital of the state of Kerala and thus good transport infrastructure is critical for the city's economy.
The road infrastructure in Kochi has not been able to meet the growing traffic demand and hence traffic congestion is a major problem in the city.
Most roads in Kochi are under the control of the city corporation, State PWD and National Highway Authority. Many roads in the city follow a North-South direction with two East-West corridors.
For transport within the city, buses and taxis are available throughout the day. The city has a very fast and efficient bus transport system, mainly dominated by private operators, known as Red-Buses.
The red buses (Now Green buses) offer no-frills travel within the city, forming a major backbone of public transport. However the reckless driving and competitive tendency among City-buses has been heavily criticized by the public.
Green Colored Private Buses in Ernakulam City : VIDEO
Despite its mounting public criticism on reckless driving, the punctuality and reliability of services often silence the critics to a great extent.
In 2010, the state public transport company, KSRTC started city services due to frequent complaints against red-buses, which has been praised for its efficient and controlled services.
Most of the buses run primarily on four major routes, known as the Big 4 routes, though there are 160 official authorised routes to operate connecting 60 destinations in the city and nearby suburbs. The most popular route is the Aluva – Fort Kochi Route, which covers almost all the city areas. There is no routing numbering system, rather all buses carry destination boards with important bus stops marked below.
The city has primarily four major bus stations:
Kaloor Bus station which is a major terminus used by privately operated long-distance buses and local red-buses. It is also a major stop for private mofussil services.
KSRTC Central Bus Station in the south, which is exclusively operated by KSRTC inter-state/inter-city buses. Buses of neighbouring state transport corporations also operates their services from this bus station.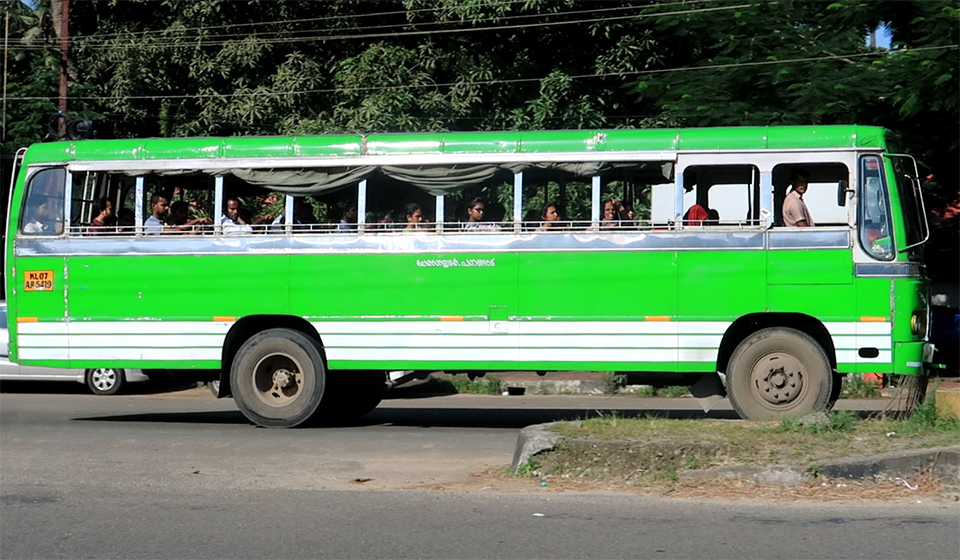 KSRTC Jetty Station, located near Central Boat Jetty in Park Avenue, is used by KSRTC city and short distance services.
Fort Kochi Bus Terminus, located near Fort Kochi beach, is a major bus station for both private and KSRTC City services.
To ease congestion within the city limits, a large integrated public transport terminus is planned at Vytilla known as Integrated Mobility Hub, which will act as a converging point for various modes of public transportation like intra-city and long distance buses, metro rail and boat services.
The Mobility Hub plans to provide space for 170 buses, 2000 car bays, 50 inter-state buses parking bays, 5,000 two- and three-wheeler parking bays and a boat jetty with 3 piers for providing water ferry transport.
On-street Taxi cabs are rare but can be easily hired from taxi stands located all over the city. Popular online taxi aggregation apps like Uber , Ola Cabs and others operate ride hailing services for taxi's and auto rickshaws. Auto rickshaws can also be hailed on the street.
Like many other cities, two-wheeler vehicles like motor bikes, scooters, cycles contribute 35% of the vehicle population in the city, which is extremely popularly among the locals. Kochi being a major financial and commercial center, there is a sharp rise in private vehicles plying on the city roads thereby contributing to road congestion.