Detailed information about HRTC's DELHI to LEH bus service
HRTC's bus service on 1072 kms-long highway- starting from the warm plains of Delhi & passing through freezing cold of 17,000 ft high mountain passes before reaching its destination at Leh after a daunting 35 hour road trip, resumed.
BUS DETAILS:
Route: Delhi-Chandigarh-Bilaspur-Mandi-Kullu-Manali-Keylong-Sarchu-Pang-Upshi-Leh.
Distance: 1072 kms.
Fare: ~₹1500/-.
Bus type: TATA Ordinary 2X3 (47 seater).
Halts: The bus takes overnight halts at Keylong both sides, which is not covered in the fare. However cheap accommodation is available near the bus stand itself.
Mountain passes covered: Rohtang La, Baralacha La, Naki La, Lachung la, Tanglang la.
WATCH VIDEO IN MALAYALAM
Rohtang Pass is known for its winding roads and the accidents that happen on the route. It literally translates to 'pile of corpses'.
Tanglangla Pass is one of the trickiest because the asphalted road gives way to a muddy track after a while and oxygen levels go down, although it is totally worth the risk because it feels like one is driving through the clouds.
HOW TO BOOK?
Online booking will be available at www.hrtchp.com in coming days. The bus is available for booking till Manali for now.
SCHEDULE:
From Delhi- 2:30 pm | From Chandigarh sec.43- 8:30 pm
From Kullu- 5:15 am | From Manali- 7:00 am approx.
At Keylong- 1:00 pm.
—Overnight Halt—
From Keylong- 5:00 am | At Leh- 7:00 pm.
REVERSE SCHEDULE:
From Leh- 5:00 am | At Keylong- 7:00 pm.
—Overnight Halt—
From Keylong- 6:30 am | From Manali- 1:25 pm.
At Delhi- 3:30 am approx.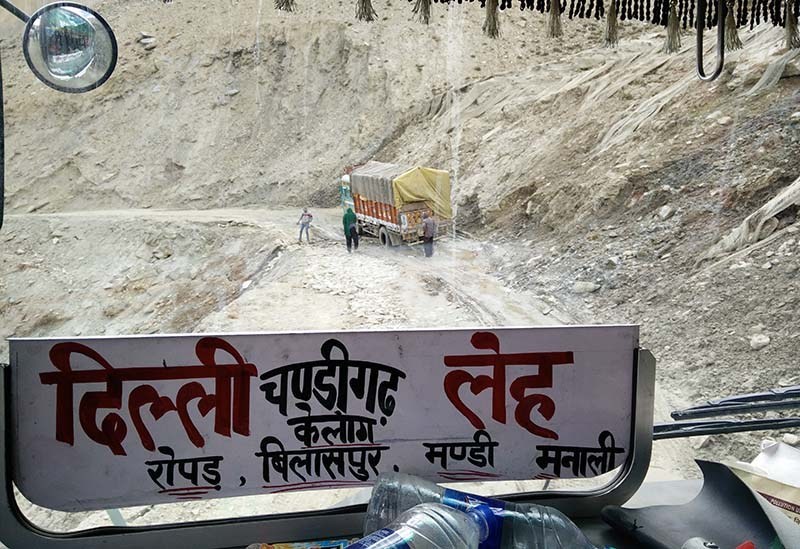 FOOD HALTS:
• Evening snacks: Karnal
• Dinner: Ropar
• Early morning break: Pandoh
• Breakfast: Gulaba
• Lunch: Koksar
• Breakfast: Bharatpur near Baralacha La
• Lunch: Pang
• Evening snacks: Upshi.
Additionally, the bus usually stops at major mountain passes for 5-10 minutes.
The bus crosses four mountain passes in Himachal and Jammu and Kashmir – Rohtang Pass (13,050 ft), Baralacha Pass (16,020 ft), Lachungla Pass (16,620 ft) and Tanglangla Pass (17,480 ft). Lachungla Pass might cause some altitude sickness but the view makes everything bearable.
Thanks to HRTC, this route has become affordable and more enjoyable. Even if you are on a solo trip, this is one of the more comfortable ways to get there, and enjoy your own company.