CMBT _ Chennai Mofussil Bus Terminus : the largest bus station in Asia
At 37 acres (150,000 sq m), the Chennai Mofussil Bus Terminus in Chennai, India, is the largest bus station in Asia.
The Chennai Mofussil Bus Terminus or CMBT is a modern bus terminus located in Chennai, India, providing outstation transport services. Spread over an area of 37 acres (150,000 m2) in Koyambedu. It is accredited with the ISO 9001:2000 quality certification for its quality management and excellence. It is located on the 100 feet (30 m) inner-ring road (Jawaharlal Nehru Road) in Koyambedu between SAF Games Village and the Koyambedu Vegetable Market. It is the largest bus Terminus in Asia. And second biggest bus depot in India after Delhi Millennium Depot. Chennai Metro Rail operates a coach depot behind CMBT since 2015.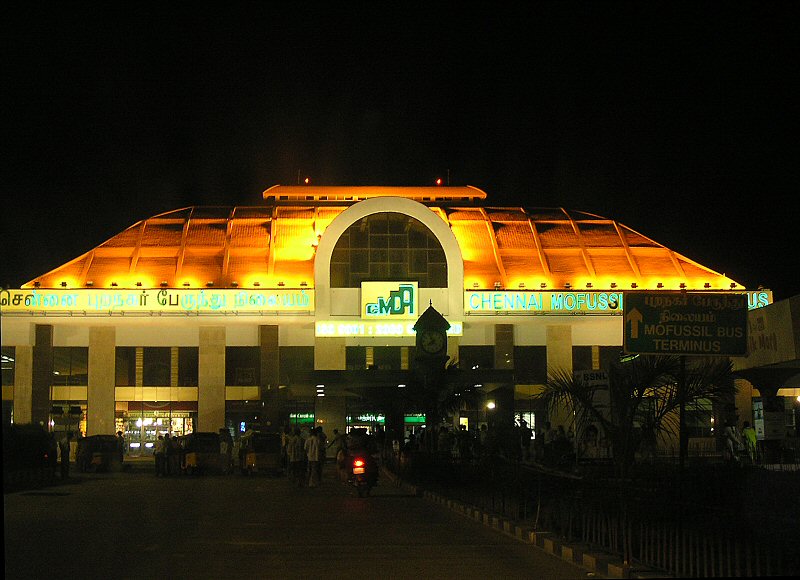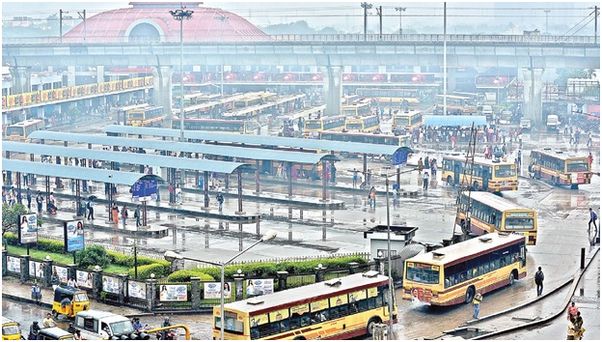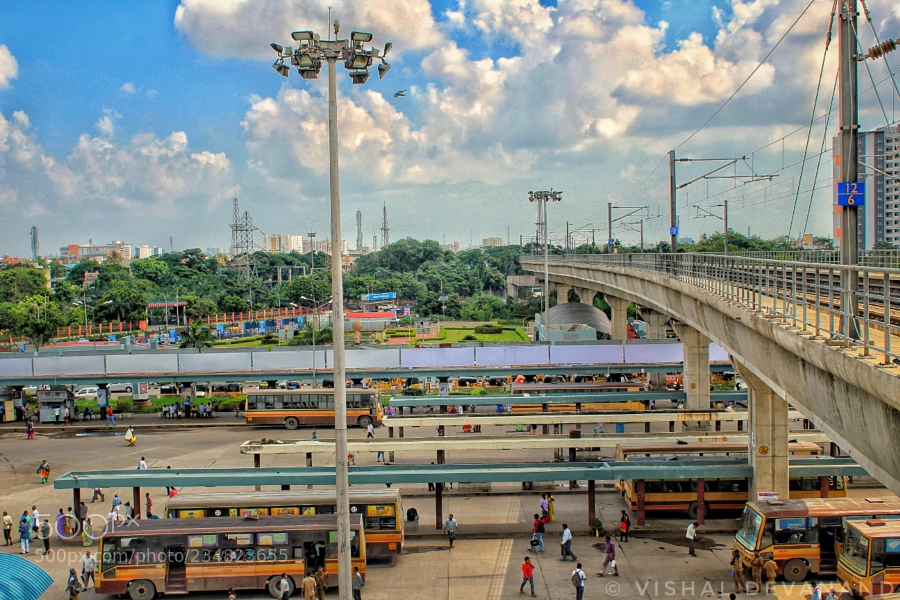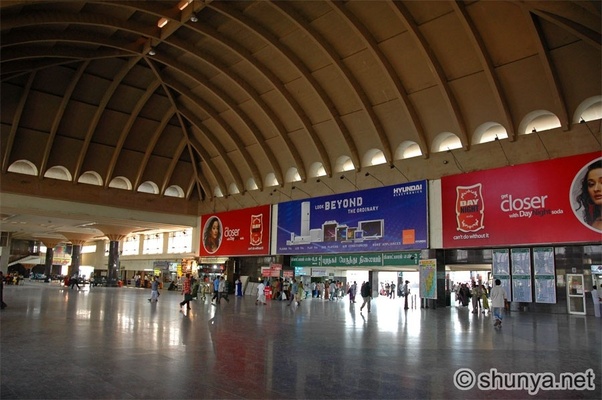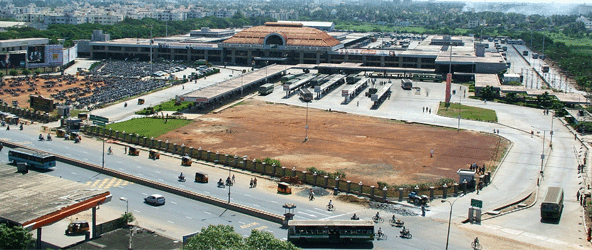 The bus terminus originally functioned at the Broadway terminus near Madras High Court in George Town, in an area covering about 1.5 acres. With the growing population and transportation demand, a new terminus was planned at Koyambedu.
The terminus has 6 platforms in 3 bus fingers with 180 bus bays. It also has an idle parking area for 60 buses and can station 270 buses at any given time. Being the most important entry-exit point of the city, the terminus has a capacity to handle over 2,000 buses and 200,000 passengers a day. The terminus currently handles more than 500 buses at a time, and 3,000 buses and 250,000 passengers a day. The 36.5-acre (148,000 m2) bus terminus has an 17,840 sq ft (1,657 m2) waiting facility for passengers, a 25,000 sq ft (2,300 m2) parking space for auto rickshaws, cabs and private cars, and 16,000 sq ft (1,500 m2) parking space for two-wheelers.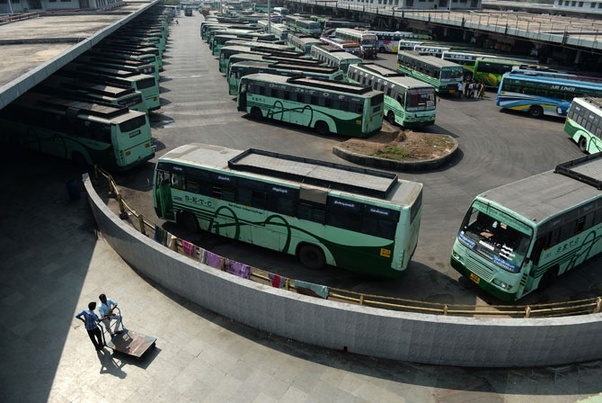 The amenities provided in the terminus include 3 hotels and 3 smaller eateries inside the terminus, 3 locker rooms, 10 travel agency offices, shops, supermarkets, ATMs, dorm rooms (A/C and non-A/C) for rent, toilets, round-the-clock security, pure drinking water free of cost facilitated by a reverse-osmosis treatment plant, a 24-hour Emergency Medical Care Centre, a 24- hour Pharmacy and Free Wi-Fi internet. Wheel chairs are provided for the physically disabled. In 2012, the number of reservation counters was increased from 6 to 16.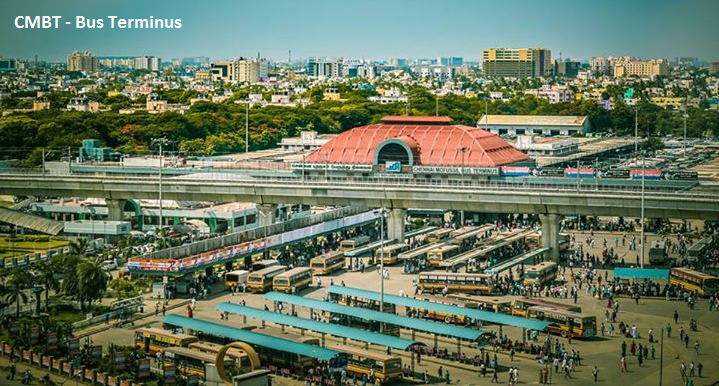 It has been estimated that over 500,000 footfalls per day is being recorded at CMBT and over 4,800 buses, including intra-city and mofussil buses, ply in and out of CMBT.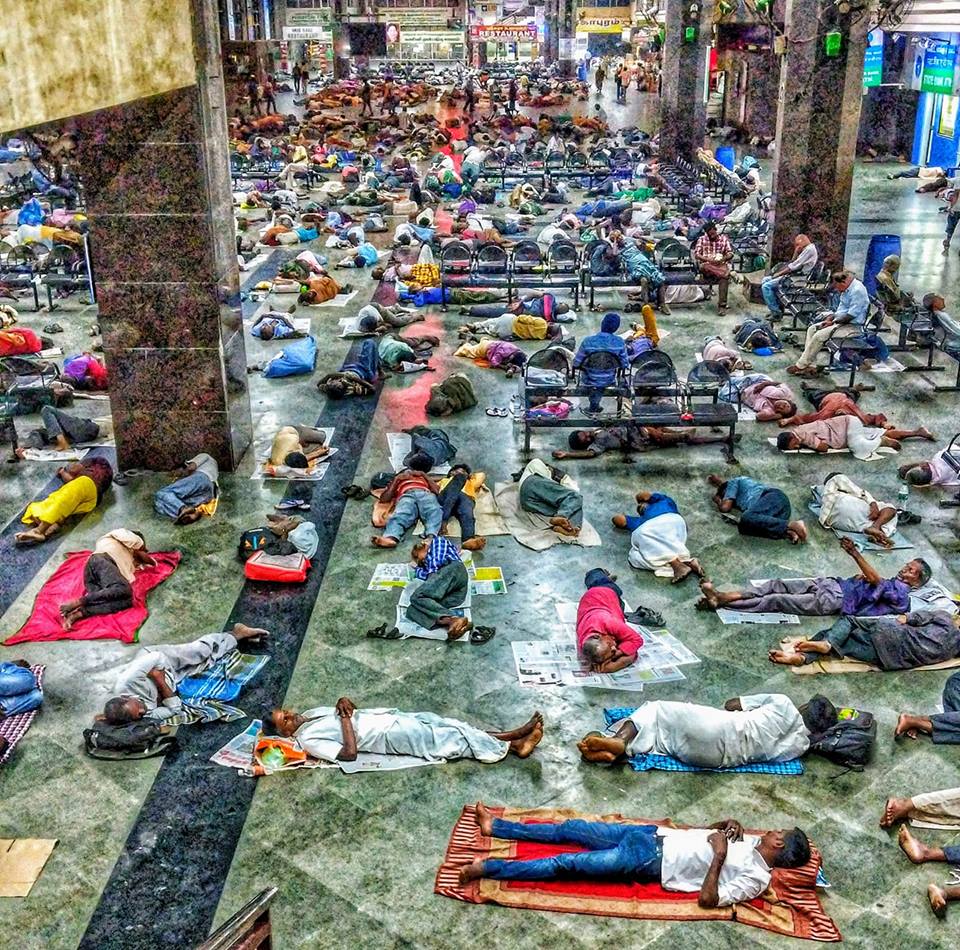 There are provisions for parking 1,500 to 2,000 two-wheelers and 60 cars on the premises of the bus terminus. A two-level underground two-wheeler parking lot was mooted in 2008 to decongest the entrance for the buses, which jostle for space with two-wheelers and cars. Initially, the project cost was estimated at ₹ 90 million. The underground parking project was taken up based on a study that estimated that the number of motorcycles parked there would be increased to 3,000 a day in the future. Work on the 6,000-sq.m project began in January 2009 and was completed in August 2010 at a cost of ₹ 170 million.