Wedding photography is the photography of activities relating to weddings. It encompasses photographs of the couple before marriage (for announcements, portrait displays, or thank you cards) as well as coverage of the wedding and reception (sometimes referred to as the wedding breakfast in non-US countries). It is a major branch of commercial photography, supporting many specialists.
During the film era, photographers favored color negative film and medium-format cameras, especially by Hasselblad. Today, many more weddings are photographed with digital SLR cameras as the digital convenience provides quick detection of lighting mistakes and allows creative approaches to be reviewed immediately.
Bride with Auto rickshaw; Amazing Wedding Photography by DM Creation
Here is a Amazing Wedding Photography of Haritha Zanush (Bride) and Zanush Kapali (Groom) which created by DM Creation (Wedding Photography). Here the photographer decided to click the bride's photos with an auto rickshaw which is known as poor men's vehicle. The photos are now getting viral in social media.
Scroll down and enjoy those clicks…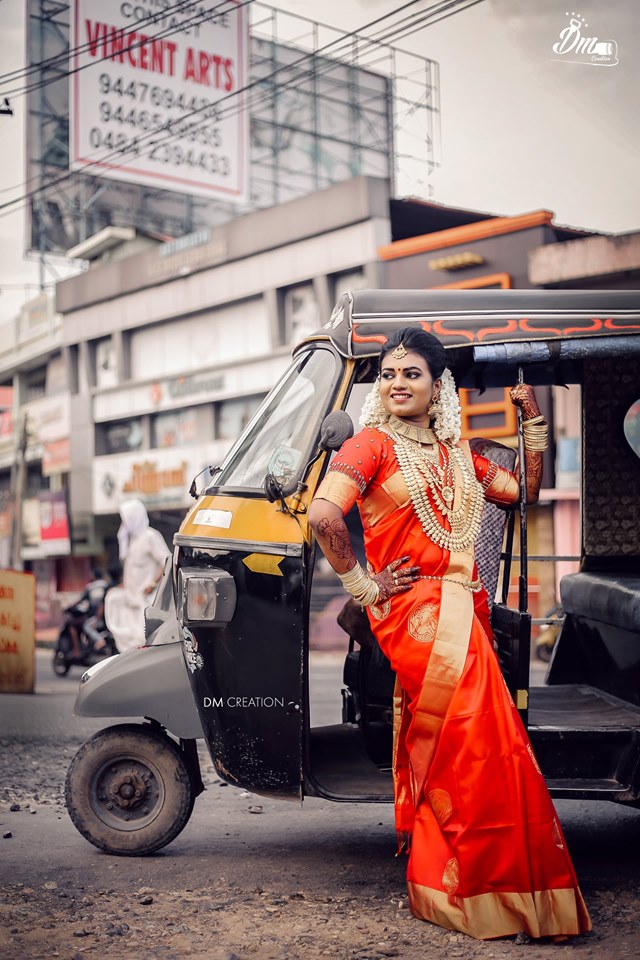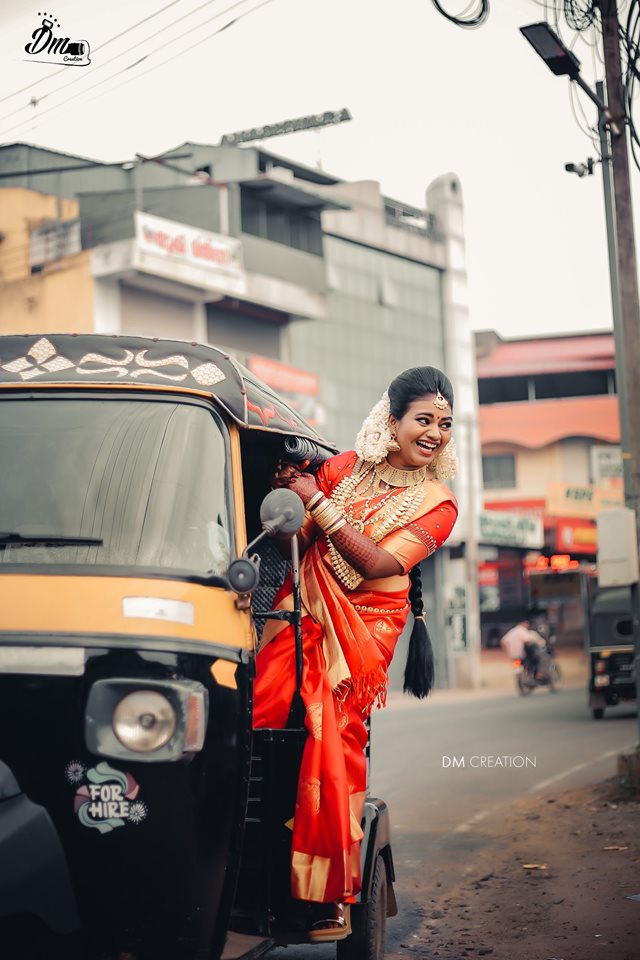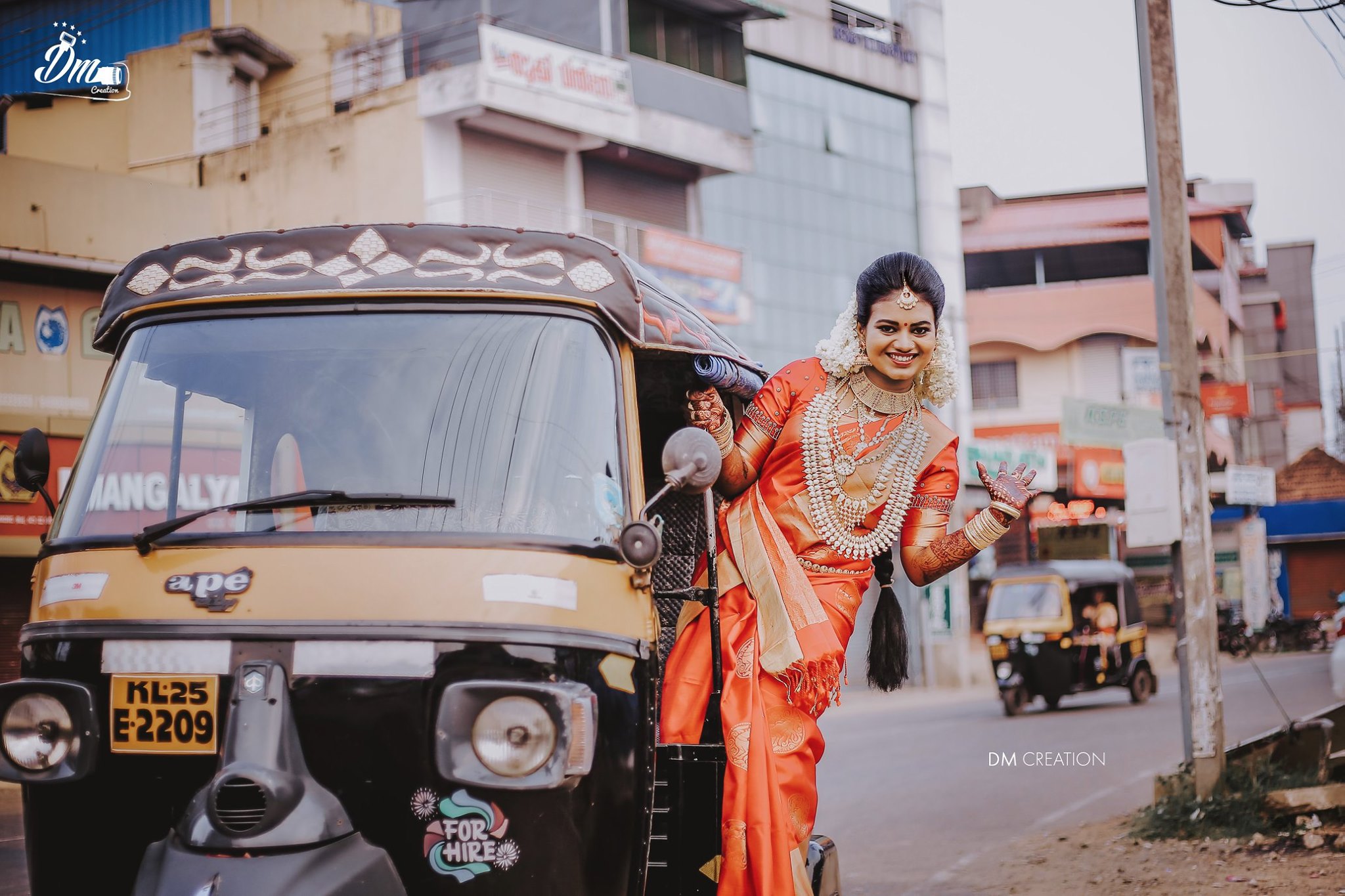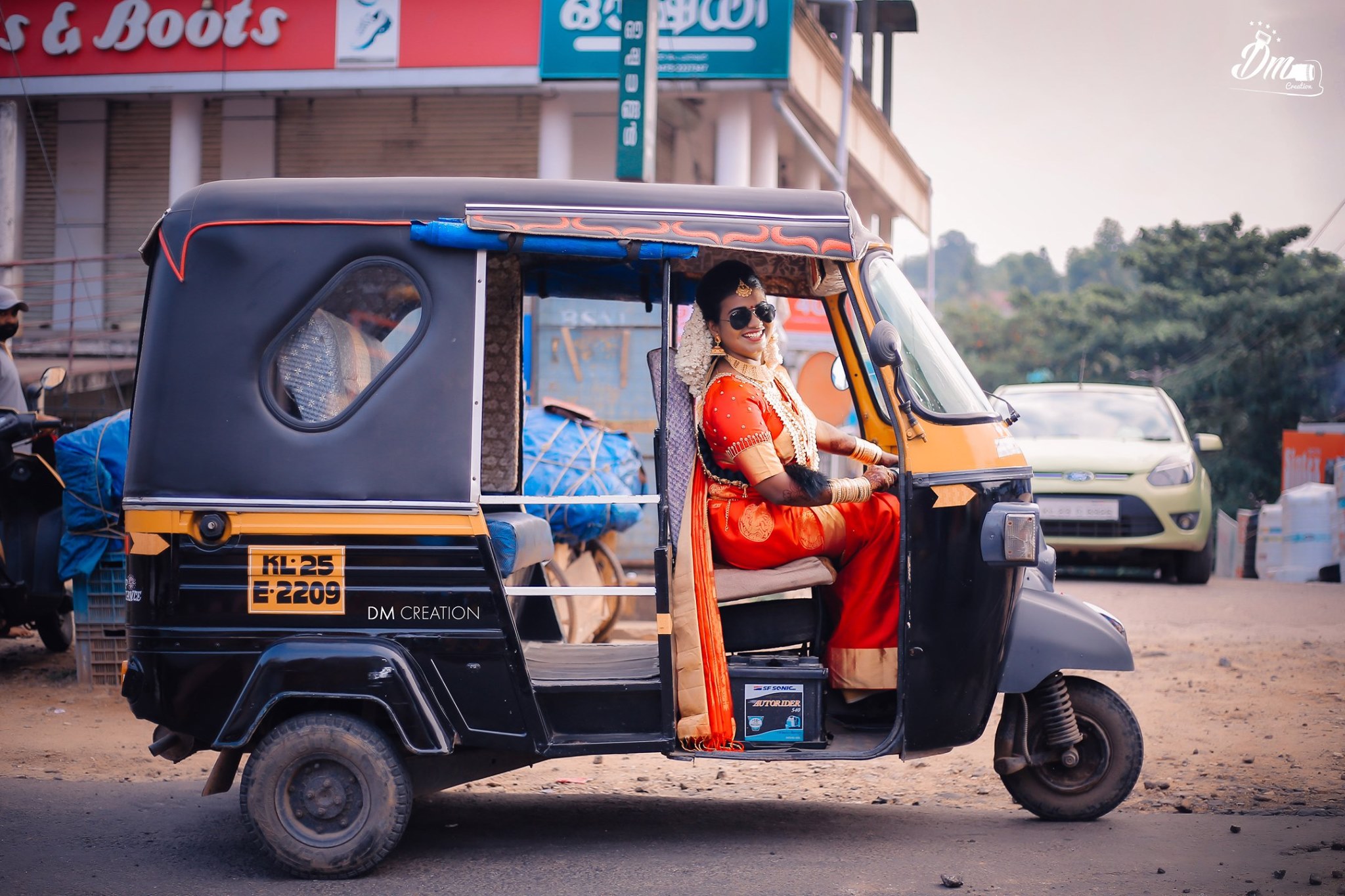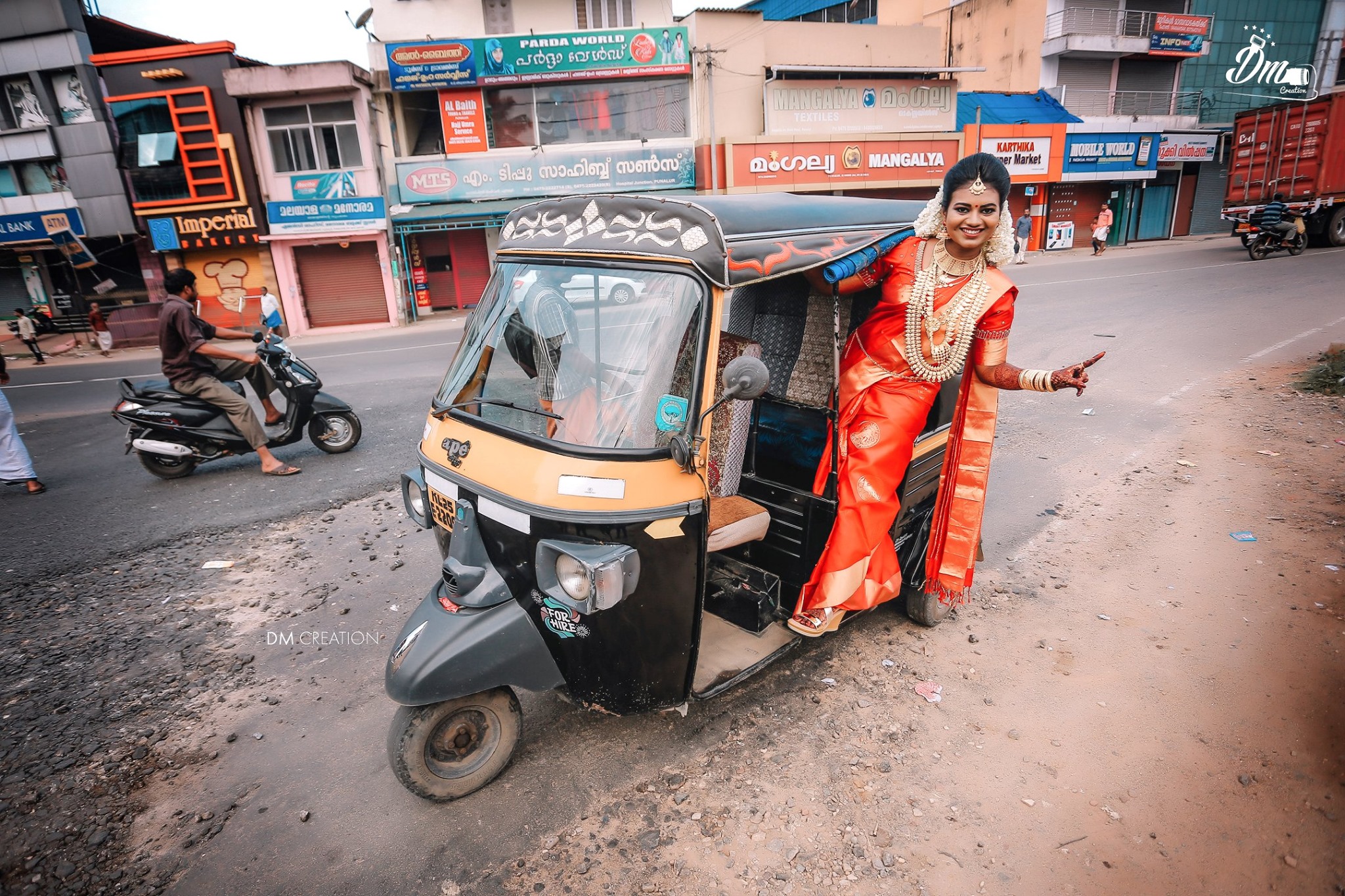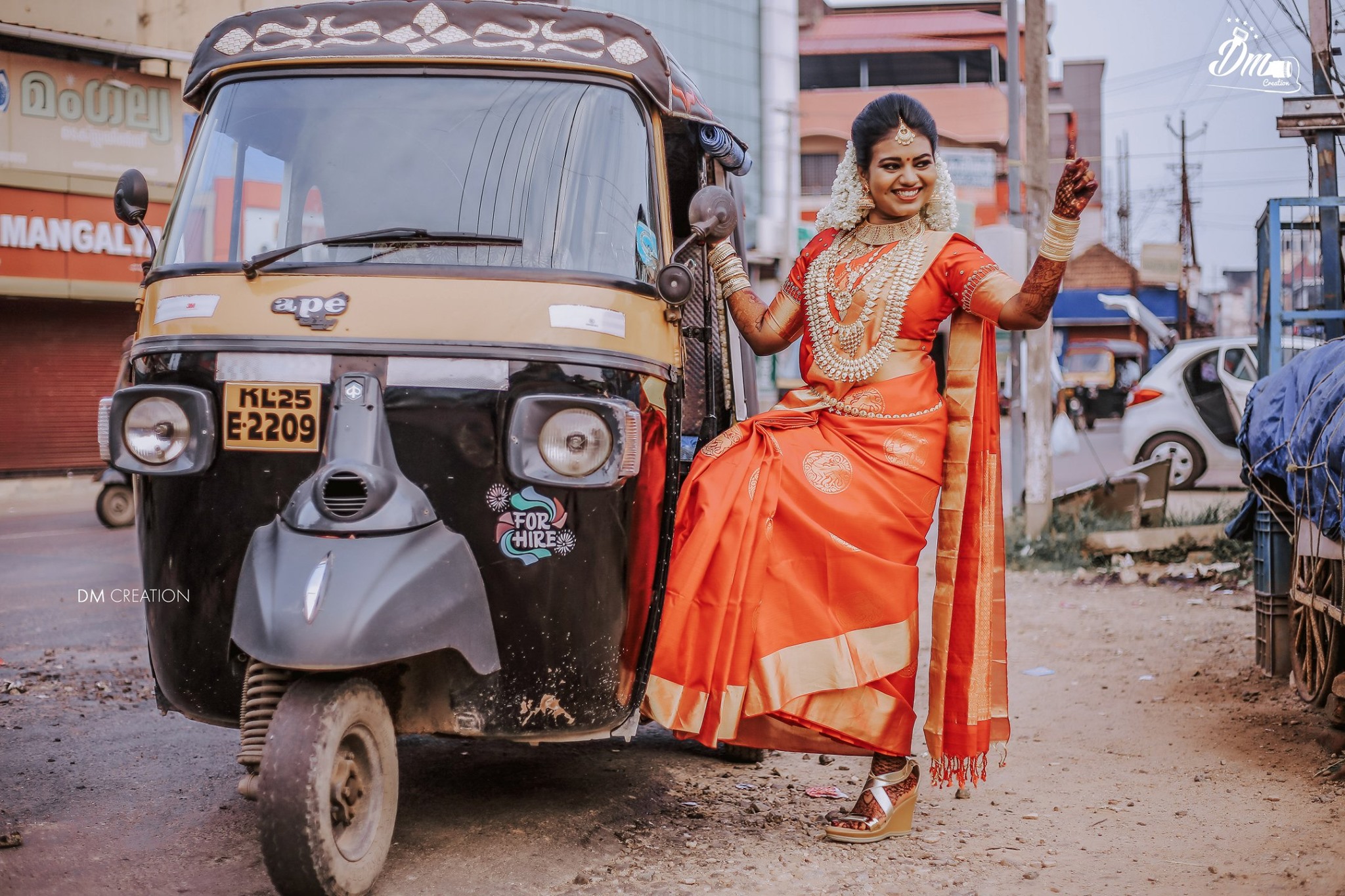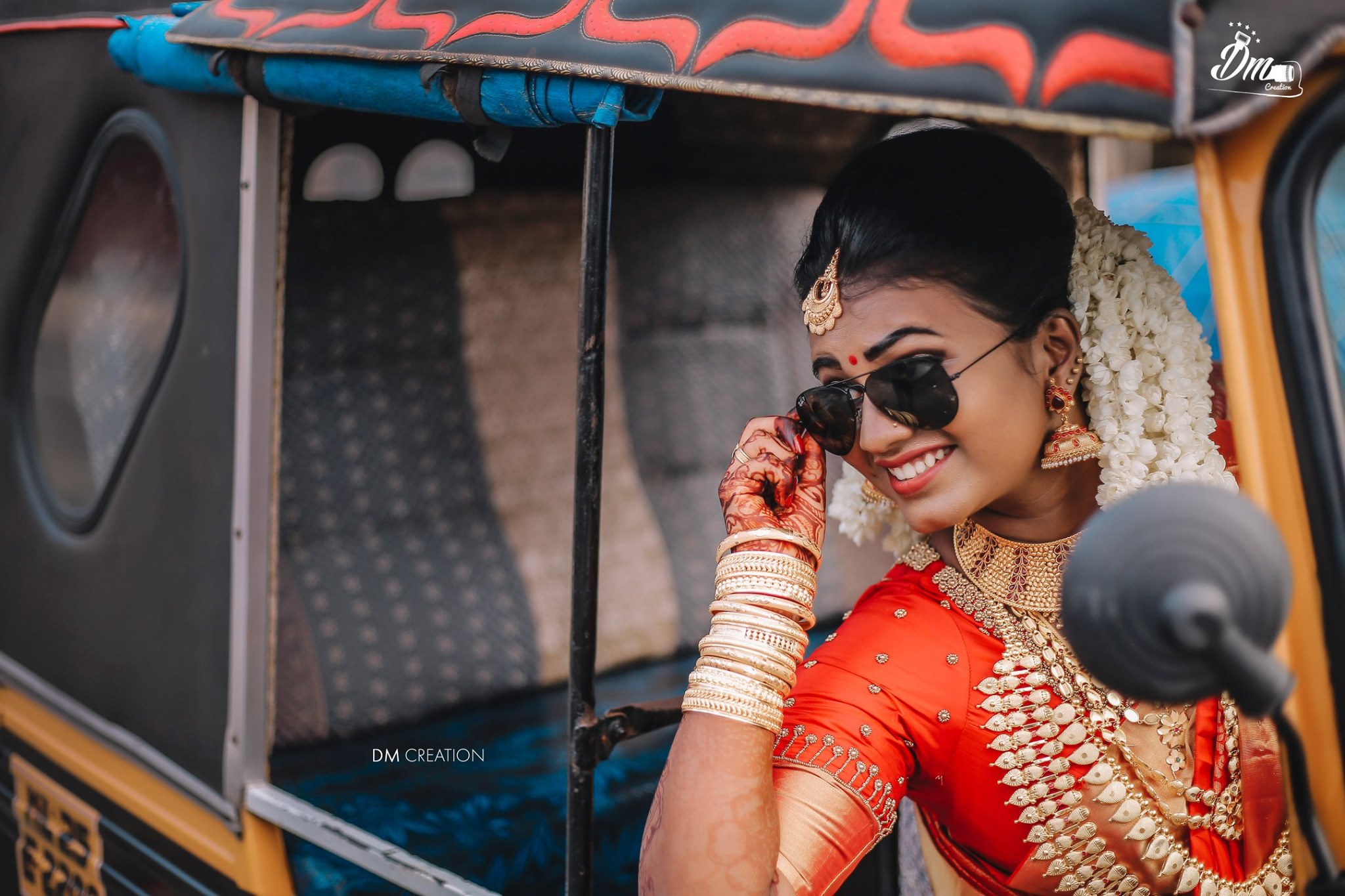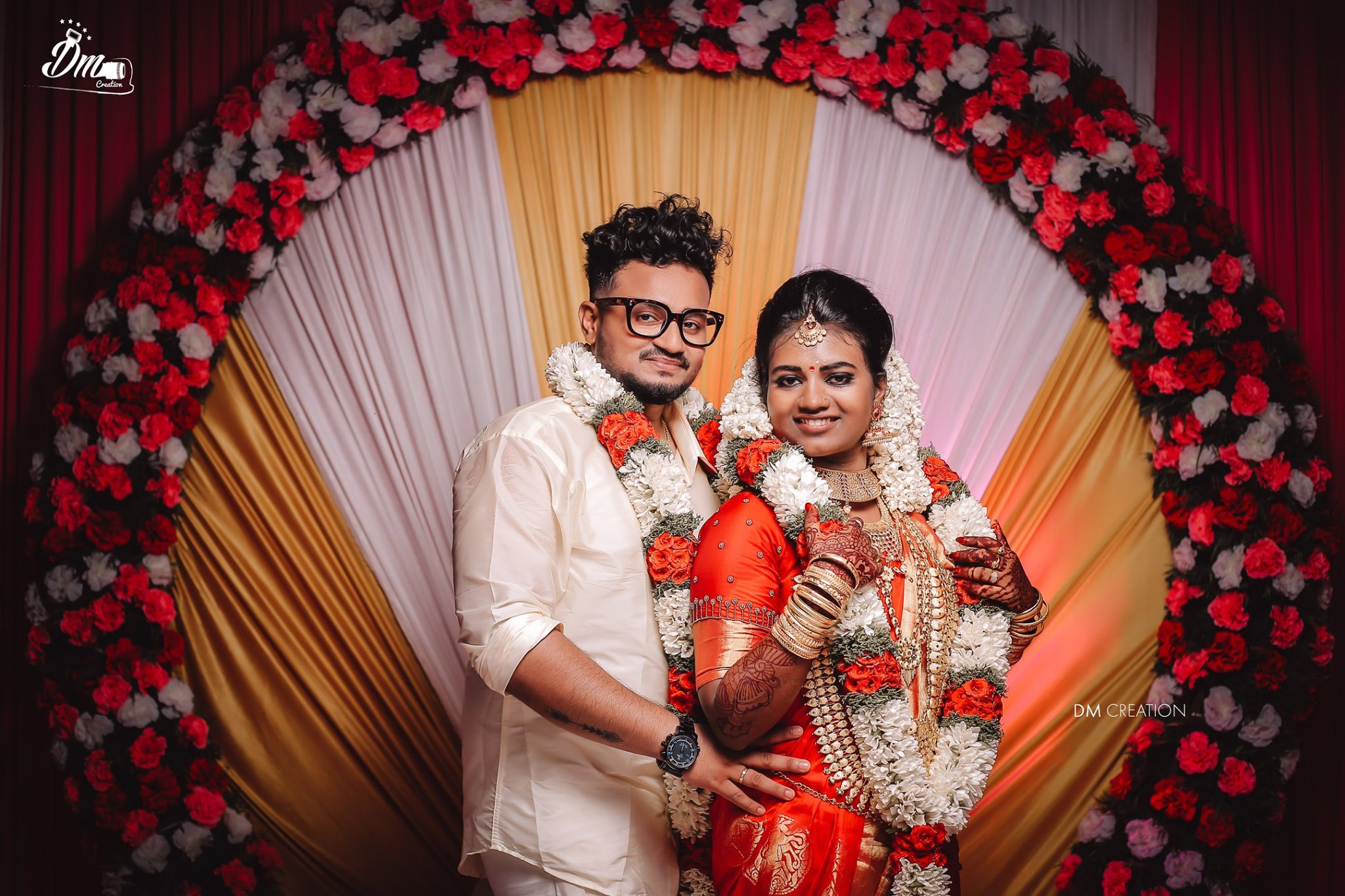 Photos – DM Creation.
A contemporary wedding photographer will usually provide some or all of the following:
Indoor photography at a church, temple, or other private venue during the ceremony and reception. Outdoor photography (often at a park, beach, or scenic location on the day of the wedding and/or for engagement photos). Both posed and candid (photojournalistic) shots of the wedding couple and their guests at the religious or civil ceremony, and the reception that follows. Formal portraiture in the studio (for either the wedding and/or the engagement photos). Digital services, such as digital prints, slides shows and online galleries. Albums (either traditional matted albums or the more contemporary flush mount type of album).
The range of deliverables that a wedding photographer presents is varied. There is no standard as to what is included in a wedding coverage or package, so products vary regionally and from across photographers, as do the number of images provided.
Most photographers provide a set of proofs (usually unretouched, edited images) for the clients to view. Photographers may provide hard copy proofs in the form of 4×5 or 4×6 prints, a "magazine" of images with thumbnail sized pictures on multiple pages. Alternatively, they will provide an online proofing gallery. The images will sometimes include a digital watermark/company logo on the images. Some photographers provide these proofs for the client to keep, and some photographers require the client to make final print choices from the proofs and then return them or purchase them at an additional cost.
Photograph of a page boy. Wedding ring photographs are paramount to some photo shoots. Here, the child is participating as a ringbearer; the wedding ring sits on top of a cushion.
There are a wide variety of albums and manufacturers available, and photographers may provide traditional matted albums, digitally designed "coffee table" albums, contemporary flush mount albums, hardbound books, scrapbook style albums, or a combination of any of the above. Albums may be included as part of a pre-purchased package, or they may be added as an after-wedding purchase. Not all photographers provide albums; some may prefer to provide prints and/or files and let clients make their own albums.
Most photographers allow clients to purchase additional prints for themselves or their families. Many photographers now provide online sales either through galleries located on their own websites or through partnerships with other vendors. Those vendors typically host the images and provide the back end sales mechanism for the photographer; the photographer sets his or her own prices and the vendor takes a commission or charges a flat fee.
Some photographers also include high resolution photograph files in their packages. These photographers allow their clients limited rights to reproduce the images for their personal use, while retaining the copyright. Not all photographers release files and those who do will most likely charge a premium for them, since releasing files sometimes means giving up any after wedding print or album sales for the most part. In the cases where photographers release the high resolution images they are usually supplied on CD, DVD or USB Stick however, this depends on the individual companies and it's recommended the client(s) checks what is included with the photographers wedding photography package before signing any contracts.
The owner of the pictures' copyright is often explicitly stated in the contract for photographic services.[2] Without such explicit statement, the owner of the pictures' copyright will depend on the country involved as copyright laws vary from country to country. Photographers who do not retain copyright of the images often charge more for their services. In these cases, the photographer provides the client with the digital images as part of the wedding package. The client then has unrestricted use of the images and can print any that they may desire. Similarly, there are some photographers that offer joint copyrights of the digital images so they can also have unrestricted use of the images for reasons such as advertising.
Types of photos requested may be "first look" where the bride and groom see each other before the ceremony for first reaction photos rather than first seeing each other as the brides walks down the aisle. Another type of "first look" photo may be having the photo shot of the father of the bride seeing the bride for the first time when she is just about to walk down the aisle with him.
As a wedding is a one-time event, the photographer must be prepared for the unexpected. Covering a wedding is both exhausting and invigorating as the photographer is constantly looking for good angles and opportunities for candid shots. Communication and planning time-lines before the event will alleviate many of the stresses associated with photographing a wedding. The ability to tactfully take charge also helps – particularly when photographing large groups or families – a common expectation after the ceremony. Having a run list with all of the expected shots is also a useful tool. A photographer may work with an assistant who can carry equipment, arrange guests, and assist with clothing adjustments or holding of reflectors.
Some wedding photographers have an office or studio which can double as a retail photography studio. In bigger cities, one might find dedicated wedding photography studios that only cover weddings and may have large studios equipped with make-up, hair, and a selection of gowns ready for the bride to wear. Other wedding photographers may work from a home studio or from a coworking space, preferring to photograph clients on-location. These home based photographers may hire additional photographers to assist them if the wedding program is large or otherwise unmanageable by a single photographer.