Barra Airport is a short-runway airport situated in the wide shallow bay of Traigh Mhòr at the northern tip of the island of Barra in the Outer Hebrides, Scotland. The airport is unique, being the only one in the world where scheduled flights use a tidal beach as the runway.
The beach is set out with three runways in a triangle, marked by permanent wooden poles at their ends, in directions 07/25, 11/29, 15/33. This almost always allows the Twin Otters that serve the airport to land into the wind.
At high tide these runways are under the sea; flight times vary with the tide. Emergency flights occasionally operate at night from the airport, with vehicle lights used to illuminate the runway and reflective strips laid on to the beach.
The Scottish airline runs two flights to Barra a day. On board the 19-seater de Havilland Canada DHC-6 Twin Otter craft, there's little in the way of a divide between the cockpit and cabin.
In fact, the passengers have a perfect view of all that goes on up front.
The compact size also means there's no attendant to look after us or serve any refreshments, and it's left to the pilots to offer a brief safety demonstration and a few words about the flight.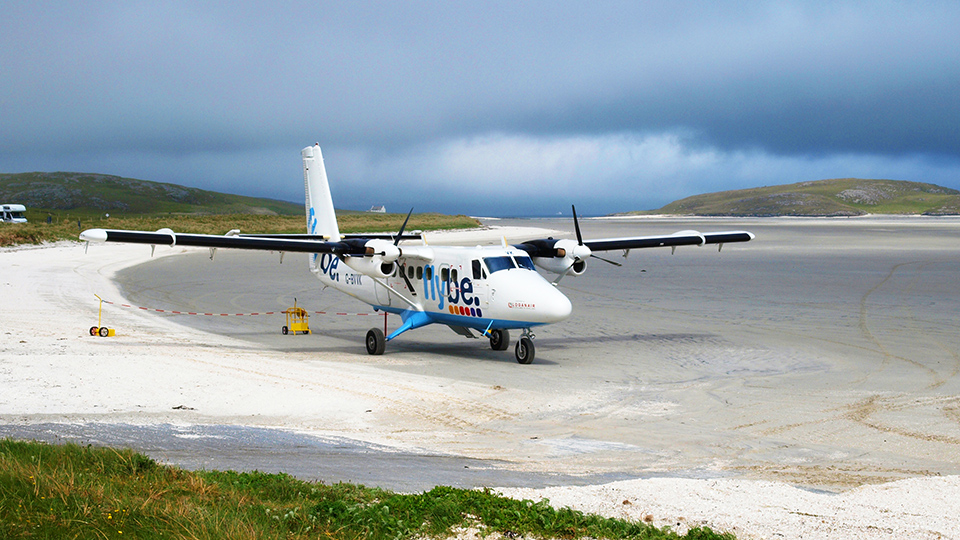 Barra Airport also has a CAA Ordinary Licence (Number P792) that allows flights for the public transport of passengers or for flying instruction as authorised by the licensee (Highlands & Islands Airports Limited). The aerodrome is not licensed for night use.
In 2011, Barra Airport was voted No.1 in the world's top airport approaches by a poll conducted by PrivateFly.com.