Abandoned BMW X5 luxury SUV now a 'home' in Mumbai!
BMWs are quite rare in India due to their prohibitive high prices. Yet, there are many abandoned luxury vehicles that can be found in various places. Either such vehicles are impounded by cops for various reasons or they are simply neglected by the owners when they upgrade to newer or premium models. Here is one such BMW X5 that is being used by roadside dwellers.
This is the first-generation BMW X5 that was launched in India in 2008-09. The luxury SUV could accommodate up to 7 passengers with optional seats. The luxury vehicle has been spotted at Sundar Nagar in Kalina, Maharashtra, and is being used by pavement dwellers to support their shed. The BMW has been parked on the roadside, in a horrific condition. Ropes can be seen tied to the vehicle's wipers and other parts.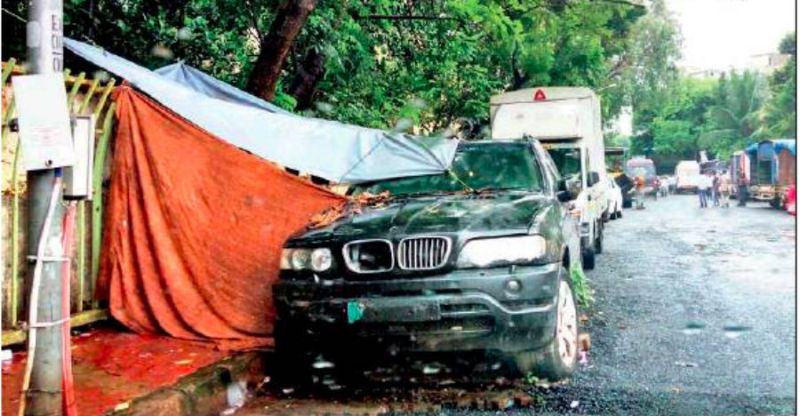 This is pre-facelift BMW X5, which was priced around Rs. 50 lakhs, for the base model, when it was launched. It was quite an expensive vehicle as it came to India as a completely built unit (CBU). The vehicle's current condition is cringe-worthy to car lovers and enthusiasts. It seems like an abandoned vehicle as the vehicles seized by cops remain in police custody.
The car body seems to be in a good condition but the front grille has been damaged. Other parts, such as the head lamps, windshield and wheels look alright too. The car was offered in both petrol and diesel versions. The V8 petrol engine produced a maximum of 407 Bhp and 600 Nm, while the 6-cylinder diesel engine produced 245 Bhp and 540 Nm.
As the cost of maintenance of such imported vehicles used to be exorbitantly high in those days, the owner must have decided to ignore it after a few years of use. Such luxury vehicles are extremely sturdy and can survive decades if they get proper attention. However, this is not the only luxury vehicle that has been found abandoned in India. There are quite a few rare vehicles that are rusting away as the owners have ignored it completely. Even in police compounds, many luxury vehicles can be found in dreadful condition.