9 Strict Rules Rolls Royce Employees Must Follow
In the world of luxury automobiles, there's no denying that Roll-Royce has always been in a class of its own. This is a company with a lasting legacy of engineering brilliance. In fact, it has managed to set some incredible records since its beginnings in 1904.
Today, Rolls-Royce Motors is famous for a number of car models. These include the Phantom, Wraith Ghost, Dawn, and its SUV, Cullinan. To own a Rolls-Royce car is to drive and ride a vehicle that stands above the rest. And because of this, there are certain rules that Rolls-Royce employees must follow themselves.
9 WEARING MAKEUP IS PROHIBITED
When you're among the employees assigned to work on the paint of the car, there are additional regulations that you need to follow. One of which is that you are not allowed to wear any kind of makeup or even deodorant while working on the car. This is because the company is trying to minimize the risk of contaminating a new car for delivery.
According to the website This is Money, there are as many as 44,000 exterior color options available for Rolls-Royce cars. The standard selection includes the likes of Petra Gold, Dark Emerald, Belladonna Purple, Midnight Sapphire, and Iguaza Blue. Meanwhile, special order exterior colors include Arizona Sun, Velvet Orchid, Purple Silk and Duck Egg Blue.
8 USE A SPECIAL LAMP WHEN WORKING ON PAINT FINISH
For any Rolls-Royce employee, working on car's paint finish is a true honor. In fact, this is something that they take great pride and skill in. And so, every time the Rolls-Royce team approaches a paint job, they make sure that they always have the right light. That's exactly where their special lamp comes in.
According to This is Money, "To ensure you pick the perfect paint based on where you live, Rolls-Royce has a specially developed lamp that can be adjusted to different global light conditions to illustrate to customers how their chosen finish will look upon arriving in their home country."
7 USE A SPECIAL DEODORANT WHEN DEALING WITH A UNIT FOR DELIVERY
As we have said earlier, Rolls-Royce Motors is very serious about avoiding any type of contamination as much as possible. Aside from prohibiting staff from wearing makeup when doing a paint job, they are also reportedly required to wear a special deodorant while working. According to This is Money, the deodorant is specially supplied to the staff by Rolls-Royce itself.
We would imagine that if such a deodorant is used, it would have to be a very neutral scent. Perhaps, it's to make sure that you won't get anything but a new car smell the moment your Rolls-Royce is delivered to you. Now, that is true commitment.
6 SERIOUS ATTENTION TO DETAIL
As an employee for Rolls-Royce, you are always expected to pay serious attention to detail in whatever you do. This is how they managed to come up with cars with such a high standard of craftsmanship. As Rolls-Royce has explained, "No statement is too bold and no detail too intricate for our designers and craftspeople. From expertly embroidered
headrests to customized treadplates – or a personal, hand-painted monogram integrated into the coachline."
And when it comes to the coachline, reports indicate that only one person is entrusted with the job. His name is Mark Court and it takes him a good three hours to do a pin-stripe on each side of a Phantom.
5 BE PREPARED TO WORK WITH A CUSTOMER'S PET
At Rolls-Royce, they always aim to please their customer. This is why they are pretty much open to any type of customization that you have in mind. And to that end, the company is even willing to work with a client's beloved pet if necessary.
According to a report from This is Money, this was exactly what happened when Rolls-Royce was developing a car for one discerning client. Apparently, a woman said that she wanted the leather interior of her Rolls-Royce to match the color of her Red Setter dog. To make this happen, the paint experts took samples of the dog's fur and created the necessary shade.
4 BE READY TO PATENT A COLOR FOR A CUSTOMER
As we have mentioned earlier, there are more exterior color options than you can possibly imagine when it comes to Rolls-Royce cars. Nonetheless, if none of the 44,000 shades actually speak to you, there is also an option to customize your color. And that means Rolls-Royce employees are expected to assist you in patenting your very own exterior car shade, according to Car Keys.
So far, sources of inspiration for color customization have included one's lipstick shade, rubber glove color and even the shade of a woman's stiletto. Meanwhile, according to This is Money, one client went for a shade known as Celestial. That meant that very fine glass particles were mixed into the paint for a sparkly finish.
3 BE PREPARED TO DEAL WITH MULTIPLE CUSTOM OPTIONS
At Rolls-Royce, employees are expected to deal with customization. And when it comes to customization, the process goes beyond the exterior color. That's because customers can readily give the car's interior a certain look too.
Just to give you a better idea, Phantom customers are given options for picnic tables, VIN plates, and even contrast lambswool foot-mats. Aside from this, a client can also avail of rear compartment curtains, rear privacy glass, Rolls-Royce bespoke audio, rear theatre configuration, and television tuner. Meanwhile, they can also add scent bottles, cigar humidors and even a jewelry safe inside the car. In short, they can do anything.
2 REPRESENT THE COMPANY WELL, EVEN OUTSIDE THE OFFICE
Rolls-Royce employees are generally proud of the work they do and the company they represent. In fact, on the website Glassdoor, one former supply chain operations manager for the company wrote, "Rolls-Royce is an amazing company to work for. The culture is great, the people are great. the benefits are even better."
Just like other companies, the workforce here is required to follow a strict code of conduct. One of the rules requires that employees must be ready to represent the company anytime, anywhere. According to Rolls-Royce, they must "act in a way that protects or enhances our reputation and brand at all times."
1 NEVER DIRECTLY SUPERVISE A FAMILY MEMBER OR FRIEND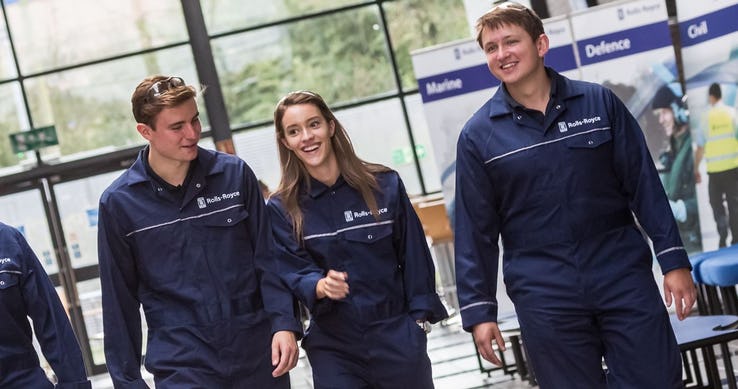 When it comes to working for Rolls-Royce, there is a critical rule that ensures no conflict of interest. In fact, you are not allowed to directly supervise anyone who is an immediate family member, friend or lover. As specified in the company's Global Code of Conduct, you must "not place yourself in the position of hiring or supervising a family member or close personal friend, including someone with whom you are having a romantic relationship."
This is because the company encourages you to, "avoid any relationship, influence or activity that will impair our ability to make fair and objective decisions when performing our jobs."
Reference: Rolls-Royce, Rolls-Royce Motors, Auto Influence, Green Car Reports& Glassdoor.
Source – hotcars.com.