20 Of The Coolest Airports Around The World
The Wright brothers could never have dreamed of what a modern airport would look like 100 years after their first flight.
20 TROPICAL RETREAT WITH 1000 BUTTERFLIES AND WATERFALLS (CHANGI INTERNATIONAL AIRPORT, SINGAPORE)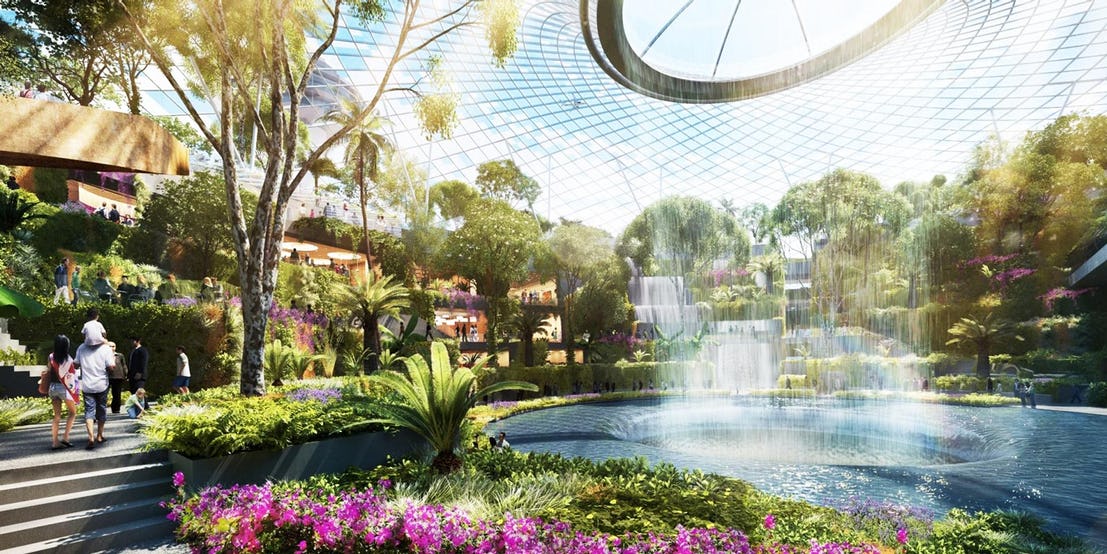 While most traveler's try and avoid a layover between flights, you'll be wishing you had one at Changi airport. Named Best in the World by consumer aviation website Skytrax for five years in a row, SIN airport is a wonder to marvel at.
With over 300 stores, 2 free Imax cinema theatres, a butterfly garden in Terminal 3 which has a rain-forest themed environment including waterfalls and over 1000 butterflies, there is almost too much to see and do here. On the multimedia entertainment deck there's a wild 12-meter slide shaped like a corkscrew which takes you down at a speed of 6 meters per second!
19 LAND WITH SAND IN YOUR TOES (BARRA, SCOTLAND)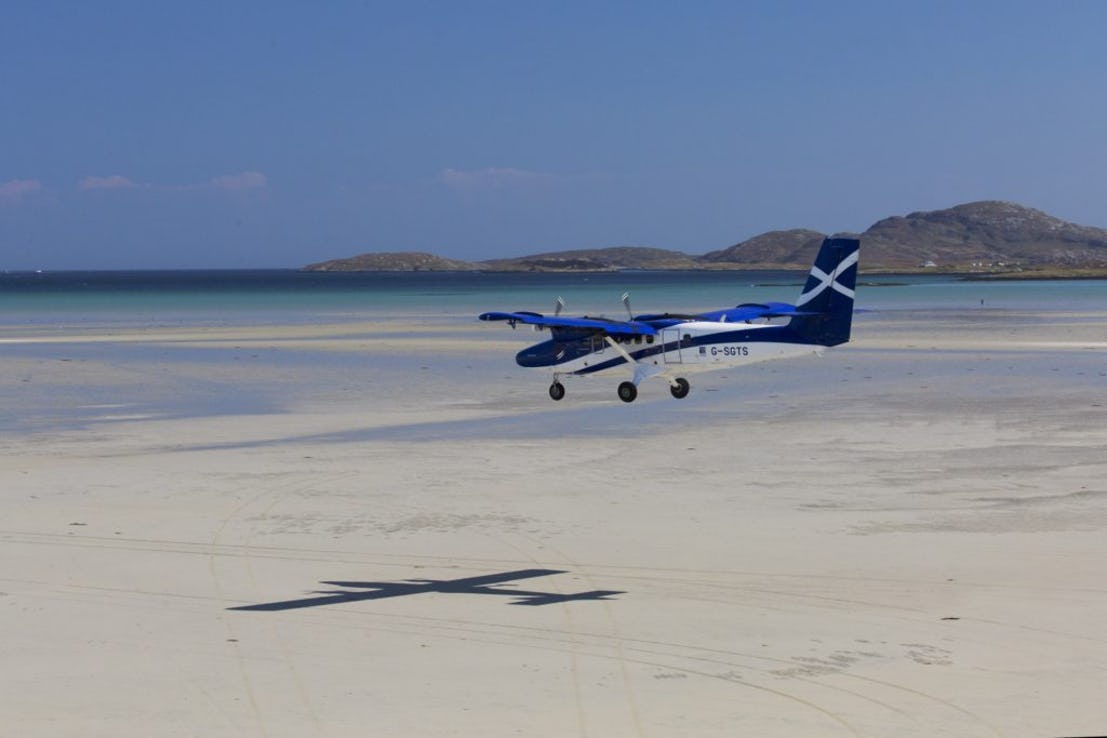 The stunning airport on the little Isle of Barra in Scotland is famous for being the only airport with a beach as the runway. Who knew Scotland was home to an exotic beach destination? Barra Airport in the Outer Hebrides of Scotland has been named one of the most spectacular landing destinations in the world. You'll fly above a dramatic view of the emerald seas of the Atlantic with tiny little rock islands and unparalleled views of Mount Errigal along the coastline.
Flights are scheduled based on the movement of the tides because at high tide, the three runways become fully submerged, so plan accordingly. Flying into this modest but breathtaking exotic airport should be on every traveler's wish list.
18 AN ARCHITECT'S HAVEN (ADOLFO-SUAREZ MADRID BARAJAS AIRPORT, SPAIN)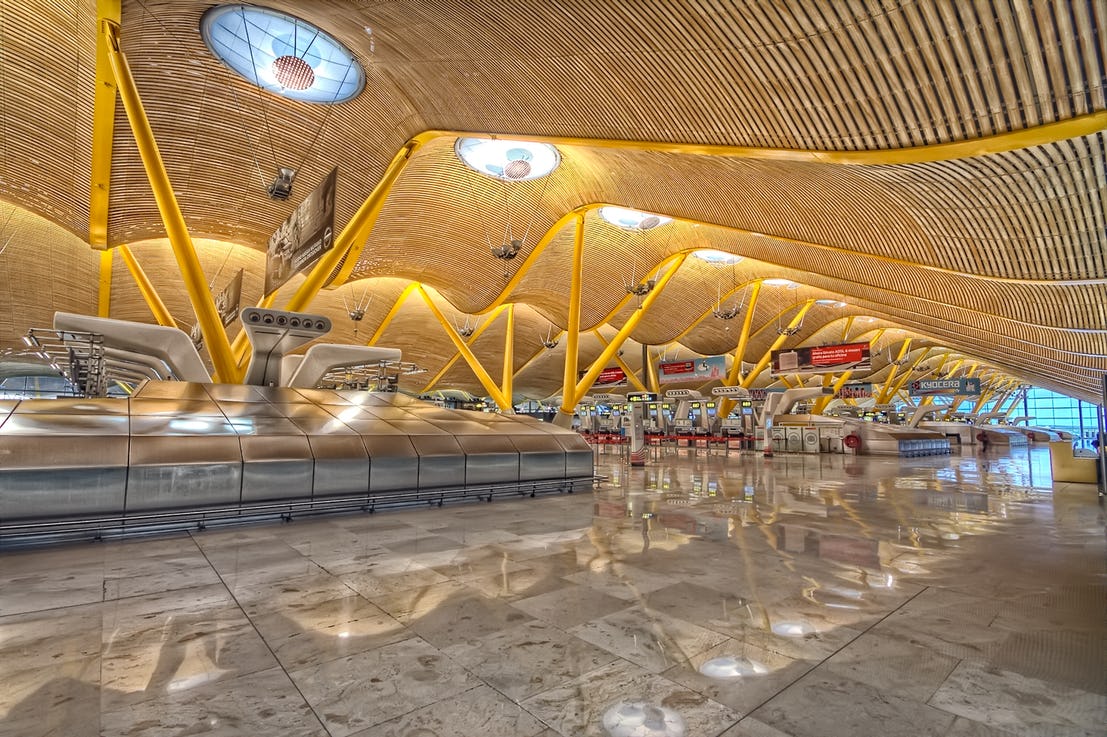 This contemporary yet historic airport is one of Europe's largest. MAD airport has been around since 1927, but today boasts glass panes instead of traditional walls, with sloping ceilings, circular skylights and artistic pillars. The genius behind this architecture intended to create an airport atmosphere that stirs up a sense of calm, so those with travel anxiety will feel right at ease. With floor to ceiling windows and a curving roof, you can sit back and just take in the colorful, soothing views of Madrid.
If you're looking for more action the underground metro line connects all the airport terminals and even takes you to Madrid's downtown financial district.
My favorite option is a pre-flight traditional tapas meal!
17 AQUATIC ADVENTURES IN YOUR TERMINAL (VANCOUVER INTERNATIONAL AIRPORT, CANADA)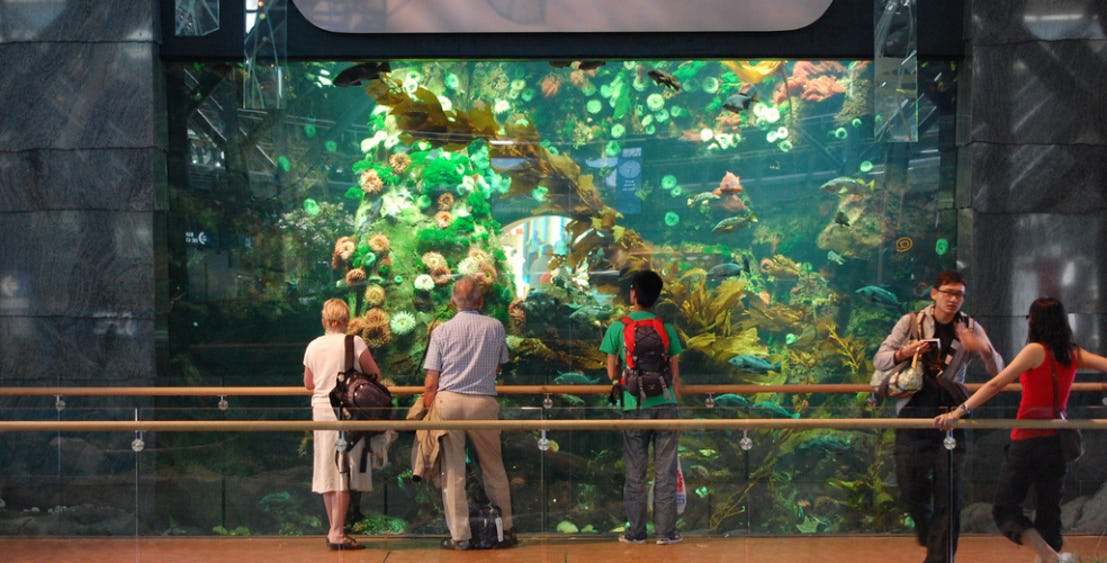 In North America, British Columbia's YVR airport is one you may want to visit even if you're not catching a flight. With various aquarium exhibits, the largest holding 114,000 liters of water, you can spot marine species native to the area such as wolf eels, sea urchins, orange cup corals, and even jellyfish.
The famous art gallery inside the airport pays tribute to art and culture from the West Coast First Nations with iconic pieces that are constantly surrounded by locals and tourists snapping a pic or two.
Be sure to see The Spirit of Haida, a huge bronze sculpture based on the Haida legend and the famous Jade Canoe before boarding!
16 TAKE OFF COMPLETELY SURROUNDED BY WATER (VELANA INTERNATIONAL AIRPORT, THE MALDIVES)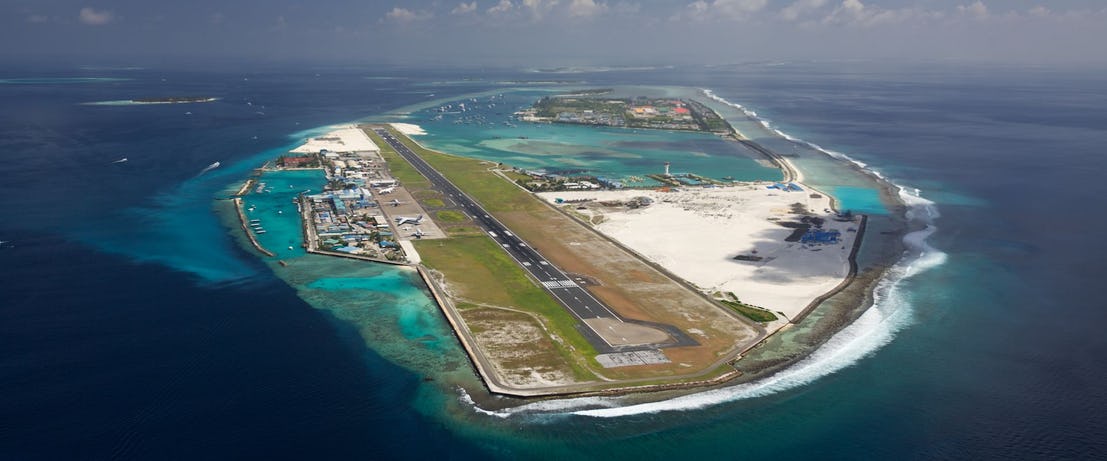 Easily one of the most scenic airports on the planet, Velana International, formerly called Ibrahim Nasir Airport, is the main international hub of the Maldives. This archipelago is a gem of the Indian Ocean.
While the airport structure itself isn't out of this world- the view sure is. You won't find this airport on the same island as the capital city of Male, but it's close by on its own separate island. Being completely surrounded by water, you'll need to catch a water taxi to get around.
Although the Maldives is a relatively small country, not all resorts are accessible by speed-boat or water taxi, so you might have to take a seaplane ride which takes off and lands on water!
15 GET YOUR ZEN ON BEFORE BOARDING (SAN FRANCISCO INTERNATIONAL AIRPORT, CALIFORNIA)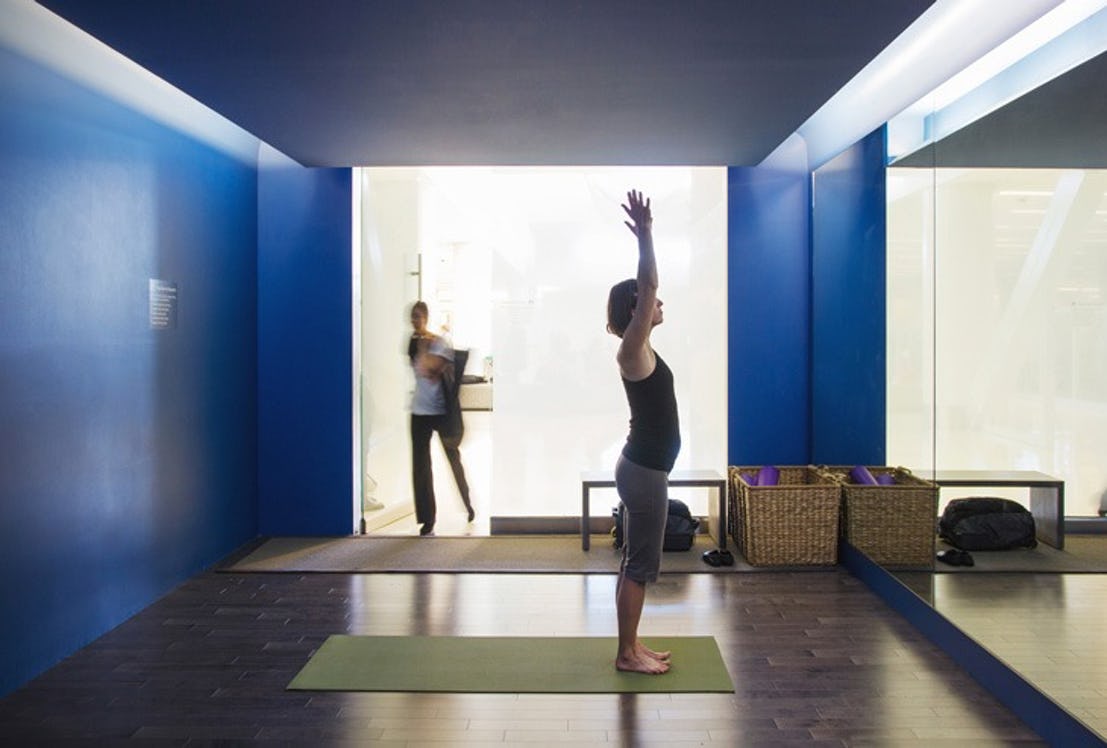 San Francisco International Airport is an innovative airport being the first to implement features like the first 24-hour yoga studio, and even the nation's first airport therapy pig!
Lilou is SFO's little pig mascot, who helps passengers with any travelling anxiety or unease, and can usually be found in a cute, colorful costume sending kisses. Head to Terminal 2 or 3 for a zen session in the yoga studios or head to the library to pick up a good read or two.
All terminals in SFO are filled with intriguing exhibits such as classic motorcycles from Itlay, aviation artifacts, marine invertebrates, and of course Lilou making her way around.
14 RUNWAY PERCHED ON A CLIFF WITH A 2000 FOOT DROP (TENZING-HILLARY AIRPORT, NEPAL)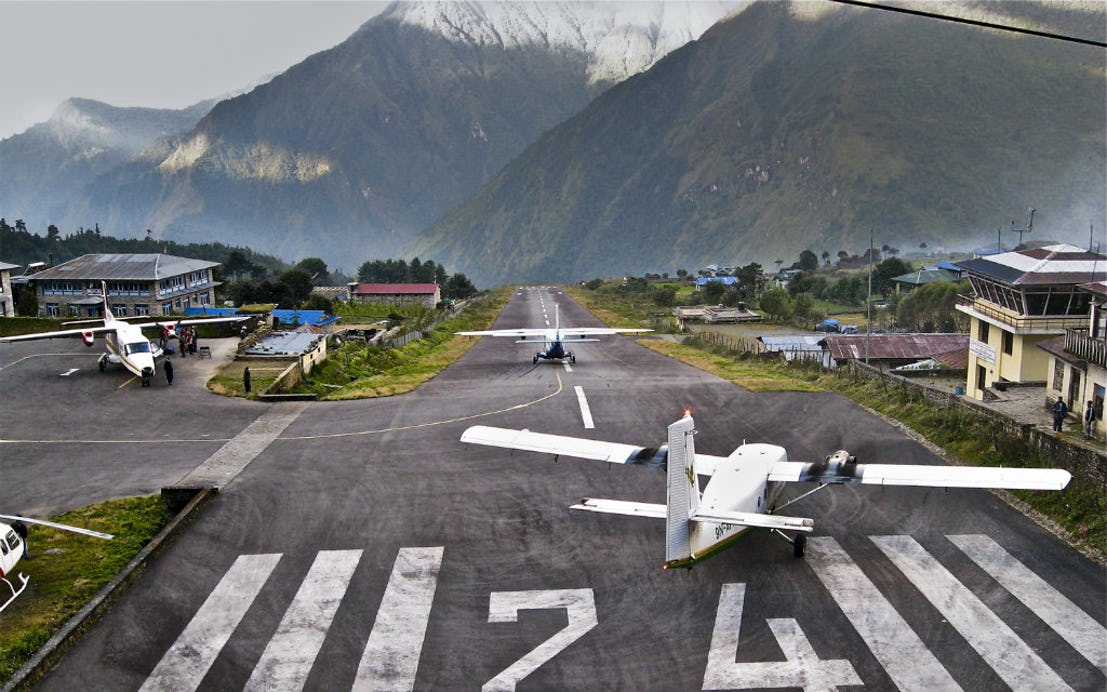 Although one of the coolest, Tenzing-Hillary Airport in Nepal (also known as Lukla) is one of the most dangerous. The iconic runway featured above has a cliff with a 2000 foot drop on one end, and depends entirely on the unpredictable weather conditions of Nepal which usually has a mist of fog hovering over.
Set among sharp Himalayan peaks, before landing your plane will have to navigate between two hills and a sharp turn. Rest assured though, your pilot will be certified to fly through such conditions.
LUA airport is only busy during hiking season when thousands make their way to Nepal to climb Mount Everest, whose base camp is right by the airport, so expect a lot of action.
13 SAUNA, SLEEP PODS, AND SCULPTURES (HELSINKI AIRPORT, FINLAND)
With a stunning art gallery opened 24 hours presenting the finest pieces of Scandinavian art and one of the most efficient airport services around, your time at HEL will be short and sweet. Open rain or snow is their Arctic Rooftop terrace inspired by the magical Northern Lights (which can even be seen if you're lucky). Because of the below freezing temperatures and heavy snow, the airport crew clears one runway at a time, and so efficiently that you might not even notice!
Kainuu Lounge at Gate 31 gives passengers a taste of local relaxation with state of the art recliners and even wooden chairs made from local Finn trees. I know I'd spend my layover in the sauna trying to glimpse those Northern Lights.
12 THE WORLD'S ONLY AIRPORT WITH A BREWERY (MUNICH AIRPORT, GERMANY)
Munich is considered one of the best cities in Germany, but it's also known for being consistently ranked as one of the best airports. Another thing about Munich is its celebrated brewing culture, so it only follows that MUC airport would have the world's only brewery inside their airport.
Airbrau is a beer garden serving German delicacies like sausage and sauerkraut. There's something enjoyable to eat for every taste, with over 60 restaurants to indulge in.
If you've had enough to eat you can check out the mini-golf course at Visitor's Park, all without leaving the building. This glass structured airport loves adding shock value, and sometimes even creates its very own indoor skating rink during the Christmas holidays.
11 TAKE A PRE-FLIGHT SWIM AND STEAM (DUBAI AIRPORT, UAE)
DBX in Dubai is an airport that is actually more like its own city. Also one of the busiest for passengers, Dubai airport flies to over 260 locations! If you want to chill or catch some sleep while you wait for your flight, just rent a Snoozecube where you can rent per hour a luxurious sleep pod equipped with a television and Wi-Fi.
There's also the numerous gardens, the most popular being the Zen garden in Terminal 3, which hosts the world's tallest indoor slide. For a refresher, you can head to the health club where you can swim in the private pool and take a steam at the G-Force Health Club before catching your flight.
10 ARTIFICIAL FLOATING ISLAND AIRPORT (KANSAI INTERNATIONAL AIRPORT, JAPAN)
In Japan, land is so scarce a resource that engineers had to build Kansai Airport on an artificial island 'Kenseya' in Osaka Bay, three miles from shore. Being 25 miles long, it's the longest airport in the world and even visible from space! If the exterior of this airport on water doesn't impress you, the modern architecture of the interior sure will.
Designed by award-winning architect Renzo Piano, KIX airport is a timeless work of art, despite environmental obstacles such as earthquakes, cyclones, tsunamis and rising sea levels. Don't worry about being stuck on the island though, you can easily catch a car, train or ferry to the main island of Honshu.
9 LAND OF LORD OF THE RINGS (WELLINGTON AIRPORT, NEW ZEALAND)
Wellington Airport sits in the midst of the beautiful countryside of New Zealand, where fantastic movies like Lord of the Rings were filmed. You'll be greeted by the giant Gollum sculpture and Smaug the Dragon (from The Hobbit) who watches over passengers' check-in. The film capital city of Wellington has been nicknamed 'Wellywood', and you can check out Weta Studios a few minutes from WLG to see where places like Peter Jackson's Middle-earth were created.
If you're not a film fanatic you can spend your waiting time in The Rock, a cave-like designed lounge which has been the recipient for numerous awards for innovative design inspired by the rugged geology of Wellington.
8 HOP IN A PROFESSIONAL FLIGHT SIMULATOR (HONG KONG INTERNATIONAL AIRPORT)
One of the busiest airports in Asia is HKG built on the artificial island of Chek Lap Kok off the coast of Hong Kong. One of its wildest features is the Aviation Discovery Center where you can practice landing a plane with interactive rides and simulators. It doesn't stop there; HKG also has the largest Imax theatre in all of China!
For sports lovers, there's the SkyCity Nine Eagles golf course near Terminal 2 and GreenLiveAir which is a virtual golf simulation room. Being one of the busiest transit hubs, HKG has over 73,000 staff on site daily, which ensures its vast property and facilities are operating efficiently, non-stop.
7 RUNWAY IN THE ALPS IS SHORTEST IN THE WORLD (COURCHEVEL AIRPORT, FRANCE)
Courchevel Airport, nestled in the French Alps is another notable airport that comes with some dangerous obstacles before landing on snow. The extremely small runway, 525 meters to be exact, is connected to the famous Courchevel Ski Resort, built 6500 feet above sea level. Built with the highest tarmac in Europe, the runway slopes uphill then drops dangerously down and is therefore reserved for specially certified pilots only.
With 600 kilometres of slopes to choose from and luxurious chalets, Courchevel is a winter destination for elites such as George Clooney and even Prince William and Kate Middleton. You may have spotted this unique ski resort in its appearance in the James Bond film Tomorrow Never Dies.
6 WATER CANNONS AND PALM TREES WILL GREET YOU (HAMAD INTERNATIONAL AIRPORT, QATAR)
Hamad's DOH Airport in Qatar is one of the most luxurious airports ever, and took just about a decade to build. Rated 5th in the world by Skytrax consumer aviation, it is absolutely massive, comprised of about 100 different buildings and built on land mostly man-made.
This is one of the most exciting airports you can spend your time between flights in, with innovative facilities and architecture which looks like pieces in an art museum, you won't want to board your flight.
Surrounded by turquoise waters and 24-hour water cannons, there's a reason DOH airport sees about 30 million passengers per year!
5 HONEYCOMB OR AIRPORT? (SHENZEN BAO'AN INTERNATIONAL AIRPORT, CHINA)
Just north of Hong Kong you can find one of the world's fastest growing airports, rising to the occasion of the growing needs of China. Known as SZX airport, Shenzhen Bao'an International Airport boasts a theme of openness, and you can get lost starring up at the honeycombed ceiling pattern adorned with hexagonal skylights.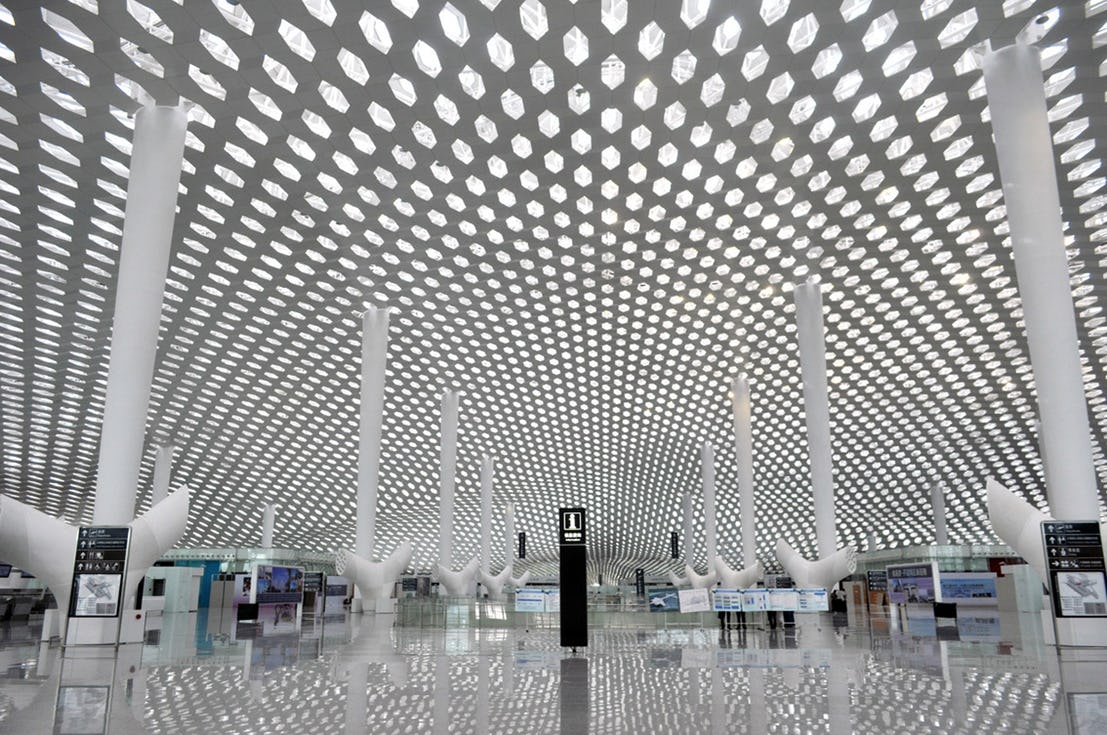 The newest addition to Shenzhen is the famous Terminal 3 which has been designed to match the appearance of a manta ray coming down from the ceiling.
The impressive terminal took about 5 years to build and extends about a kilometer long. You'll feel as if you're flying in a futuristic land with the all-white interior and reflective glass.
4 THE ONLY HALF-BRIDGE HALF-ISLAND RUNWAY (MADEIRA AIRPORT, PORTUGAL)
What started as a tiny airport on a small archipelago in 1964, is now the outstanding structure of Madeira Airport in Santa Cruz, Portugal. When plans for this airport were in the works, engineers were faced with the problem of not even having enough space to build because of the island's edge. In 2000 however, engineers built an extension to the runway atop columns rising 70 feet tall stemming from within the ocean itself.
If just the thought makes you sweat, you may want to skip booking a flight into FNC. This airport beside a cliff now exudes a runway which is part island, part bridge sure to amaze those brave enough to visit.
3 SEOULFUL IN SOUTH KOREA (INCHEON INTERNATIONAL AIRPORT, SOUTH KOREA)
Incheon Airport (ICN) situated on an island nearby South Korea's capital Seoul has been ranked the cleanest and most elite airport around. Oh, and it's also been ranked second best airport in the world by Skytrax for three years in a row.
With a 72-hole golf course, 7 eco-gardens, and a synthetic ice rink, it's no wonder this airport is always high on the charts.
Designed with arc-shaped terminals reminiscent of Korea's typical local style, you can immerse yourself in the culture with their masque-dance performances and there's also the opportunity to hand-make your own fan based on traditional knitting techniques.
2 WAIT FOR YOUR FLIGHT IN A WOODEN COCOON (HEYDAR ALIYEV INTERNATIONAL AIRPORT, AZERBAIJAN)
Heydar Aliyev Airport has been uniquely designed by Turkish architect studio Autoban, and has created a futuristic and unconventional airport atmosphere. Located in Azerbaijan's capital of Baku, GYD airport is considered one of the high-design airports on Earth. What stands out the most is the wooden cocoons which enhance your departure, arrival and transfer experience.
These cave-like cocoons offer a little haven before you have to succumb to no leg room on the plane. All of the airport's facilities such as shops, restaurants and cafés are located within the cocoons, so prepare yourself to feel like you're in a magical forest.
1 BIG STARFISH IS THE LARGEST FREESTANDING STRUCTURE EVER (BEIJING CAPITAL INTERNATIONAL AIRPORT, CHINA)
Nicknamed 'Big Starfish', is Beijing Capital International Airport (PEK), beloved by the citizens of Beijing who are proud of their ultra modern, ultra environmentally friendly jewel of an airport. Almost two miles in length this world-class airport's terminal was structured to symbolize a dragon and combine all of China's native colors. Built with sustainable lighting, you'll be entranced with the bouncing lights of red and yellow flowing through the roof, which also includes a rooftop garden.
It's typical for layovers at PEK to last a few hours to even a full day, so take advantage and explore the mesmerizing city of Beijing at Tiananmen Square for a true taste of local culture.
References: Skytrax World Airport Awards, Alpine Infusions, PopularMechanics,Business Insider.