10 Best Resorts in Bangalore for a Day Outing
When one is tired in the routine life and looking for a getaway to chill and relax in the soothing luxury, a fine quality resort can totally cheer up. Resorts near Bangalore provide one not just with amenities but also, the warmth of their welcoming nature, the lush green area that is hardly seen in city-centric spaces and most importantly, a breath of fresh air away from pollution filled lifestyle. One can delve into the charm of opulence and choose multiple activities based on likes including games and small-scale adventures.
Resorts around Bangalore are flourishing into many lives to rejuvenate minds and hearts with the gist of positivity and optimism.
Here are some of the best resorts around Bangalore:
1 Guhantara Resort
Guhantara Resort in Bangalore, the first underground resort in India is undoubtedly equipped with modern amenities and facilities to cater family and friends equally. It is located on Kanakapura Road, 30 kilometers away from Bangalore city. It is amongst the best Kanakpura resorts. People arrive at the resort in order to spend some happy hours with their beloveds and the resort offers proper facilities, games, delicious food and much more to make the guests quite happy and refreshed.
The main attraction at the resort is Rangamandapa, a large, well-equipped auditorium and at Madhushala, you will be able to enjoy branded liquors. Those who wish to go through some rejuvenating experience at Agastya Kuteera that is a spa center and enjoy dining at Sambhojana. Along with all these, you will get chances to indulge in some exciting activities like tunnel trekking, indoor games, outdoor games, cycling, paintball, zorbing etc. The services can be utilized on all days of the week and during the weekends, the cost of the different package may be a little higher.
Approx Distance from City Centre: 30Kms
Activities and Amenities: Underground Cave Resort, Swimming Pool With Water Fall,
Rain Dance, Kids Play Area, Conference Hall Facility, Quad Bike Rides.
Food: Veg & Non-Veg
Food Rating – 3.75
Liquor – Yes.
2. Holiday Village Resort
Yet another famous and widely accepted resort in Bangalore for a day outing is Holiday Village Resort located in Vajrahalli Village on Kanakpura Road. A luxurious sanctuary with proper amenities and high-end facilities give away the guests a soothing stay experience here. The resort is sprawling amidst a beautiful landscape and there are suites and spacious rooms that offer comfort and peace at their best. It is a perfect space to conduct grand functions and private events like wedding, receptions, get together, parties and what not. The spacious lawn, conference room, convention center, poolside lounge etc give the resort an amazing beauty.
There is a discotheque that can accommodate around 100 people at a time and that is also an additional attraction for the guests to arrive at Holiday Village Resort aplenty. The big swimming pool and other facilities inside and outside are of international standards. You can enjoy some fun games, indoor games as well as outdoor games like snooker, paintball, beach volleyball, rain dance and much more.
Approx Distance from City Centre: 16Kms
Activities and Amenities: Convention Hall, Swimming Pool, DJ Halls, Party Areas, Arenas for: Table Tennis, Beach Volleyball, Snooker, Foosball.
Food: Veg & Non-Veg.
Food Rating -4.
Liquor – Available.
3. Golden Palms Resort
Located in the garden city, Bangalore, a luxurious 5-star resort is the Golden Palms Hotel and Spa which brings guests on a large scale towards it due to its impeccable services, efficient amenities and the beautiful structure. The resort is maintained well in cope with the astounding serenity around with elegant rooms and unbeatable as well as genuine services. The Golden Palms is one of the most luxurious resorts in the city.
From Bangalore International Exhibition Center it is located at a distance of around 6 kilometers only and features the biggest swimming pool in India. It opens the doors of a large conference room and a huge banquet hall. The Golden Palms authentically arranged luxury weddings as well. It is well prepared to offer the guests multiple indoor as well as outdoor games like badminton, squash, table tennis, billiards and so on.
Approx Distance from City Centre: 25Kms
Activities and Amenities: 130 Metre Swimming Pool, Badminton Court, Tennis Court, Squash courts, Conference Halls Facility.
Food: Veg & Non-Veg.
Food Rating: 4.5.
Liquor: Available.
4. Eagleton Resort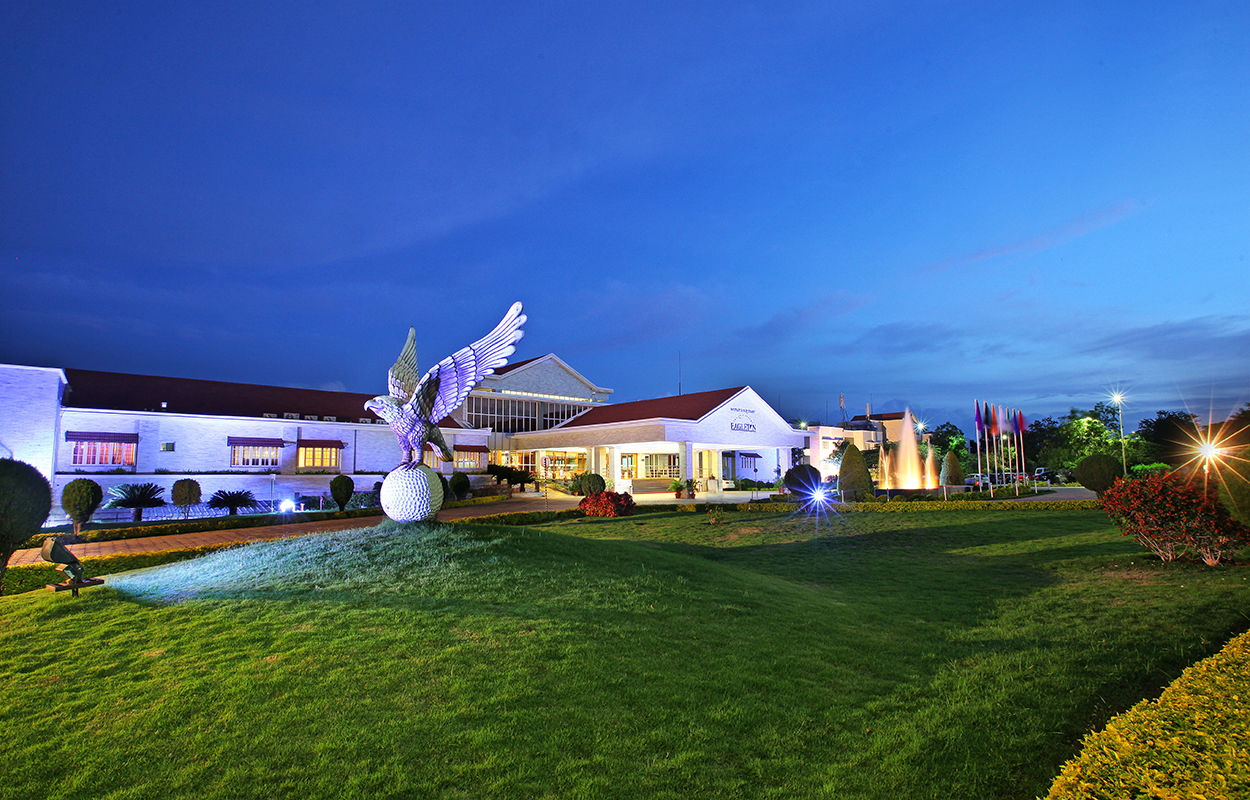 A place where leisure meets luxury and business facilities, Eagleton offers the best of both worlds. Head out on a trip to this another best resorts near Bangalore and make your weekend special. Especially noted here is the International Standard Golf Course which is among the top 5 in India.
The Eagleton Clubhouse (the biggest of its kind in South East Asia) is the central attraction, as it is a stunning complex. One can revel in the unlimited space and world of activities provided.
Approx Distance from City Centre: 33Kms
Activities and Amenities: Golf Course, Pool Side Volleyball, Billiards Academy, Children Play Area, Horse Riding, Conference Hall Facility.
Food: Veg & Non-Veg.
Food Rating -3.5.
Liquor – Available.
5. Chairman's Jade Club Resort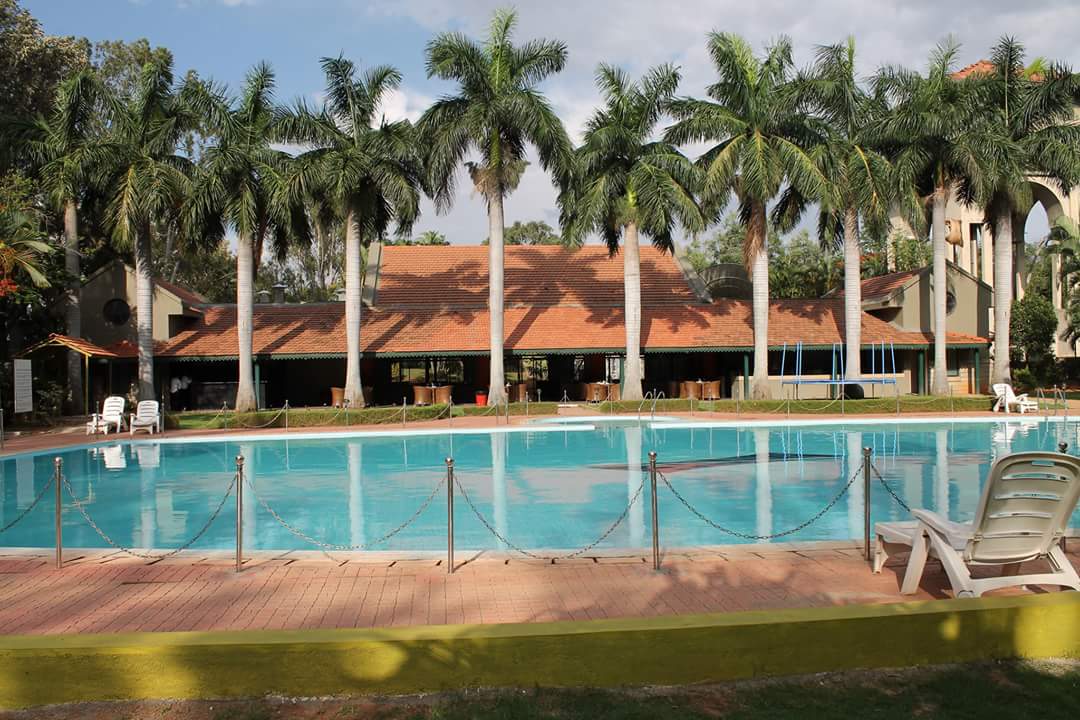 An elegant resort in Bangalore for a day outing with international standards and facilities is Chairman's Jade Club and Resort located at a distance of around 5 kilometres from the international airport and almost 26 kilometres away from Bengaluru city. It is a part of Chairman's Resort at Shankar Nagar. The resort and club are sprawling across an area of 8 acres that is beautifully landscaped and filled with lush gardens and it is in Jade Gardens that is existing in 250 acres.
A plethora of exciting activities and services this resort is attracting adults and families as well as corporates to embark upon a journey into pure happiness and laughter. There are spaces to conduct private ceremonies and occasions, a wedding hall, indoor games like billiards, a large swimming pool and a spacious dining spot. The poolside bar offers cocktails and international liquors to make your day special and completely fun filled. For kids, there is a special play area and they will be able to immerse in their own world.
Approx Distance from City Centre: 30Kms
Activities and Amenities: Swimming Pool, Volleyball, Squash Court, Tennis, Badminton, Archery, Bunge runner.
Food: Veg & Non-Veg.
Food Rating – 3.
Liquor -Available.
6. Urban Valley Resort
A tranquillizing lakeside resort in Bangalore is Urban Valley Resort. The beautiful landscaped exteriors of the resort promise a faultless stay at this resort and modified high-class amenities will add to the best experience each guest will look forward to have here. The resort is located on Kanakpura road at a close distance from the city. The mix of multiple games, both indoor and outdoor are the main peculiarity of Urban Valley.
Here you will be able to take part in Carrom, Table-tennis, football, water sports, paintball, chess, rain dance and find utmost energy and happiness with your family and friends. Urban Valley Resort has been an important and one of the best location for corporate outings and family get together for a long time. A well maintained swimming pool amidst the lush greenery has its own influence on the mindset of the guests coming here. The rooms are also made comfortable and luxurious with all modern amenities and a flawless service.
Approx Distance from City Centre: 25Kms
Activities and Amenities: Paintball, Jet Ski, ATV Rides, Indoor and outdoor activities, Party Lawns.
Food: Veg & Non-Veg.
Food Rating -4.5.
Liquor – Available.
7. Anandadhama Retreat
Anandadhama Retreat is a beautiful resort situated on the banks of the serene Cauvery River in Karnataka. It is considered to be a top notched resort in Bangalore that offers incomparable services and facilities along with the flawless harmony with nature. It is a perfect pitch for adventure as well as fun games and activities.
Thus, nature lovers and adventure freaks arrive at Anandadhama in large numbers. Archery, Tarzan jumping, ditch jump, trust fall etc are some of the main events along with a coracle ride on the manmade lake, cycling, nature walk etc. Undoubtedly, this is a peaceful retreat located in the city that helps many hearts to win over the hustles and bustles of the rambunctious city lights and traffic.
Approximate Distance from City Centre: 6.4 kilometres and it will take around 25 minutes to reach the resort.
Activities and Amenities: Coracle ride, Archery, Tarzan Jump, Balancing Beams, Ditch Jump,
Trust Fall, Cycling, Ayurvedic Massage.
Food: Veg.
Alcohol: Not available.
Food rating: 3.5.
8. The Windflower Prakruthi
Windflower Prukruthi is a famous resort with different branches in South India and in Bangalore, it is located in Devanahalli. A large luxurious space makes this resort perfect weekend getaway near Bangalore. Guests arrive here are quite happy with the services and amenities. It offers an outdoor swimming pool and some activities like tennis, billiards etc. Also, the rooms at this resort provide free Wi-Fi access. The rooms are air-conditioned and beautified with a seating area as well as a balcony.
There will be an electric kettle in each room. Other than these, the resort has a beautiful outdoor, especially the garden is the most attractive feature here. A games room and a children's playground are the other important facilities arranged at the resort with the mission to make the stay of families and friends amusing. The resort is located at a distance of about 5 kilometres from Kempegowda International Airport. Guests have particularly highlighted the multi-cuisine restaurant at the resort.
Approx Distance from City Centre: 32Kms
Activities and Amenities: Swimming Pool, ATV, Paintball, Rope Courses, Zorbing,
Conference Hall Facility.
Food: Veg & Non-Veg
Food Rating – 4.
Liquor – Available.
9. Jade 735 Resort
Combining the exotic auras of a fairytale villa and nature retreat, being at Jade 735 is not an escape or just a getaway, it's an experience that you owe to yourself!
Be enveloped in the warmth of an experience that places you smack in the midst of luxury and magnificence of a 12,000sq.ft.Retreat. Living quarters befitting a king and well equipped with all the luxury amenities makes this resort perfect place for a pampering day out near Bangalore.
Approx Distance from City Centre: 90Kms
Activities and Amenities: Plush Villa, Massage beds and chairs, Outdoor Jacuzzi, Ready to Rain Corridors, Lounge, Butler.
Food: Veg & Non-Veg.
Food Rating – 3.5.
Liquor – Available.
10. Jade Coconest Grove
There are a very few places in the world that can offer you the luxury, leisure and adventure all at the same time! Jade Coconest Grove is one of them. It is one of the best resorts in Bangalore for family.
Amble along tall and swishing coconut fronds and energise your senses with immaculate architecture and opulent interiors. Take a dip in the pool or enjoy some invigorating games in the midst of magical nature, Jade Coconest Grove is here to rejuvenate you.
Approx Distance from City Centre: 90Kms
Activities and Amenities: Club House, Indoor Games, Swimming Pool, Party Lawn, Children's play area.
Food: Veg & Non-Veg.
Food Ratin – 3.5.
Liquor – Available.
SOURCE – thrillophilia.