UDAY Express double-decker Coimbatore-Bengaluru train started
UDAY Express train between Coimbatore-Bengaluru is flagged off! The much awaited Coimbatore-Bengaluru UDAY Express double-decker train flagged off by Union Minister of State for Railways Rajen Gohain. The UDAY Express train, which will travel between Bengaluru in Karnataka and Coimbatore in Tamil Nadu is an all air-conditioned 'luxury' double-decker express train aimed at catering to business travellers. The name of the express train – UDAY – stands for Utkrisht Double-Decker Air-conditioned Yatri. The UDAY Express train has 10 coaches in total, out of which 3 coaches have dining facility with seating capacity for 104 passengers each, 5 coaches are without dining facility with seating capacity for 120 passengers and 2 coaches are power cars.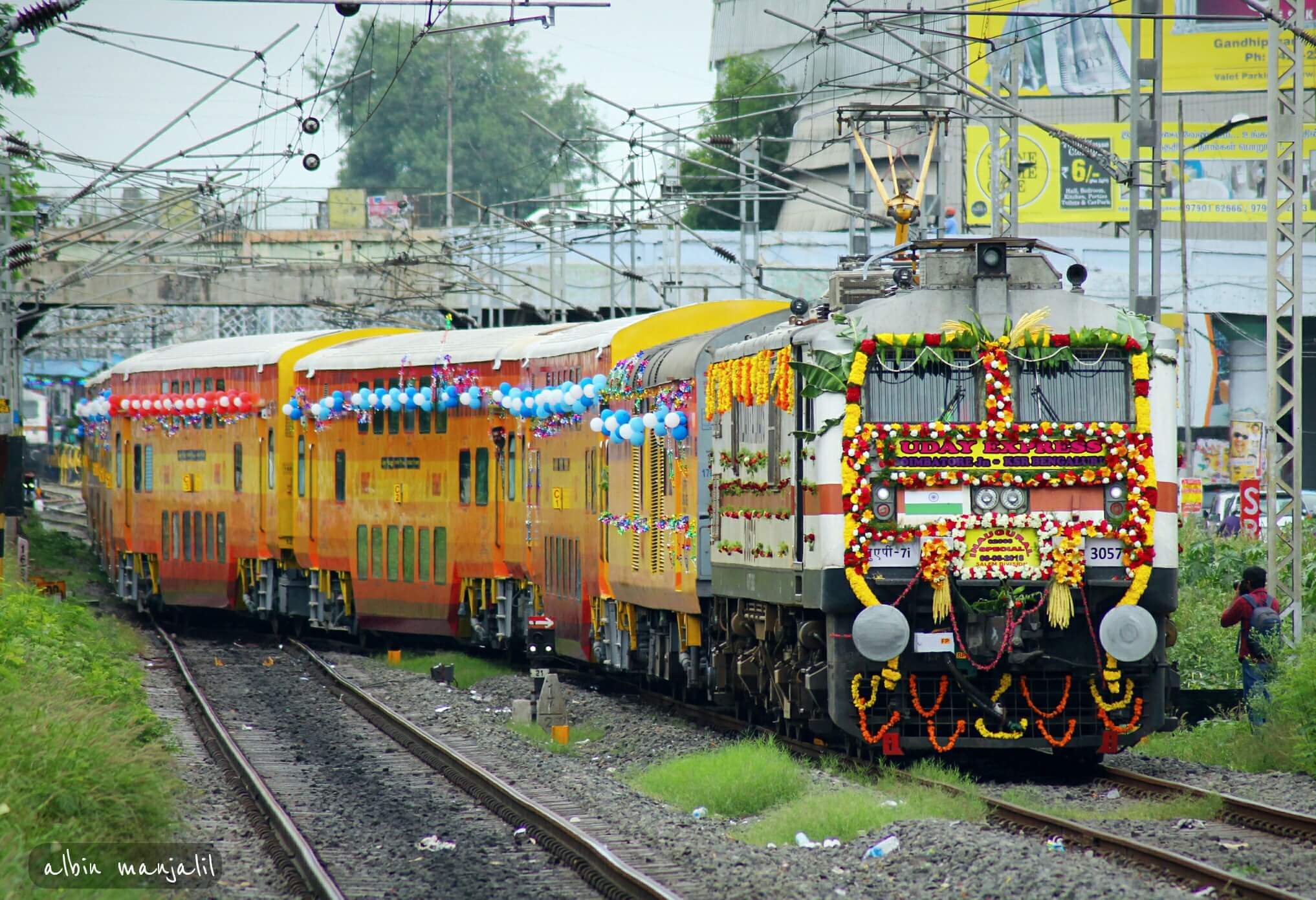 The new double-decker Bengaluru-Coimbatore UDAY Express train has been provided with many modern features such as infotainment system with WiFi, Passenger Information System based on GPS, passenger-friendly modular fittings in the toilets, solar reflective coating on the roof, diffused LED lighting, artistically designed seat covers, renewed -roller blinds, armrests as well as window glasses, spray painted luggage racks. The exterior of the train is bright orange and yellow in color. Also, the exterior has been given an anti-graffiti vinyl wrapping. Each of the 3 coaches with dining facility has also been provided with a dedicated automatic food vending machine by IRCTC – a first for an Indian Railways train.
UDAY Express route, timings and fare: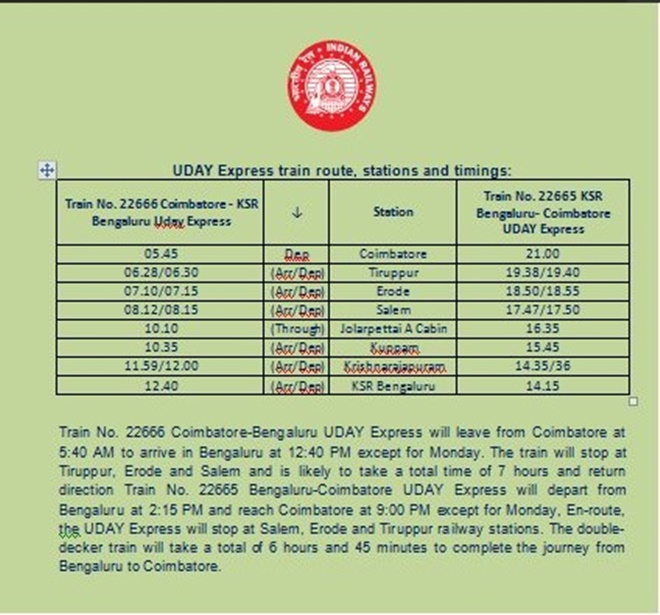 The Coimbatore-Bengaluru UDAY Express train on its inaugural run will depart from Coimbatore railway station at 10:30 AM and will reach KSR Bengaluru at 5:20 PM. However, as per the Indian Railways regular time-table, train number 22666 Coimbatore-Bengaluru UDAY Express train will leave at 5:40 AM from Coimbatore and will reach Bengaluru at 12:40 PM, on all days except for Mondays. In the return direction, train number 22665 Bengaluru-Coimbatore UDAY Express train will leave Bengaluru at 2:15 PM and will reach Coimbatore at 9:00 PM, except for Mondays. That's a total of 7 hours from Coimbatore to Bengaluru and 6 hours and 45 minutes from Bengaluru to Coimbatore. En route, the train will halt at Salem, Erode and Tiruppur railway stations.
According to Railway Ministry officials, the fares of UDAY Express are similar to those of an AC chair car and dynamic pricing will not be applicable for this new train. While trying to book a ticket from Coimbatore to Bengaluru through the IRCTC website, Financial Express Online found that the UDAY Express train ticket costs Rs 610, which includes Base fare of Rs 496, Reservation charge of Rs 40, Superfast charge of Rs 45 and total GST of Rs 29.
Photo – Albin Manjalil.