Thusharagiri sets a splendid treat for tourists
The set of beautiful cascades forming Thusharagiri waterfalls is located in the hill ranges of Western Ghats, east of Kozhikode.
Of these multiple waterfalls, the first three are within 500 metres and easy to reach. They are Earattumukku, Thanni Muthassi and Mazhavil Chattam falls.
The next one, Thumpi thullum para waterfall, is about 1 km into the woods. There are a couple more waterfalls deep into the forest, within 5 kms.
Trekkers start early morning from the second waterfall on the hills and climb up through the pristine dense evergreen forests teeming with exotic birds and animals to reach Vythiri in Wayanad district by evening.
Best time to visit
Thusharagiri waterfalls never dry out so can be visited throughout the year.
Monsoon starting from June brings plenty of water thus creating a great roar. However, because of heavy down pour and slippery conditions, peak of monsoon is not an ideal time to visit here.
The best time to visit Thusharagiri waterfall of Kerala, is from September till December. Heavy rain recedes by then.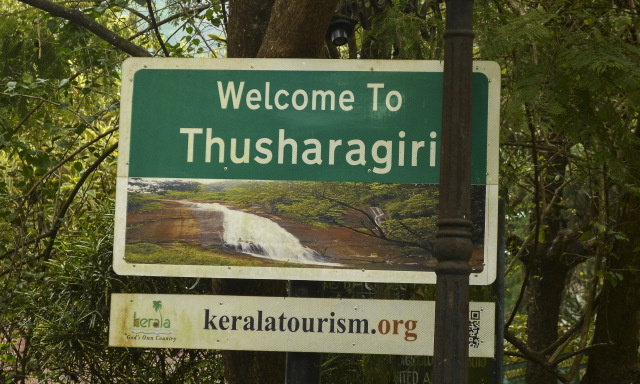 Getting there
Nearest railway station: Kozhikode, about 50 km
Nearest airport: Calicut International Airport, about 23 km from Kozhikode town