This 'Naalumani kattu' is not just a gentle breeze
It is breezy here at all times of the day. But, exactly at 4 pm every day the breeze magically turns aromatic with a fusion of scents. The smell of bajis, chembu puzhungiyathu (steam cooked colocasia) and kappa (tapioca) puzhukku fill the air.
Once you breathe in that aromatic breeze, you will be definitely be lured back time and again to the alluring tourist spot named 'Naalumani kattu.'
This charming locale in Kottayam is a perfect spot for evening chill outs. It offers a delectable blend of 'nadan' delicacies in the refreshing ambiance of fresh breeze blowing past verdant fields, in the backdrop of the setting sun.
Naalumani kattu, a wayside tourist project, is on Manarcaud-Ettumanoor route, 10 kms away from Kottayam. The charming spot has a story of resurrection to tell. Once upon a time, the fields between Palamuri and Payiprapadi were marshlands, where people used to dump garbage. Thanks to the innovative vision and strenuous efforts of Manarcaud-Ettumanoor Residents Association, 'Naalumanikattu', the avant-garde wayside tourist spot, emerged from that deplorable 'garbage bin'.
The team not only removed the garbage for good, but also beautified the place to such a degree that no more will anyone feel to dump garbage there. Cement benches were set on the roadside opening to the green fields, so that anyone who wishes can sit back and enjoy the breeze. The surroundings were further enhanced by planting trees and flower plants. A kids' play area was also set up, which comprises a swing, a tree-shaped slide and many other exciting rides. A couple of 'Thattu kadas' (wayside cafeteria) are also set up with the support of Kudumbashree units, which will be ready every evening with delicious snacks.
Here, you get hot nadan snacks like Chembu vevichathu (colocasia preparation), Kappa puzhungiyathu (boiled tapioca), Pazham pori (ripe banana fry), Baji, Dosa, Uppilitta manga and Nellikka (salted raw mangoes and gooseberries) at really affordable price. These cafeterias are the monopoly of Kudumbashree members, allotted to them as a reward for their laudable service rendered in redeeming the place from the shackles of the 'garbage bin.' Other vendors are not permitted inside the premises. The Kudumbashree members have also the duty to keep the place clean. They are extremely committed to this task, as we cannot find even a single piece of paper on the ground, even though the place is visited by hundreds.
Why not pick up a book and browse through, with a cup of tea in hand? Here you have a mobile library which lends book at just one rupee. You will get the money back when you return the book. If you want to take it home, pay the price.
And during festive days including Onam time, entertainments and contests will be organized here in connection with Onam. A snake boat is set up by the roadside, where 'Kara vanchipadu' contest will take place. Thiruvathira kali and Panchavadayam will be held in the evening. Other programmes include Avial recipe contest and kids cultural events.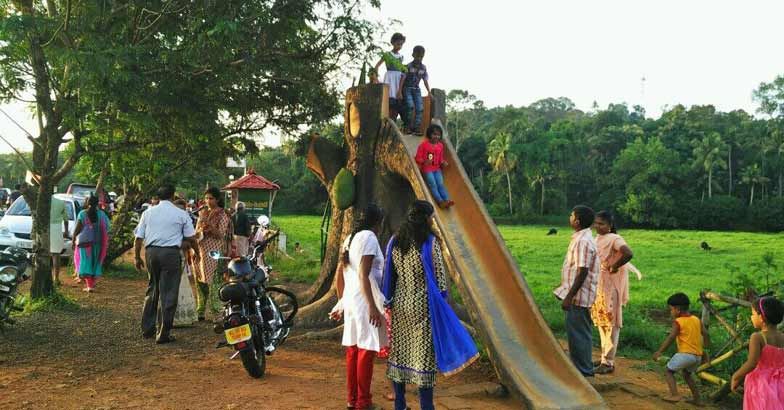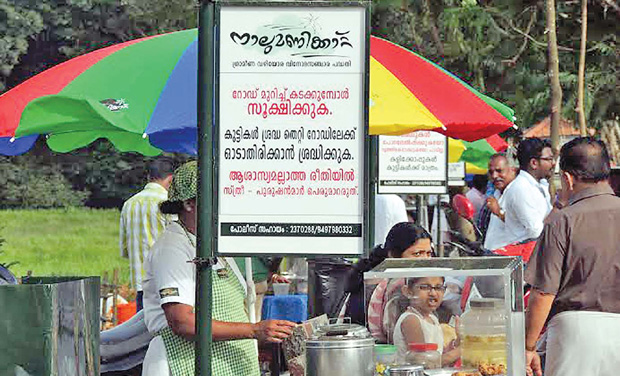 Naalumanikattu, inaugurated in 2011, stands as a paradigm for tackling garbage issue. The project has won many accolades for its innovation, including State Tourism Department's Best innovative concept Award 2013 and Skal International Sustainable Tourism Award 2014.
Photos – Indu PR