The train comes through the Mae Klong market 
Eight times a day, the shopkeepers have to interrupt their business, quickly pull down the roofs of their shops, drag their goods inside, then stand against their shop fronts breathing in — to let a train go through. That's right, a train. A big, steel, commuter train travelling quite fast, straight through the middle of the mall. Sound bizarre?
Video – Lily Aster LIM
Welcome to the Mae Klong railway market in small town Thailand. The town of Mae Klong is about 72 kilometres, or a casual 1 drive, south west of Bangkok. Mae Klong is the local name for Samut Songkhram, the capital of the Samut Songkhram province and district. The market right in the centre of town, the last 100 metres before the station. It's quite surreal in a temporary sort of way, like a movie set. The only place to walk is in the centre of the rather narrow railway tracks. Small stalls line both sides, every available bit of real estate is used, low plastic trays of vegetables and vibrant Thai fruit including rambutans and mangosteens, are stacked right up to the steel rails. What happens when the train comes through?
The market is your veritable one-stop-shop. Spectacular fresh-cut flowers, every fruit and vegetable you can imagine, fragrant spices, cuts of meat, poultry and seafood so fresh, it was being persuaded to stop flapping about by an earnest man wielding a lump of wood. There are kids' toys, clothes, lingerie, thongs of both varieties, dodgy DVDs — you name it. Makeshift awnings — tarpaulins, even a bedspread — cover the stalls. They combine to give the market a temporary roof that is quite low, so I had to stoop to walk through. It was fairly dark under the awnings, with a pungent buffet of unrefrigerated fish, meat and cut fruit, garnished with spices.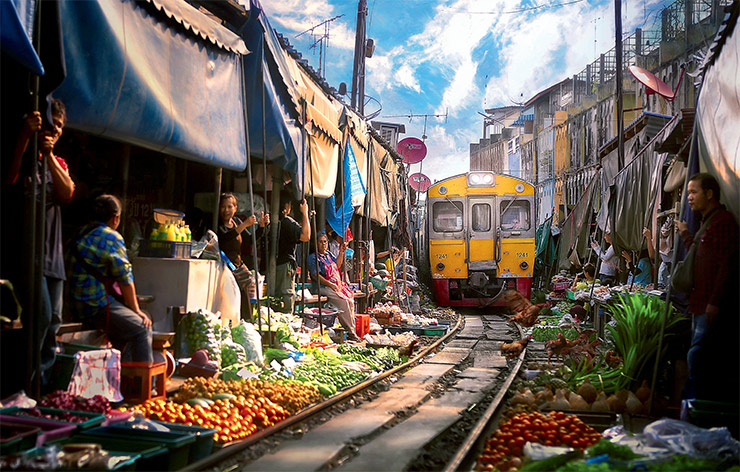 Some of the stalls are basic; others well set up. Some aren't even stalls, just people sitting beside the tracks with fruit laid out at their feet. Then it happened, The shopkeepers calmly but quickly started folding down the awnings. Most were held up by poles, a simple but effective design. Trays of produce were dragged in; some more high-tech versions were on wheels. It happened in a chain reaction, odd because I hadn't heard a train whistle or horn, but the timetable is adhered to fairly well.
The train rounded the corner and rumbled through the market. There were only inches to spare between the trainand the produce on the ground. The two carriages were past in a flash of grey and yellow and milliseconds later, the stallholders were on the tracks putting up the awnings, even before the train had disappeared from view. It was as though nothing had happened. The Mae Klong railway market raises plenty of questions.