Watch Brave Cops Drive SUV Across River to Rescue Stranded Family in Kerala [Video]
There is a popular movie from South India, where superstar Mohanlal, acting as a cop, crosses a river in his car to rescue some people. Something of a similar sort came into light, albeit in real life, during the recent floods in Kerala. A video shared on Facebook shows brave cops crossing a flowing river in Mahindra Bolero police car to rescue a stranded family.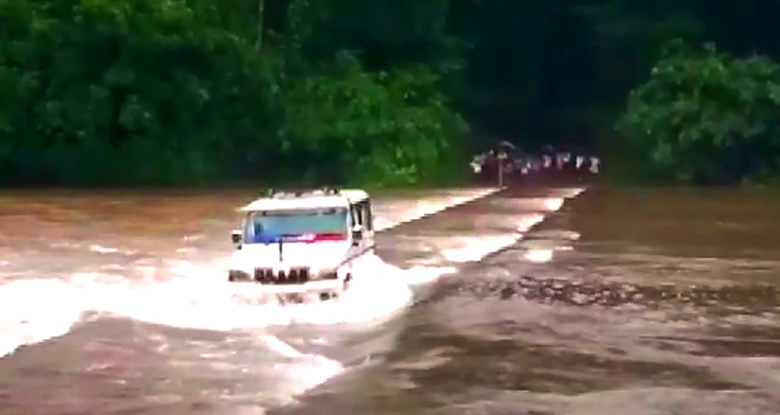 The video making round on Social Media and shared widely is from Purapuzha in Kerala where a family got stranded while trying to cross a submerged bridge during heavy rainfall. The bridge was the only way to connect the village to the mainland. Also, the heavy water flow in the river made things worse for the family and the rescue efforts.
However, on the other side of the bridge was a police issued Mahindra Bolero, who dared to cross the bridge under such water flow. We are not sure on the number of police personnel inside the Bolero, but the video shows Bolero successfully crossing the submerged bridge.
The Mahindra Bolero is powered by a 2523cc, four-cylinder, turbocharged diesel engine that outputs a maximum power of 63 hp along with a peak torque of 180 Nm. The engine comes mated to a five-speed manual transmission. The rugged utility vehicle has a ground clearance of 180 mm. It's also noteworthy that Mahindra sells the 4×4 variant of the Bolero to the Police and other government departments. A 4×4 system comes in handy in such situations, where every wheel is required to have optimum traction. 4-Low can be used to have enough low-end grunt. While these specifications did help the Bolero cross the water-logged bridge successfully, we salute the bravery displayed by the traffic cops who risked their own lives to protect the stranded citizens.
As you can probably make out from the video, anything could have gone wrong with this rescue operation. A sudden increase in water flow could have pushed the Bolero off the bridge and into the river. Also, an increased water level could have caused the Bolero to stall midway, which would have made the entire situation more complicated. Luckily, however, nothing of this sort happened and the cops were successful in rescuing the stranded lot.
Video source – Kothamangalam Vartha on Facebook.