Train made to wait for Vehicles to Clear path
Trains suffer max on Single line sections and loose out time resulting in running horribly late. I have highlighted two concerns in this video firstly the Level Crossing gate and secondly the Single line section.
You will realize how much time gets wasted post watching this video. This is pretty much a common scene at the Railway Level crossing gates where our people don't want to co-operate and not wanting to spare even a minute to acknowledge the alarm and respect the Rules of the Level crossing to make way for the approaching train.
These gates are not automatic and are manually operated by a Gateman. Its impossible to automate them in a highly congested traffic area like the one in this video. No one seems to be making way for the Train and both the trains ended up waiting at the station home Signal outer until this chaotic mess took a while to get sorted.
Video – The RailZone
Once the train gets on to the loop track it is made to wait further until the train from opposite side crosses the line and simultaneously the LC Gate is still kept closed to avoid another chaos.
The only solution to this is to first eliminate the Level crossing and build Underpasses or Over bridges and later take up track doubling.This not only burdens the people on the road but also the Passengers travelling by the train.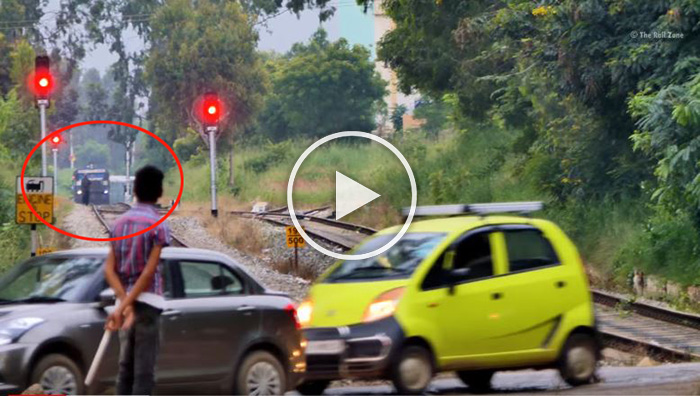 Train : 56242 Yesvantpur – Salem Passenger. 11014 Coimbatore – Lokmanya Tilak ~Kurla Express.
Locomotive : KJM WDP4 20054 and GOC WDP4D 404xx
Location : Karmelaram (Carmelaram), Bangalore. Karnataka.