This Tirur-Manjeri bus to offer hi-tech ride
A local bus entrepreneur from Kozhichena, near Kottakkal, who won the hearts of passengers by offering them high-tech facilities such as free Wi-Fi on his newly launched bus Laverna, is preparing to introduce a bus with toilet.
P.K. Mohammed Shafi, whose 58-seater Laverna plying between Tirur and Manjeri, is planning to introduce the bus with toilet facilities on Thrissur-Kozhikode route. "I think it will be the first passenger bus to have a toilet in the State," he said.
Mr. Shafi and his team conquered the hearts of many when they began their "luxury service" between Tirur and Manjeri a few days ago.
They offered free ride for students and gifted pens to 500-odd passengers on the inaugural run.
Fair treatment
Creating the ambience of an air or rail journey, the bus welcomes passengers and makes announcements at major stations. Unlike the psychological hardships they find in other buses, students are assured of fair treatment in Laverna.
"Service, not profit, is our motto. And we will not discriminate against students or any passengers," said Mr. Shafi, who had 17 years of service with General Motors as head of sales in the Gulf.
The bus has plush seats with comfortable leg space and a pleasant ambience. Although 3G Wi-Fi is free, it will not be available during school timings in the morning and afternoon.
"We are forced to regulate the Wi-Fi after having found a great level of misuse by students," he said.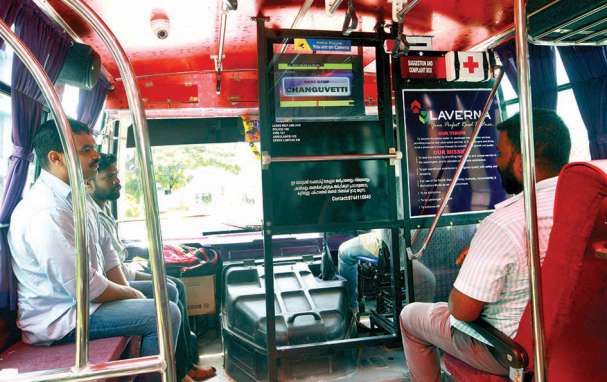 The bus employees are discouraged from speeding and competing with others. Unlike other buses, Laverna staff are paid salary and no bata. Safe driving is promoted and the bus frequently plays road safety messages.
"We are planning to offer pay increase, gifts, and other promotions for workers who do not cause accidents. Safe journey is our mission," said Mr. Shafi, who examines the complaint box in the bus every day.
Passengers are encouraged to air their views.
Passengers have begun to ask for the timing of Laverna as the bus gives them a peacefully different journey. Mr. Shafi has proved that local bus journeys too can be made enjoyable with better facilities.