Irishman stops to feed a wild elephant in Sri Lanka.. Then…
There's such a thing as being too friendly, which this Irishman in Sri Lanka discovered to his detriment when he encountered a wild elephant all the way down in Sri Lanka.
JOE reader Elaine Harney sent us this video of an Irish gentlemen stopping his tuk-tuk when he encountered a massive, roaming elephant.
Our pal – his vehicle proudly donning the green, white and gold – stops to offer his new friend some food.
The elephant stops, takes the food, then promptly topples the Irishman's tuk-tuk in the middle of the road. The man in question, thankfully unharmed, was none too pleased afterwards having lost both his avocados and his tuk-tuk.
Julian Carnall, Co-founder of Large Minority (www.largeminority.travel) who has been operating the tuk tuk adventures in Sri Lanka for nearly a decade said:
"Nature is sometimes unpredictable. Unexpected events such as this are what makes adventure travel such a fun and thrilling experience.  Luckily our dedicated logistics team is never far away in these rare instances when a tuk tuk ends up in an unusual situation. I'm pleased to confirm both elephant and tuk tuk are unharmed."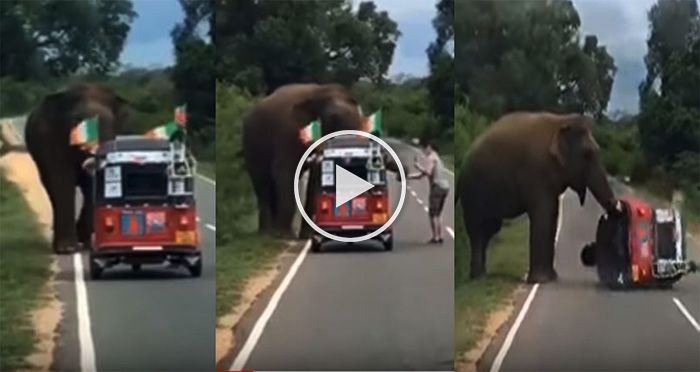 "Large Minority is a socially responsible travel operator so, of course we wouldn't recommend feeding the wildlife, however sometimes they will seek out certain scents for themselves. In this case, the avocados proved a powerful lure."