9 Amazing Facts about world's biggest cruise ship
Cruisers across the world are very enthusiastic about the crowning of Royal Caribbean's Symphony of the Seas as the world's largest cruise ship. The newest member of Royal Caribbean's International Oasis class of ships just got one step closer to its April 2018 debut, by being the world's largest cruise ship title, replacing Harmony of the Seas.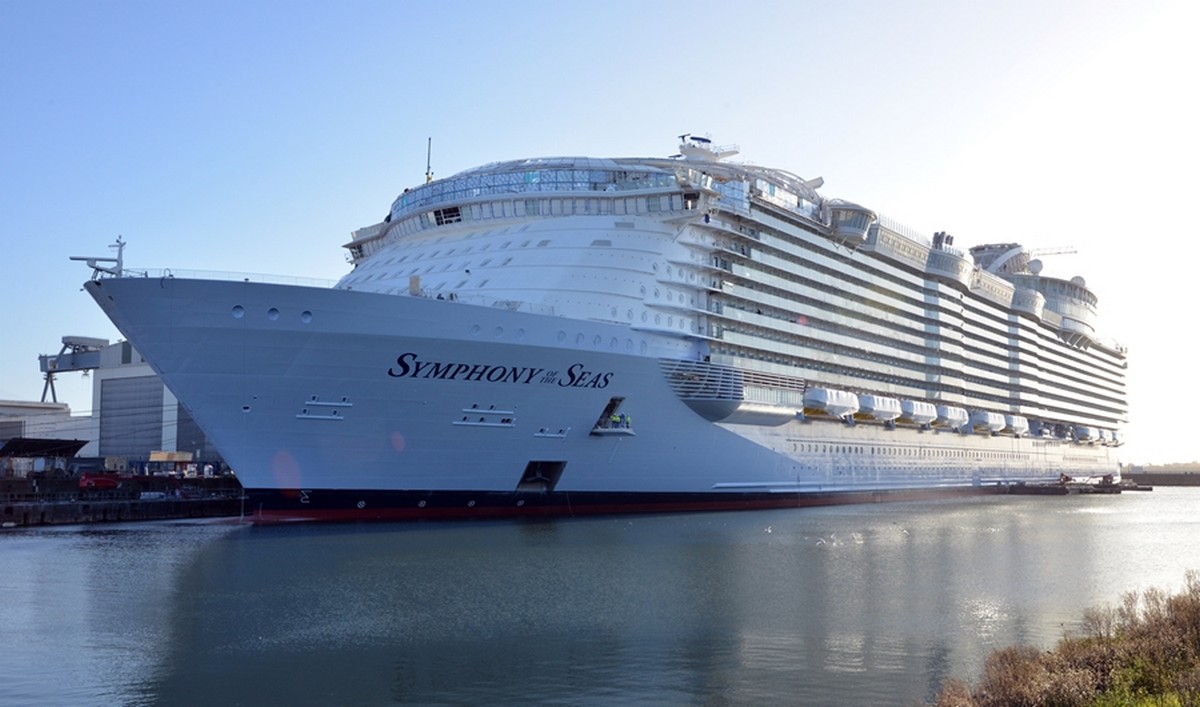 A cruise ship or cruise liner is like floating hotels, used for pleasure voyages, where the voyage itself and the ship's amenities are a part of the experience. The cruise ships comes with a complete set of hospitality staff in addition to the usual ship's crew.

The Symphony of the Seas, which is under construction at a shipyard in France, will start its voyage from April 2018. Let's have a look at the 10 most amazing facts about the World's biggest cruise ship.
The cruise is 170,000 sq. ft. in size which is as big as three football fields.
It has 16 decks (platforms built into a vessel) with weight of 230,000 gross tonnes.
It can carry 5500 passengers in 2,774 guest rooms. It also houses family suite with two bedrooms that can accommodate up to 8 people.
Symphony of the Seas has mobile check-in services that use facial recognition technology.
The engine of the cruise is powered by four bow thrusts, each stuffed with 7,500 horsepower that can achieve speeds of 22 knots (41 km/h; 25 mph).
The ship was built at a cost of US$1.35 billion (2016). Royal Caribbean Cruises Ltd is the owner and operator of the cruise.
It will spend its inaugural summer season – from April to October 2018 – in Europe, calling at Barcelona, Palma de Mallorca, Provence, Florence, Pisa, Rome and Naples, terminal in Port Miami.
Drinks will served at Bionic Bar of Symphony of Seas by a robot arm.
It is equipped with more than 20 specialty and complimentary restaurants.
MS Symphony of the Seas is an Oasis-class biggest cruise ship claimed and worked by Royal Caribbean International. Starting at 9 June 2017, she is the biggest traveler deliver ever to be developed by net tonnage, at 228,021 GRT, outperforming her sister Harmony of the Seas. MS Symphony of the Seas is presently being worked in the Chantiers de l'Atlantique shipyard in Saint Nazaire, France. She will be the fourth in its Oasis-class arrangement.
MS Symphony of the Seas measures 1,188 feet (362 m) long and will have a limit of 228,021 gross enroll tons crosswise over 18 decks. She will have the capacity to oblige 5,518 travelers at twofold inhabitance up to a greatest limit of 6,680 travelers, and also a 2,200-man team. Offices will incorporate a youngsters' water stop, a full-measure b-ball court, ice-skating arena, and two 43-foot shake climbing dividers. Amid her first season Symphony of the Seas will cruise from Barcelona, Spain on 7 night Western Mediterranean travels. On 28 October 2018, she will reposition to her home port, the Port of Miami in Florida, United States. In November 2018, she will start Caribbean travels.