88-Year-Old Indian Farmer Buys Mercedes-Benz To Fulfil Childhood Dream
Childhood dreams often fade away with age, but this farmer from Tamil Nadu has shown us otherwise. Devarajan H, an 88-year-old farmer, became the proud owner of a Mercedes-Benz B-Class recently. Here is why it is so special.
When Devarajan H was 8, he saw a car which had a 'three-pointed star' logo and fell in love with it. The eight-year-old decided to buy the same car one day and after 80 years at the age of 88, he finally bought one. No prizes for guessing that the 'three-pointed star' logo was of the brand Mercedes-Benz.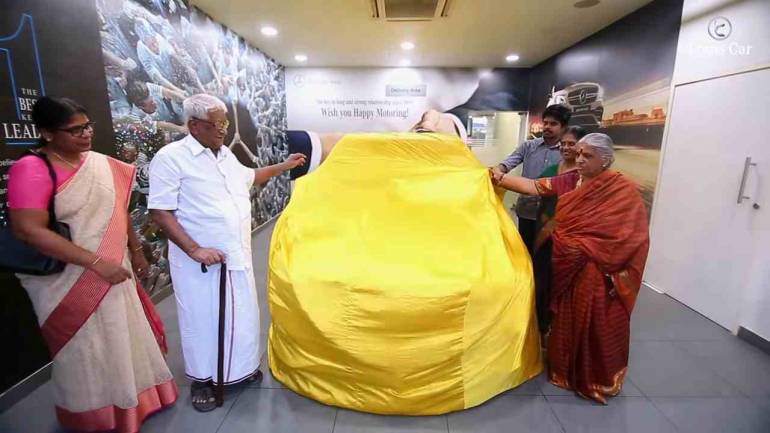 The responsibility of raising took most of Devarajan's time. Things don't come easy to a farmer from Kanchipuram, Tamil Nadu.
But in the second innings of life, his wife reminded him of his childhood dream. And last week, he along with his wife and kids went to take delivery of the car — Mercedes-Benz B-Class, which is known for its high roof and spacious cabin. The ex-showroom price of the car starts at Rs. 32 lakhs in Tamil Nadu.
Devarajan believes that his dream came true only because of his wife's support.
In the video, you can see Devarajan's eyes twinkle with joy while signing the car papers. At the store, he celebrated his new purchase with his family and friends. The staff memebrs joined the celebrations too.
The Mercedes-Benz B-Class is a very practical vehicle is a cross between an MPV and a hatchback which satisfies the needs of most Indian families. It gets a tall-boy design with a high roof, which makes it easy for old people to get in and out of the car easily and gives it a very spacious cabin. The exact variant of the vehicle is not known but the ex-showroom price of the B-Class starts at Rs. 32 lakhs in Tamil Nadu. The car gets powered by both petrol and diesel engine options and comes only with an automatic transmission. It became the most-affordable Mercedes-Benz in India when it was launched in 2012 before the launch of the A-Class.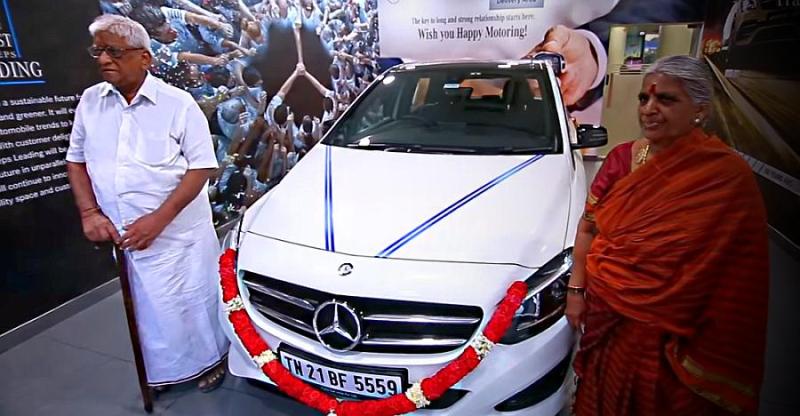 The farmer was seen lifting the cover from the B-Class along with his wife in the showroom. He was later seen on the co-driver seat of the vehicle when they were driving out of the showroom. It is quite a feat to buy a Mercedes-Benz vehicle in India due to high import taxes but dreams do come true.