25 Movie Stars That Only Travel On Their Jet Planes
One of the perks of being a major movie star is that you can afford many luxuries that regular folks like us can't. These stars can buy multi-million mansions at the drop of a hat and fancy cars so they can travel in style. But the ultimate extravagance that movie stars can buy or charter are private jets.
So who are these stars flying like royalty? What makes them a private jet fan? Lucky for you, we've put together a list of 25 movie stars that only travel on their jet planes.
25 CHRIS HEMSWORTH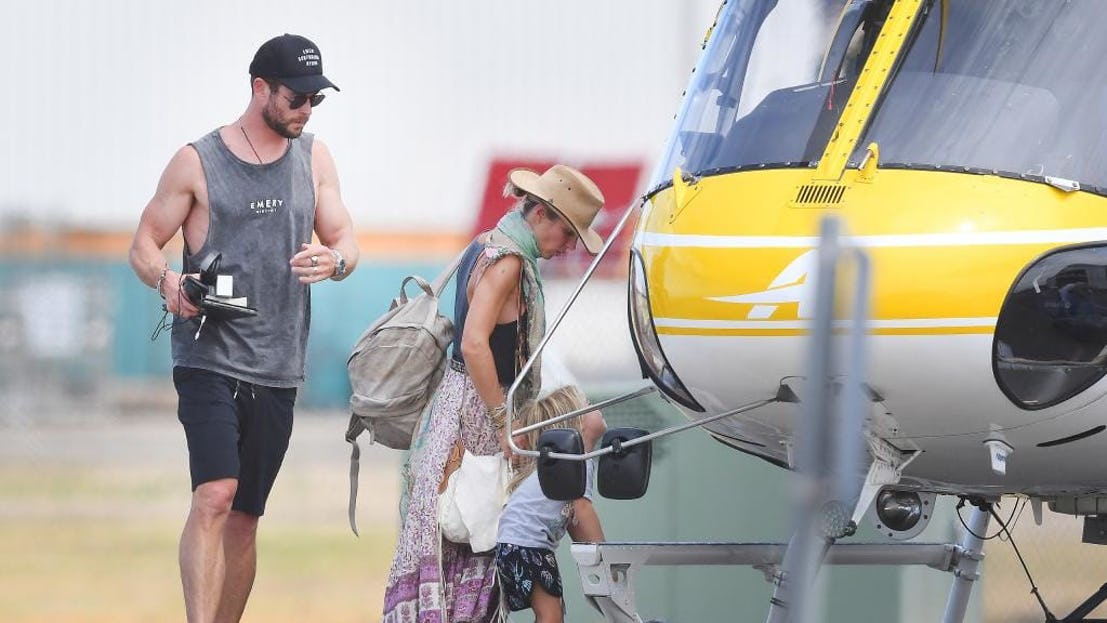 Because Chris Hemsworth is an A-list star, he's much in demand, making him one of the busiest Hollywood actors around. Shooting The Avengers and Thor back-to-back and back again for all The Avengers sequels filmed all over across the globe means Hemsworth has no downtime for the hassle of commercial planes.
He always travels in a chartered jet to get to any of his destinations.
For his latest movie, a Men in Black spin-off, Hemsworth went from England to Morocco, to France, and to Italy to film his parts. But he never tires of private jets, as he always posts photos of himself in private jets on social media.
24 JACKIE CHAN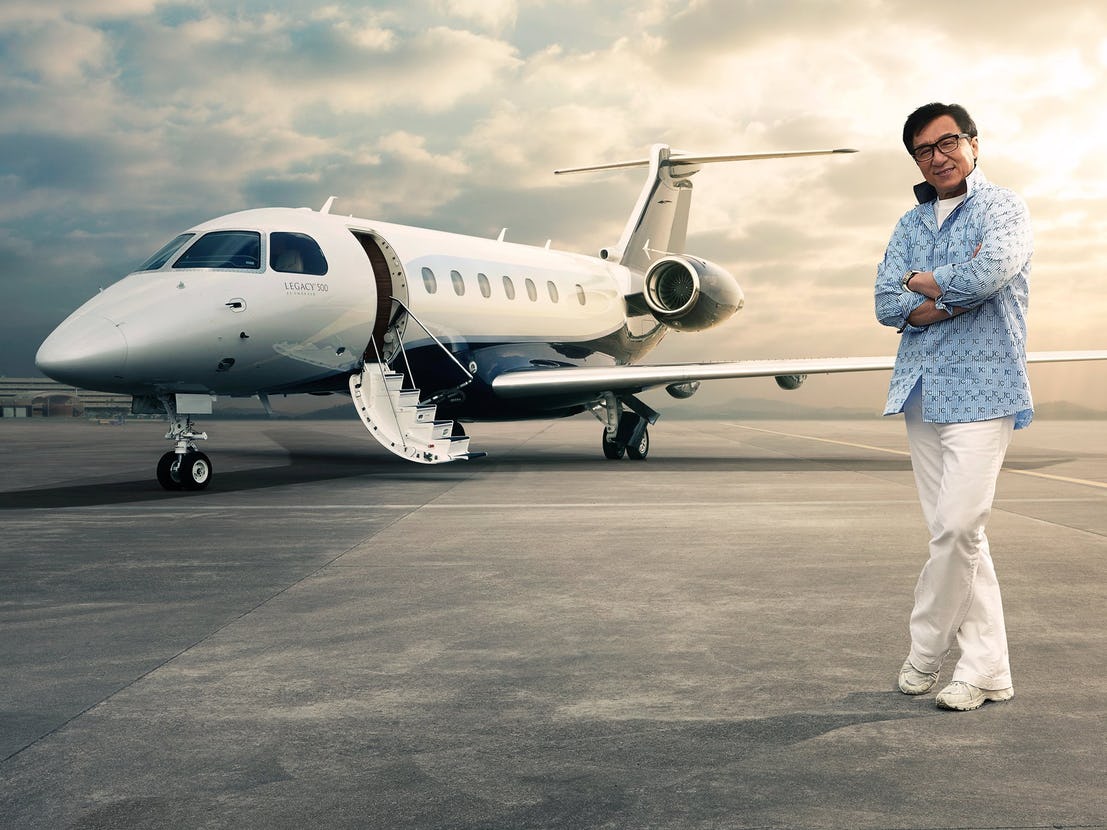 Jackie Chan, the legendary actor and martial artist, owns the Embraer Legacy 500 business jet. He also owns the Embraer Legacy 650, which he acquired in 2012 for $30 mill. The 500 has passenger comfort in mind and is fuel efficient.
Chan uses the 650 for traveling far and the 500 for traveling to shorter destinations.
Here's what he told Forbes: the "650 has brought me fantastic traveling experiences and great convenience, allowing me to do more acting and philanthropic works around the world. I'm sure the Legacy 500 will again exceed my expectations, and become a comfortable mobile home and office for me."
23 CHRIS PRATT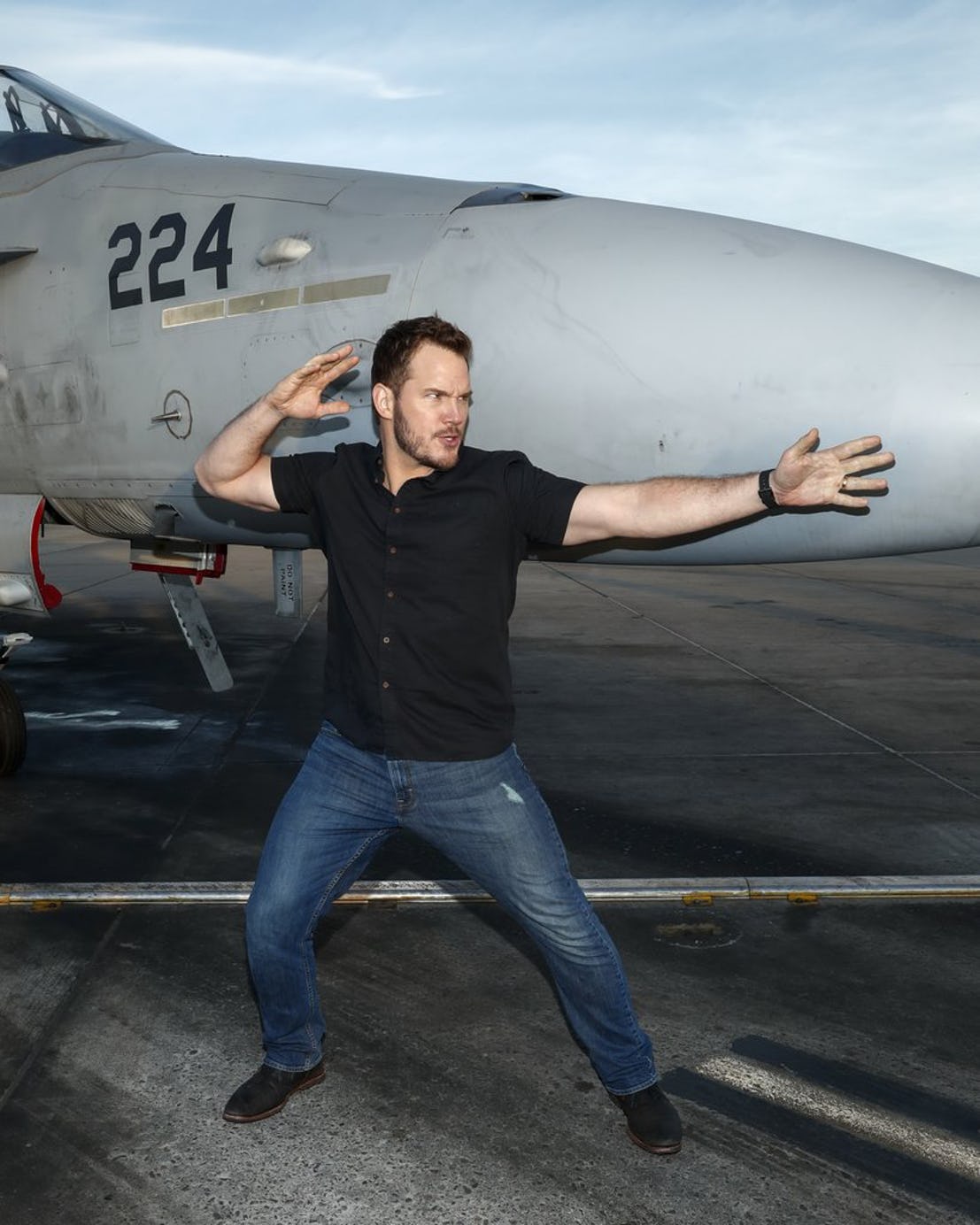 Guardians of the Galaxy and its sequel made Chris Pratt an instant star and an A-list leading man. He started showing an interest in flying private when he was still married to Anna Faris. They always chartered a jet when they went on vacay.
Pratt still flies private, but unlike other movie stars, he doesn't take it for granted.
He told The Things, "Got to take a jet. Which is the pinnacle of luxury travel. So blessed and fortunate and still embracing how fantastic this is. Some people lose that. I don't think I will. Who knows? I hope not to."
22 ANGELINA JOLIE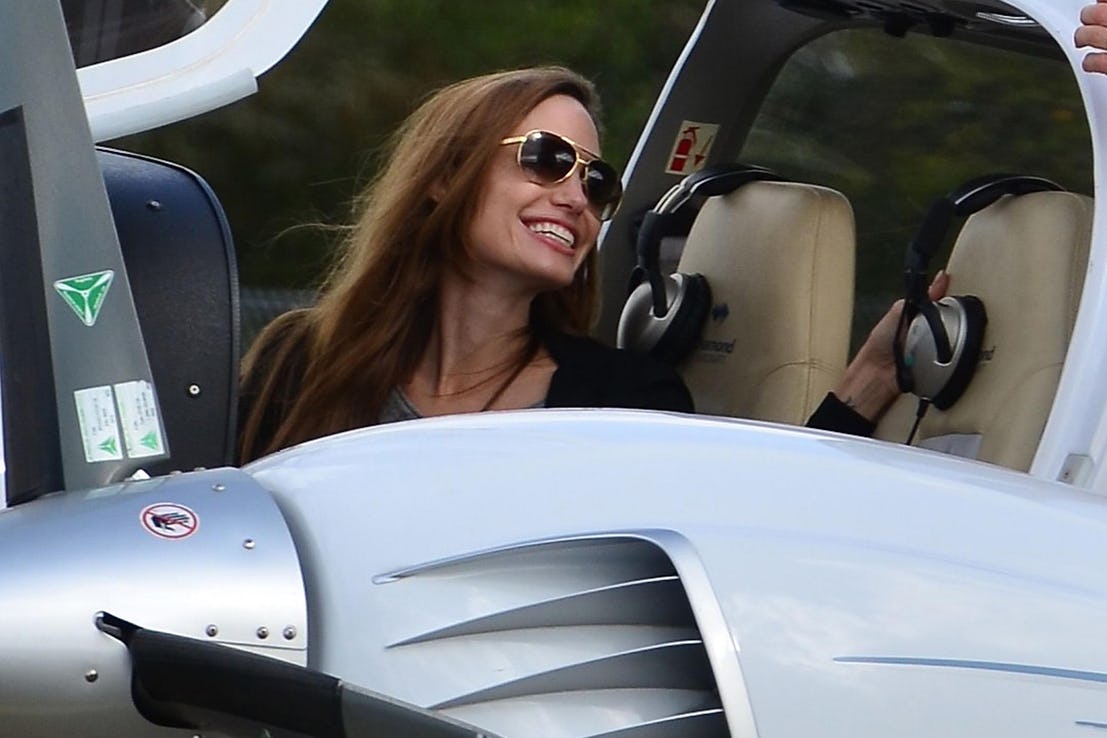 Angelina Jolie, who is known not only for being an A-list star, but also a philanthropist, only flies by private jet. That's because she's a licensed pilot who absolutely loves flying. She said, "It's the best feeling."
Jolie even owns her own jet.
At $650,000, the Cirrus SR22 is relatively cheap considering that the likes of other high-net-worth celebs and directors, like Oprah and Steven Spielberg spent around $40 mill for their planes. Perhaps that's because Jolie would rather spend her money by donating to charity.
21 JAMES FRANCO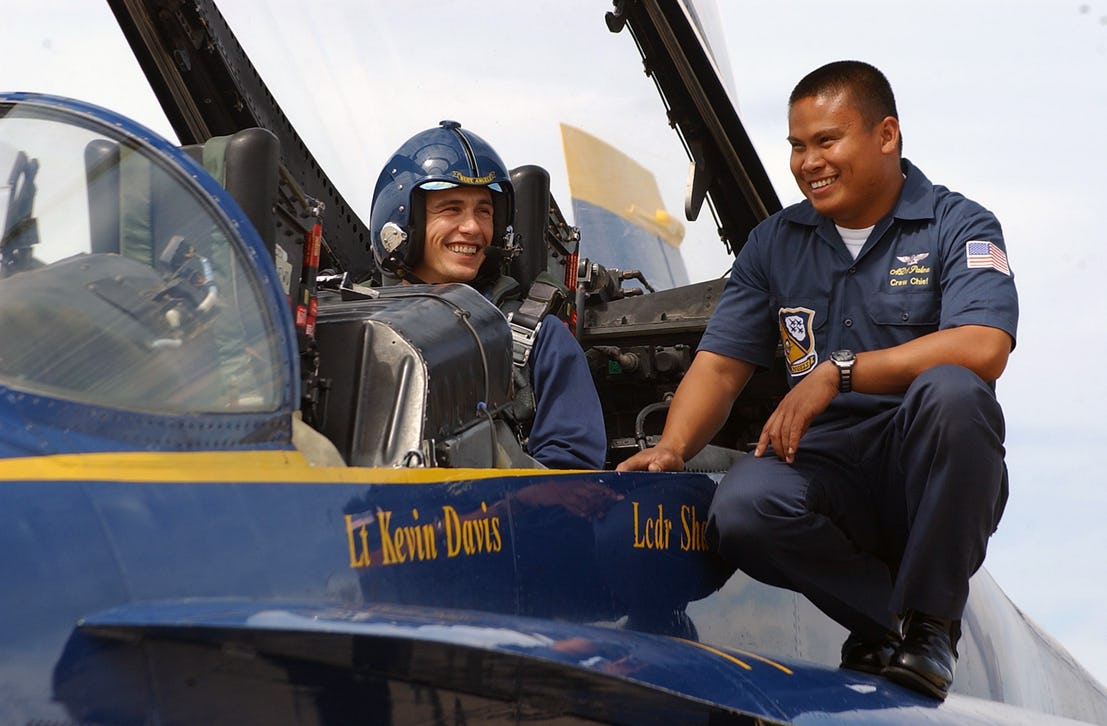 It seems that A-list star James Franco can do anything. While taking a brief break from acting, Franco moved to New York to simultaneously attend grad school at Brooklyn College, Tisch School of the Arts and Columbia.
He told The Washington Post, "I had a bunch of time, so I went and got my pilot's license".
So it seems to not be a surprise that once Franco signed on to star in Flyboys as a WWI aviator, he used his downtime between committing for the role and starting shooting by learning how to fly as "research". Now that's method acting! Of course, he finds flying exhilarating.
20 LEONARDO DICAPRIO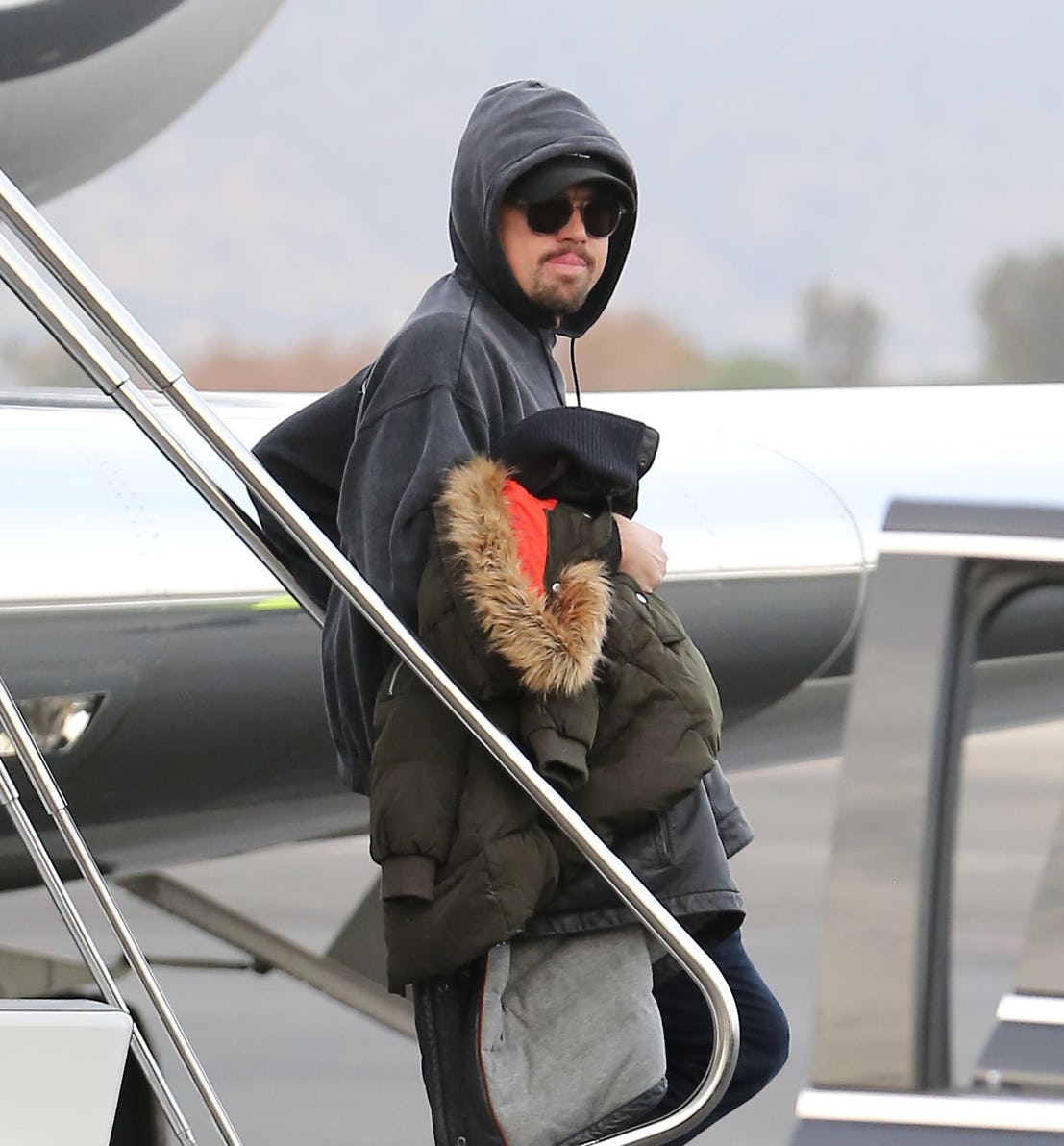 DiCaprio loves renting out the Bombardier Challenger 300, which can cost $40,000 per flight. But apparently, DiCaprio, the United Nations Ambassador to Peace, flies all the time, despite saying in 2014 to the world body that "now must be our moment for action" to fight climate change, according to The American Mirror.
Recently, though, DiCaprio took his gas-guzzling jet to the annual California music festival, Coachella.
Previously he flew private to Vegas and Australia to celebrate the New Year. Twitter was abuzz, calling him a hypocrite and a fraud. What do you think?
19 DWAYNE JOHNSON, AKA THE ROCK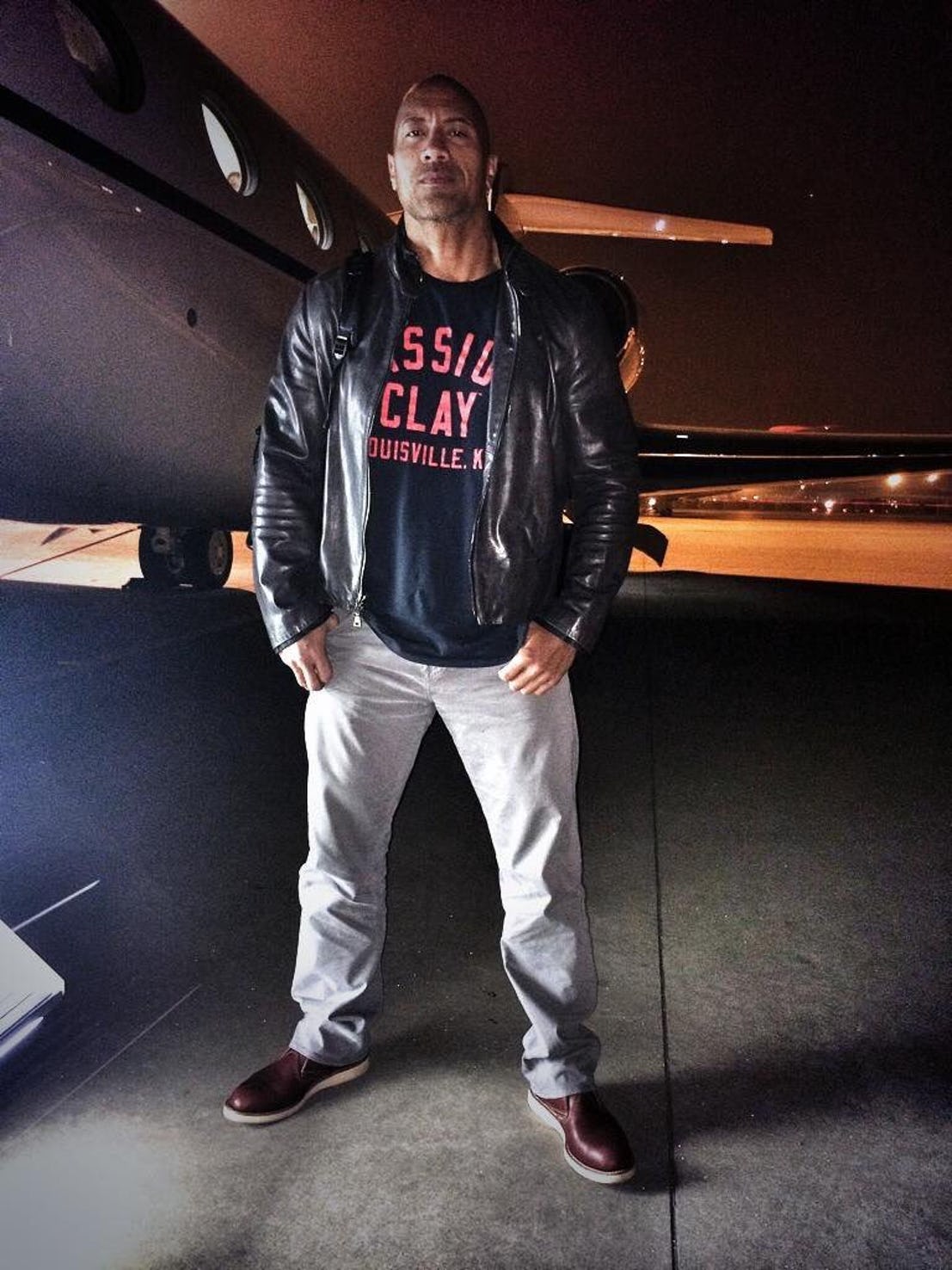 The Rock always travels by chartering a Gulfstream G650, which has a price tag of $64 mill. He has reason to. The world's highest paid actor, according to Forbes, doesn't have time flying commercial because he's always jet-setting around from being on location for a movie, to being at his house with his beloved family during downtimes.
The last thing he needs is standing on line for a long time to get through security as he's mobbed by fans taking pics of him. And even flying in first-class doesn't give the tall star any leg room.
18 JOHN TRAVOLTA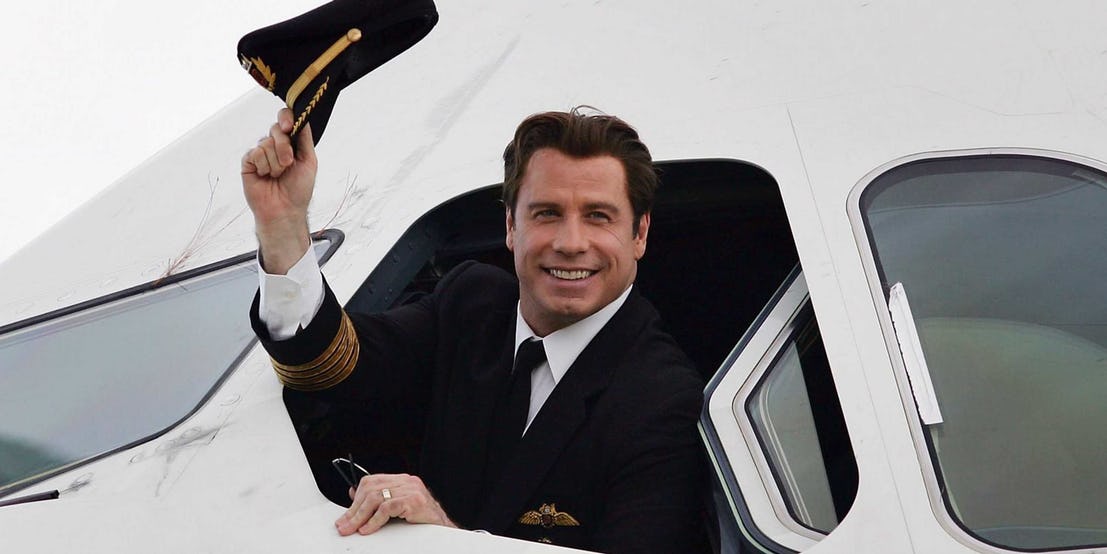 John Travolta would never ride commercial. It's not because he's a snob. Rather, he's a private plane aficionado who has amassed six of his own over the decade. And he's a qualified pilot who completed the Australian airline Qantas coursework, as well as the company's honorary pilot.
So far Travolta has amassed a whopping 35,000 miles on his own.
Like Jolie, it's the thrill of flying that Travolta loves, and he often gets on one of his jets on a whim if he wants to go somewhere, whether that's New York or London. He owns the Boeing 707, the Bombardier Challenger 601, Boeing 727 and three Gulfstream jets.
17 JIM CARREY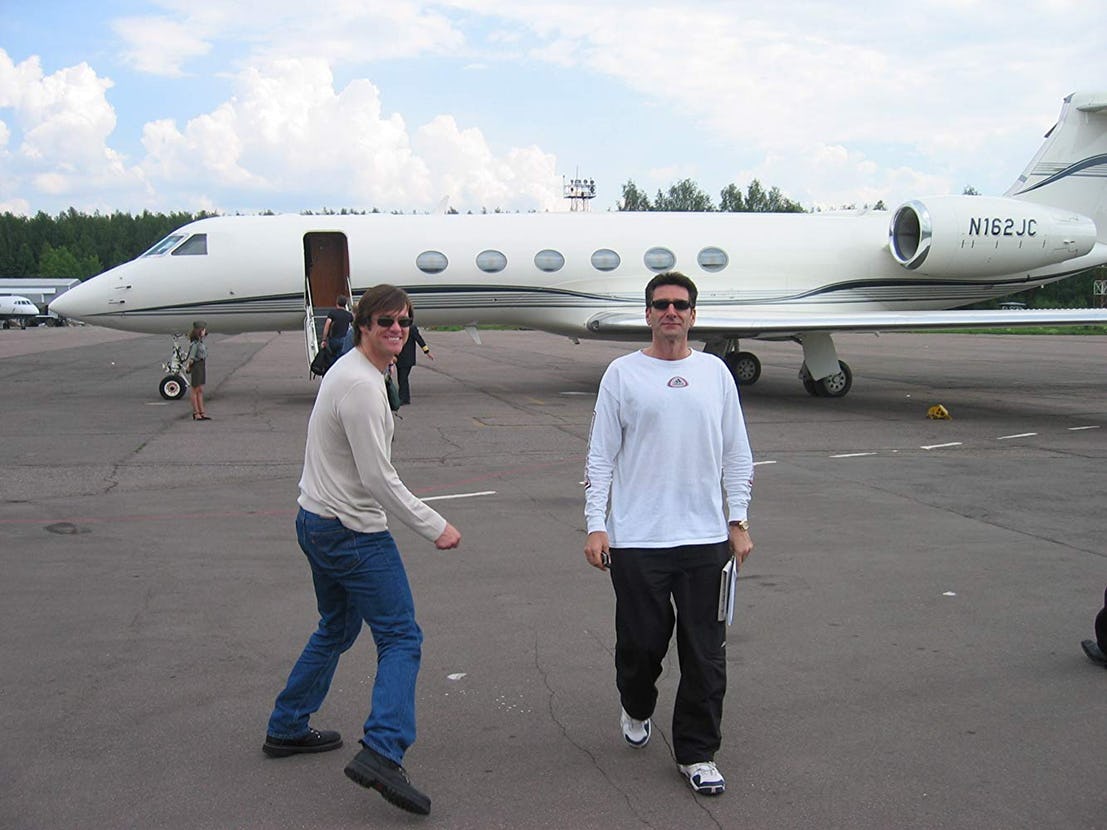 Jim Carrey is not just a Hollywood star comedian, he's also an aviation enthusiast. He owns one of the safest and high-performance private jets in the world, the Gulfstream V, which costs him a whopping $59 mill.
The plane has an advanced state of the art avionics, and a crew of two on standby so that Carrey can travel to wherever he wants at the drop of a hat.
Inside the jet is a cabin that has been beautifully finished, and it looks like someone's high-end living room. Fun fact: Carrey offers his jet on a charter model, and one ride on it will cost you just $8,000 an hour. Yikes!
16 ZACH BRAFF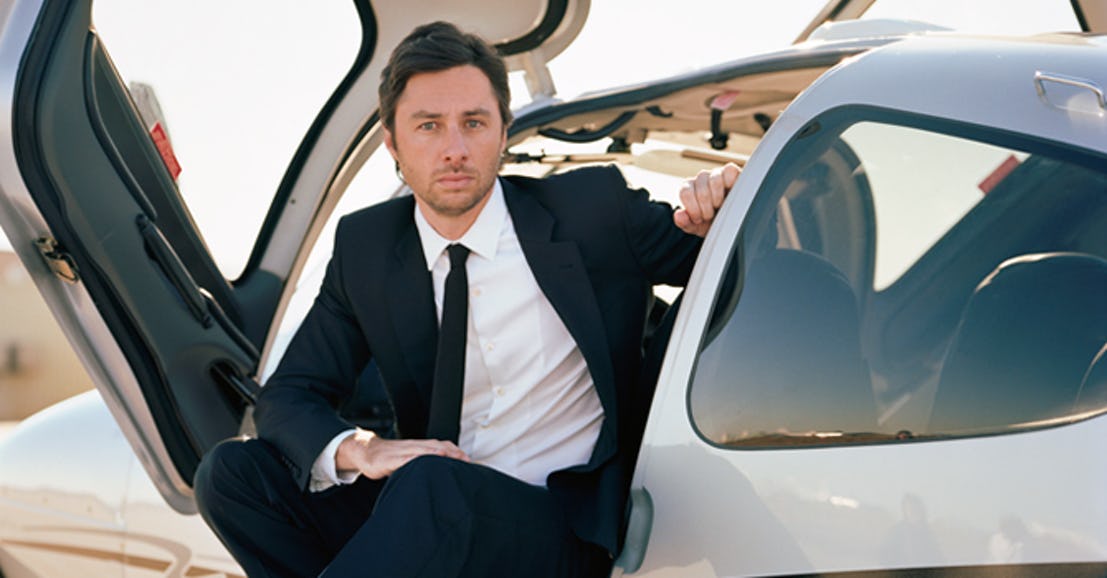 Zach Braff's movie Garden State won many accolades and made him a star. Braff wrote the film, starred in it, and compiled the soundtrack album. It was universally praised by critics and is now a cult classic like Mean Girls.
Like Kurt Russell, Braff had a fear of flying.
But while that phobia was abiding, he wanted to do something about it and, of all things, he became a certified pilot in 2008. He trained at the Mach 1 Aviation in Van Nuys using a Cirrus SR20, which is a four-seat composite monoplane that he bought for himself once he got his license. He is said to fly on any given sunny day.
15 HARRISON FORD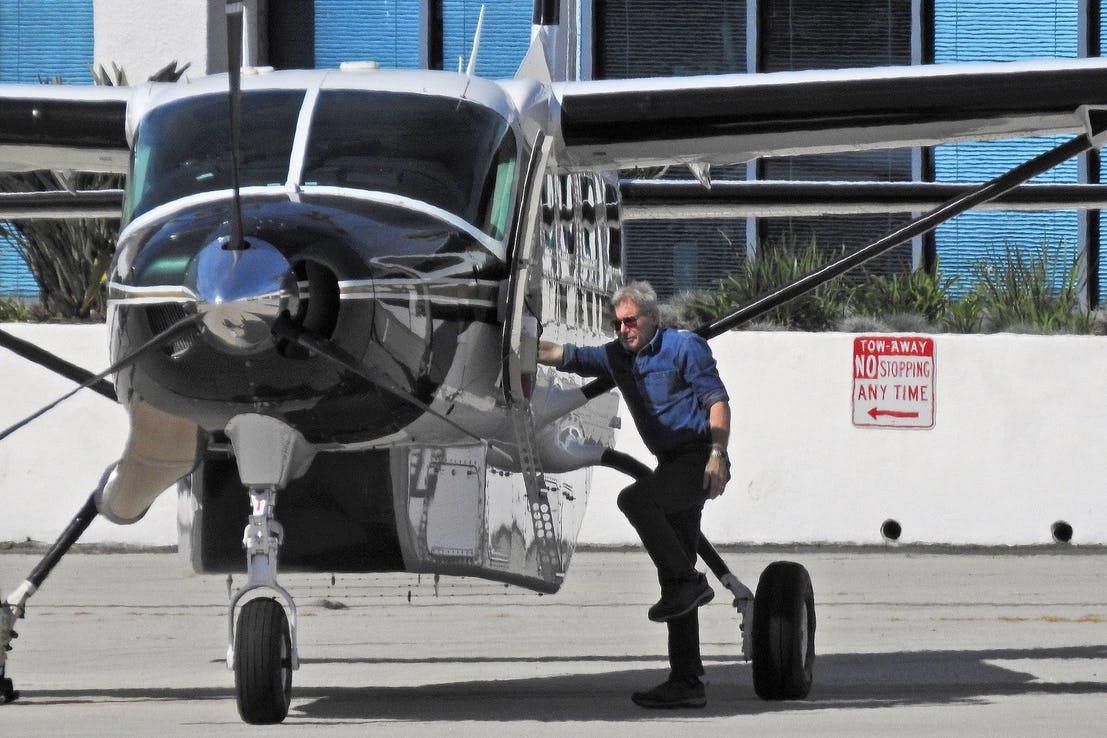 Like Angelina Jolie, Tom Cruise and John Travolta, Harrison Ford is a licensed pilot. He owns five jets and a helicopter. The plane Ford uses the most is the CJ3 Citation Jet, which costs in the range of $18 mill. Like Jolie, Ford considers flying exhilarating. He told The Daily Mail,
"I love the machines, I love the aviation community, I own airplanes and have pilots flying them for me, but I finally realized they were having more fun than I was".
He also said he flies just as much as he drives a car, saying he'll "fly up the coast for a cheeseburger." Now that's a movie star who only travels using his personal jet.
14 TOM CRUISE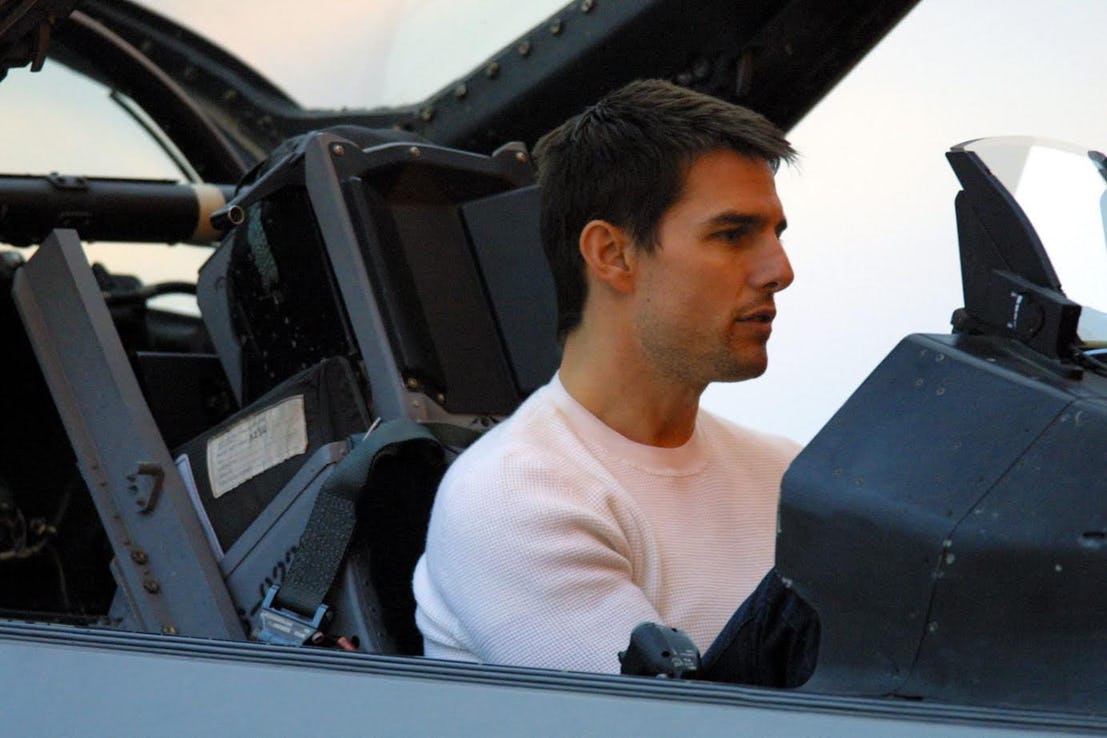 Tom Cruise owns the Gulfstream IV, or the G4, jet. It was a present to his now ex-wife Katie Holmes, and it's one of the classiest and elegant planes around, and which comes with a price tag of $36 mill. He also owns the Aviat – Pitts S-2B, and is rumored to own in total three to five jets.
Cruise, like Ford, has his own pilot's license dating all the way back to 1994, and it's been said that he loves flying so much that he only uses one of his jets when he needs to go somewhere far.
The G4 can accommodate up to 19 passengers and inside it is pure luxury, as it not only has a screening room but also a Jacuzzi. A Jacuzzi! OMG.
13 MEL GIBSON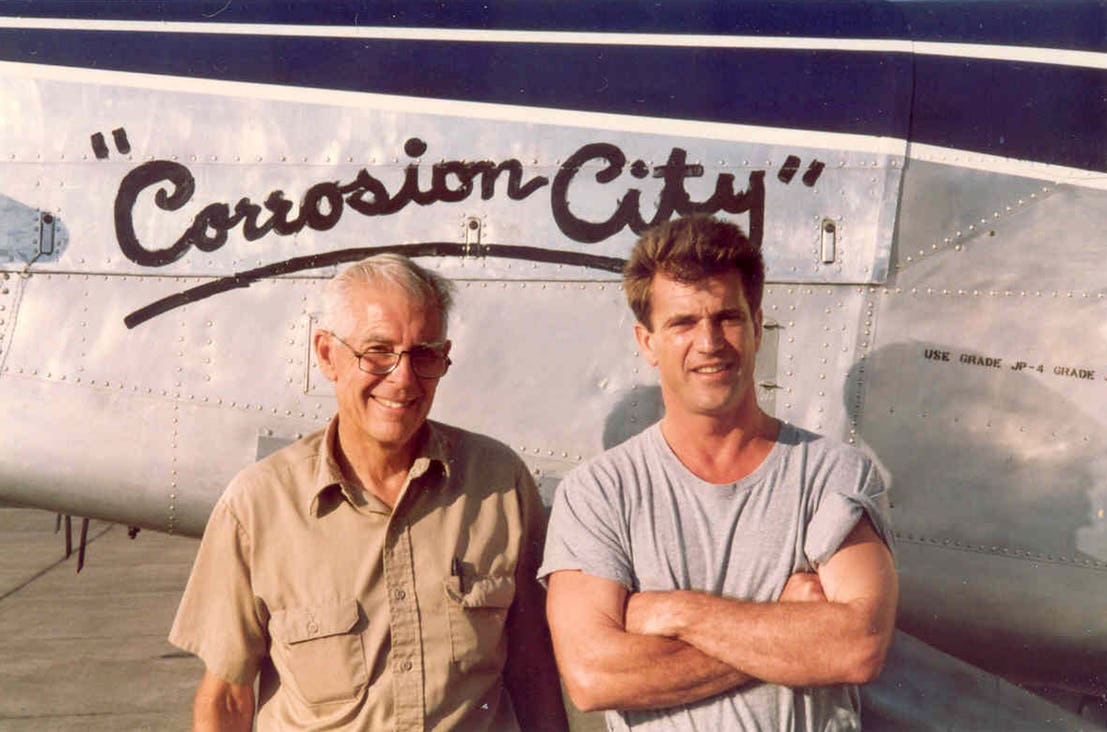 We haven't seen Mel Gibson in a while. He has since starred in a few films, but they went nowhere. He needs a hit movie now to be relevant and to make more money. It's been reported that it costs Gibson $7.2 million a year on living expenses, and that doesn't even cover the maintenance of his beloved Gulfstream V.
Nevertheless, Gibson owns of the safest and longest range jets in the world, and it cost him $40 mill. Gibson uses his jet for all his travels.
12 TYLER PERRY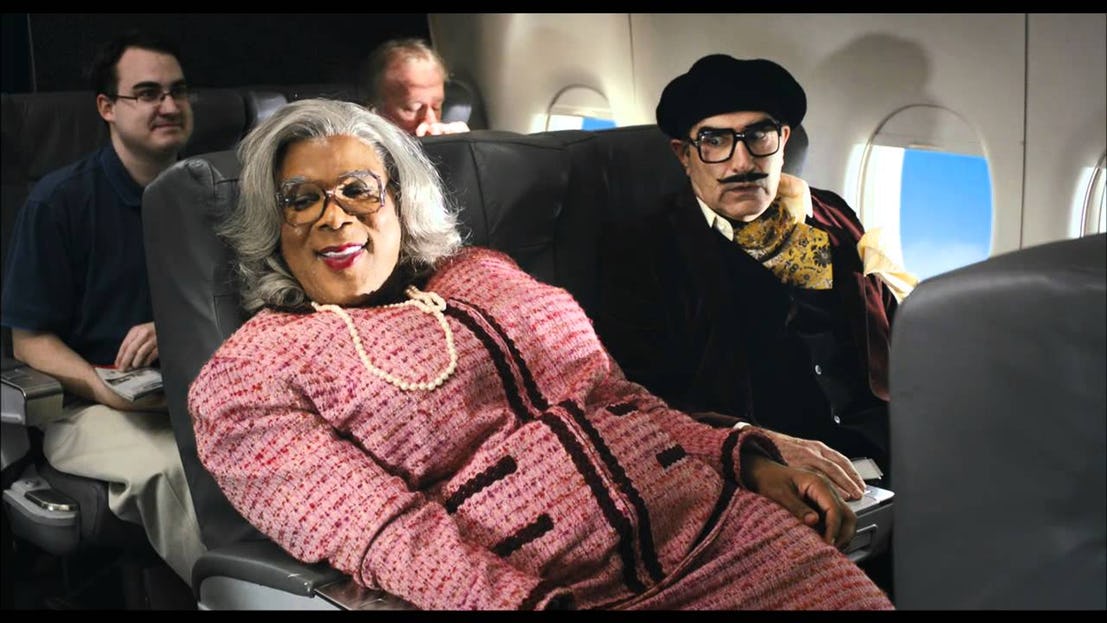 Tyler Perry, of Madea movie fame, has his own Gulfstream III. The jet costs $65 mill, but that's not even close to what it costs now. Perry renovated the interior with world-class amenities, and now the plane costs a whopping $125 mill, which is more than half of the cost of Oprah and Steven Spielberg's planes.
The updates include an HD LCD screen, multiple Blu-ray players, a formal dining room, a modern kitchen, "cool mood" window shades and a private "VIP" bedroom.
11 MORGAN FREEMAN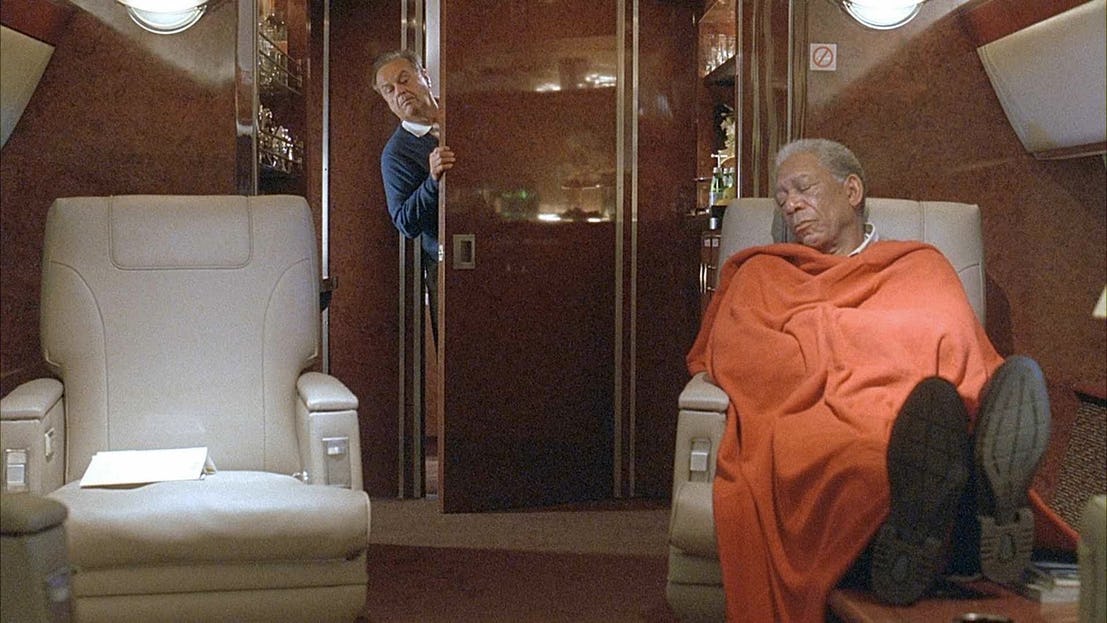 Morgan Freeman is an A-list mega-star. He won an Oscar in 2005 for Million Dollar Baby. He has also received Oscar nominations for Driving Miss Daisy, The Shawshank Redemption and more. He owns three private jets, the Cessna Citation 501, the Cessna 414 twin-engine prop and the Emivest SJ30.
Freeman has his pilot's license, which is why he always uses one of his jets when he has to travel long distance.
In 2005, Freeman's plane was forced to crash-land in Mississippi after a tire blowout and it veered off the end of the runway. He was unharmed, and told the Daily Mail, "'I cannot say the same about my plane."
10 ELVIS PRESLEY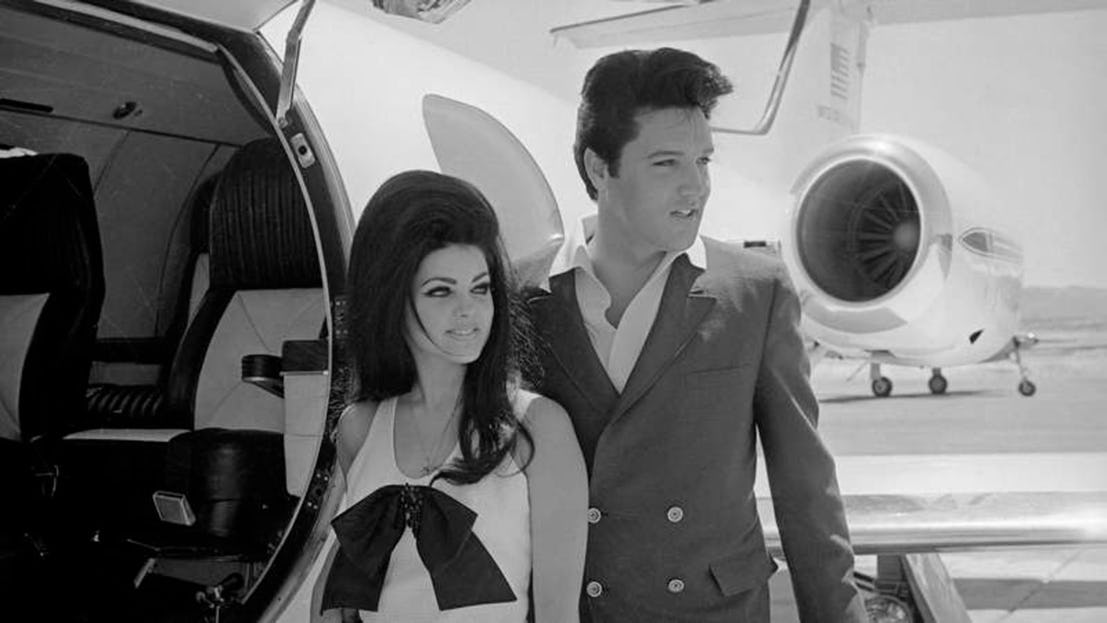 Elvis Presley, was the undisputed King of Rock 'n Roll. But he was also a movie star, having starred in thirty-three films. Now that's a lot! Presley owned the Convair 880, which is no longer in production and which costs around $600K back in the day.
The plane, dubbed the "Lisa Marie," was used by Presley everytime he needed to travel.
He felt at home on his jet, and that's because he renovated the interior by the same designers who worked on the Air Force One. The luxury jet had a master bedroom for Lisa Marie, four TVs and a get-out-of-town audio-visual system.
9 CLINT EASTWOOD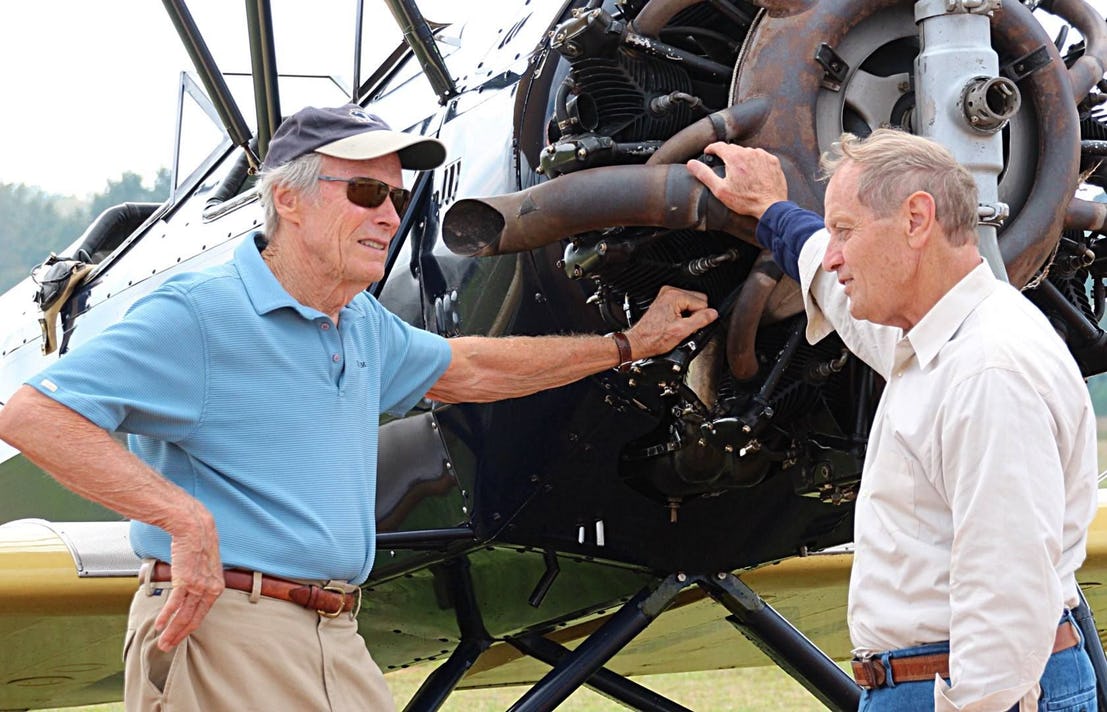 Clint Eastwood, the legendary star and director, doesn't own a private jet but he does own a helicopter, the Aerospatiale AStar. He's also a licensed helicopter pilot. Eastwood got the flying bug from his aerial coordinator, Craig Hosking, according to aviationcv.com.
He would fly Eastwood to and from a movie set in 1969 and allow Eastwood to take control.
As Hosking said, "A lot of times, I've seen Clint choose to take the helicopter somewhere – even on long trips – when he could have taken a corporate jet. That's how much he likes to fly." Oh, and he likes to fly to beat traffic.
8 KURT RUSSELL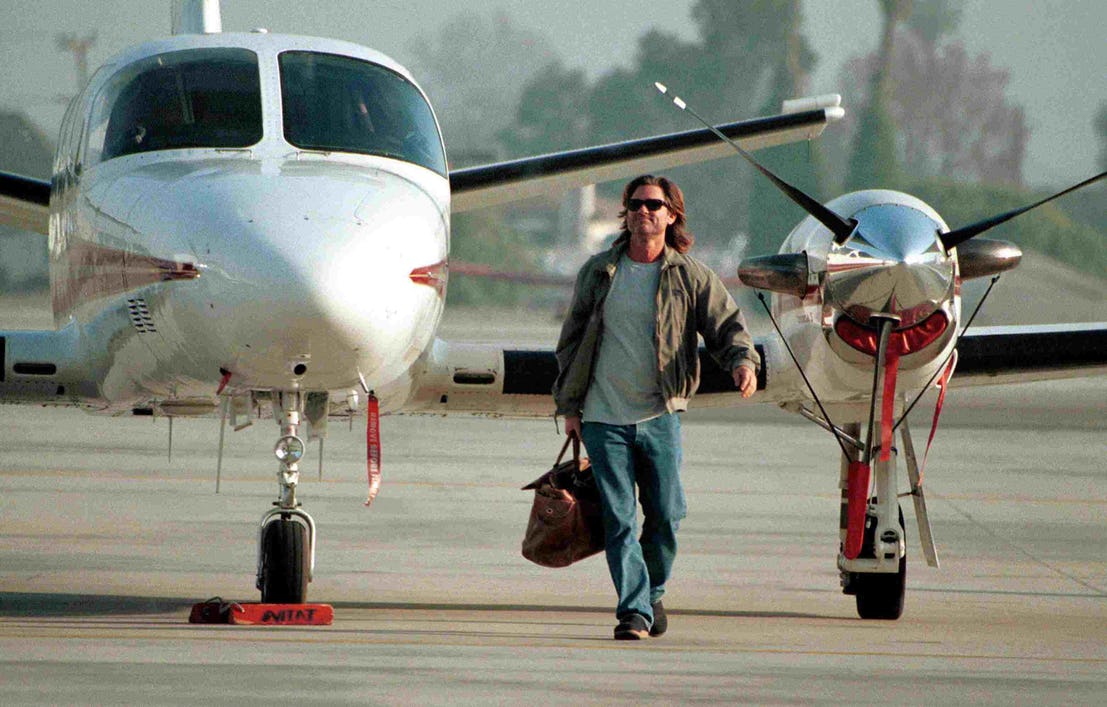 Emmy and Golden Globe-nominated actor Kurt Russell has owned the Rockwell Commander and the Cessna Crusader, but the Starduster biplane is among his faves. He's also a licensed private pilot holding single-engine, multi-engine, and instrument ratings certifications.
He once had a fear of flying, but now he can't think of life without it.
He told Golf Hotel Whiskey why he's so passionate about flying: "The love of flying for pilots, I think, is almost inexplicable. It's the experience itself. It's the fact that you can't explain it, I think, that makes you feel the way you do about it. This is something that can change your life."
7 DENNIS QUAID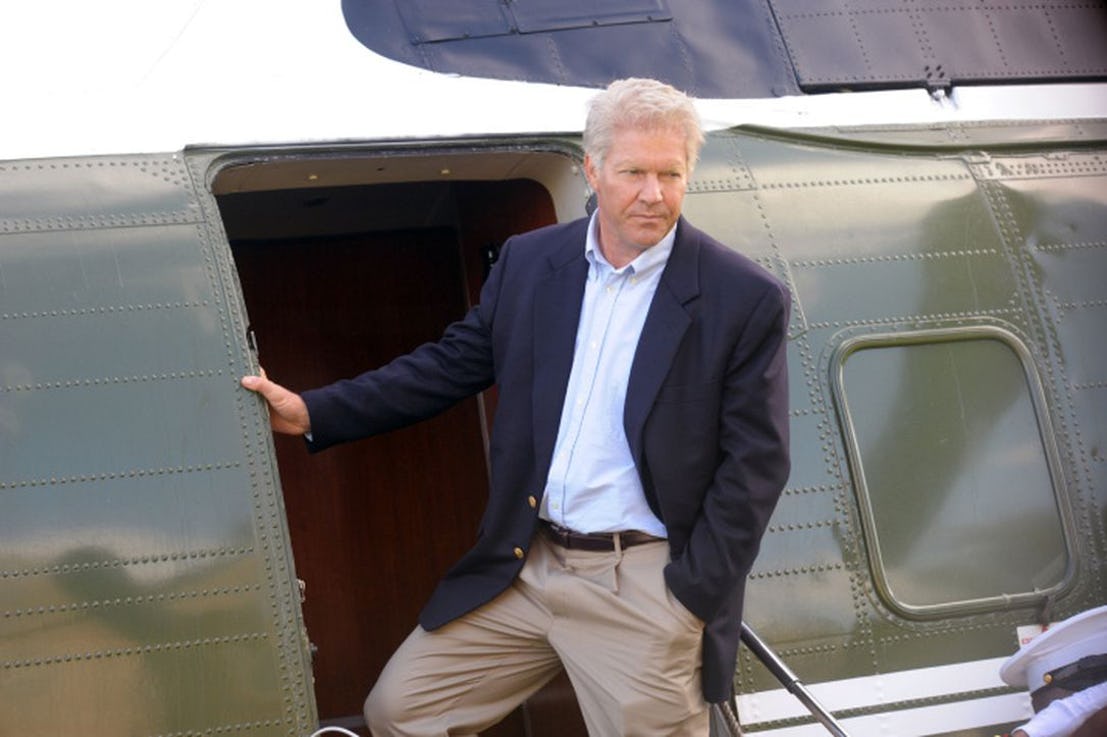 Dennis Quaid owns the Beechcraft Bonanza, the Cessna 421 twin-engine and the Cessna Citation II. So he has three choices when he wants to travel, especially when he flies long-distance to places like Belize and Honduras. Quaid is still famous for playing Captain Gordon Cooper in the 1983 movie The Right Stuff. Talk about method acting.
To prepare for his role, he became a pilot.
The real Cooper connected Quaid to famed pilot Clay Lacy and instructor Bud Whalen because Quaid actually had a fear of flying. It was Lacy who quelled Quaid's fears and who eventually turned him into an aviation enthusiast.
6 BRAD PITT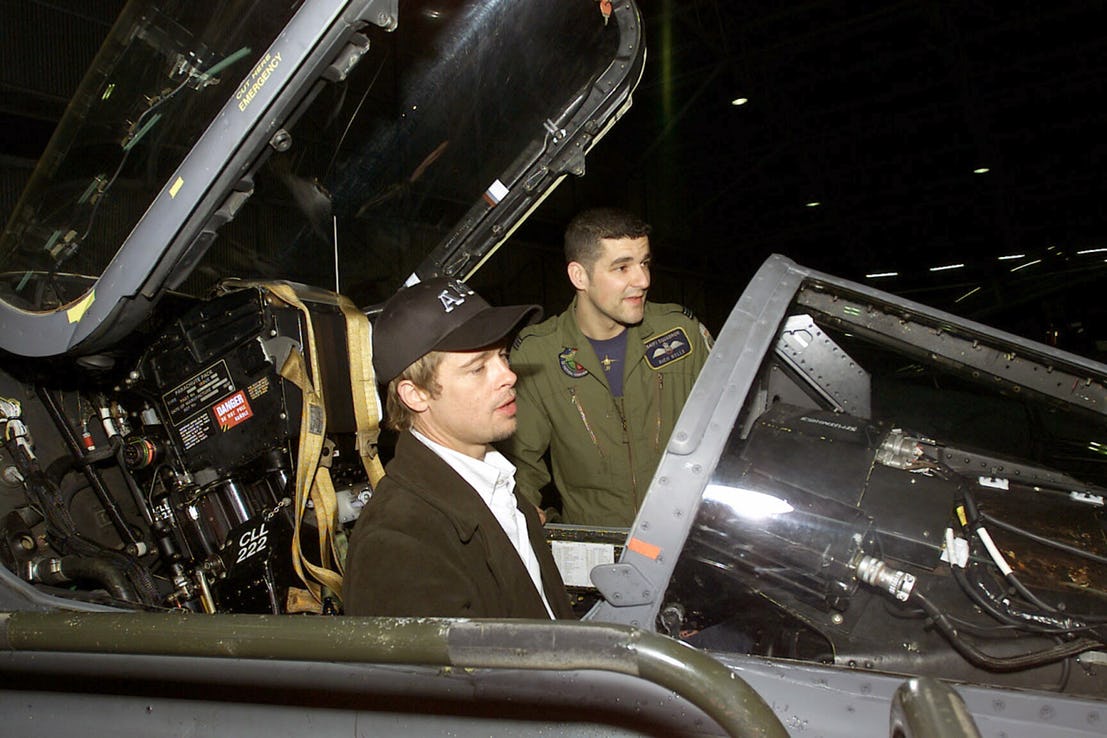 Angelina who? Okay, so both Pitt and Jolie have two things in common, despite their split: they have their own jets and they are both pilots. Pitt caught the flying bug while starring in and prepping for two movies, Fury and The Inglourious Basterds.
Flying magazine said his fascination for history led him to buy a vintage WWII-era Supermarine Spitfire, which costs around $3.3 million. He learned to fly it at the Boultbee Flight Academy in Oxford.
5 HILARY SWANK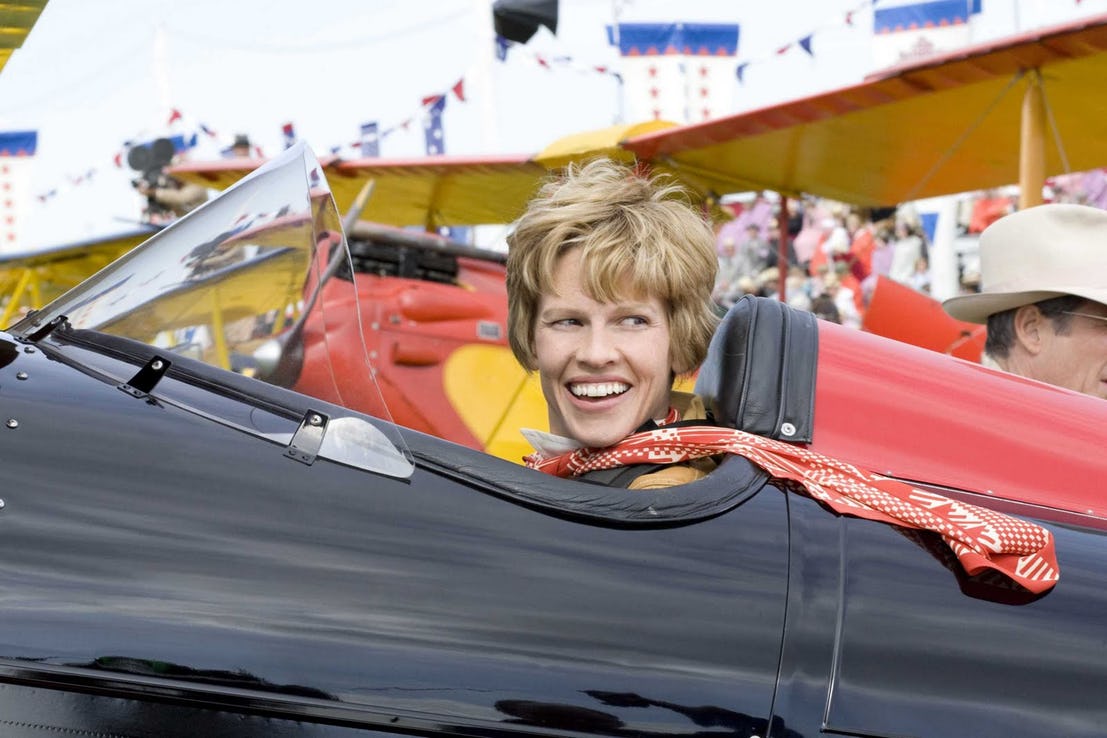 Like Brad Pitt, A-lister Hilary Swank became interested in flying and getting her pilot's license when she trained for her role in the 2009 biopic Amelia. The movie was about the pioneering aviator Amelia Earhart, who mysteriously disappeared during a 1937 flight.
Swank won rave reviews for her portrayal as Earhart. And she fell in love with flying, so much so that she would cancel the flights of her boyfriends and friends and pick them up on her jet. We'd love to be her friend!
4 OPRAH WINFREY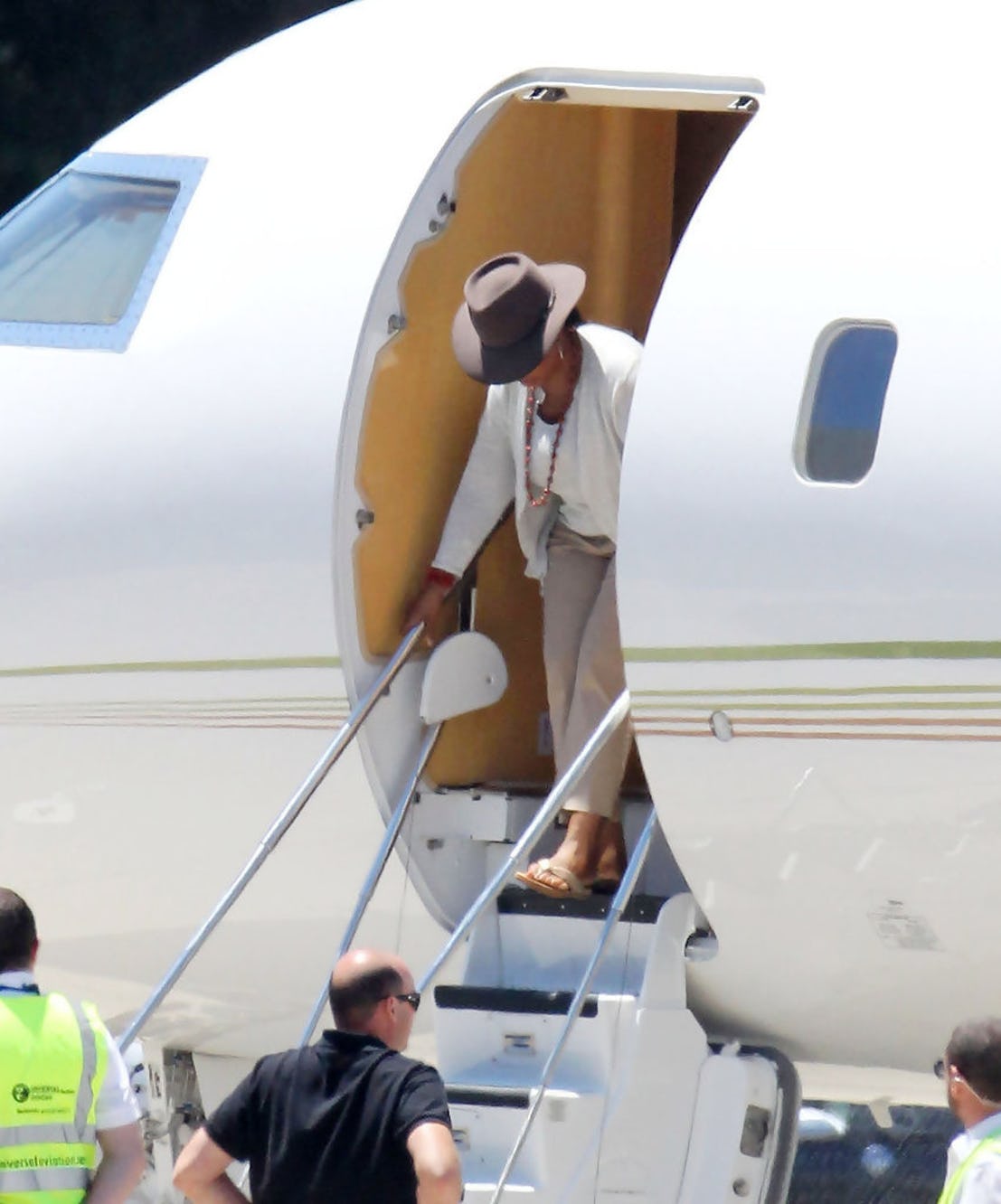 We often forget that our beloved Oprah is not just a former talk show host, but also an actress as well. She was in The Color Purple, starred in the adaptation of Toni Morrison's Beloved, and received praise for her role in The Butler.
She's worth about $2 billion or more, so it doesn't make sense if she didn't have her own private jet.
Which is why she owns the $42 mill Global Express XRS Jet, the most popular choice for Hollywood moguls. Even Steven Spielberg owns the XRS! Oprah, who's always busy, loves flying private because she can relax and zone out or do anything she wants.
3 KATIE HOLMES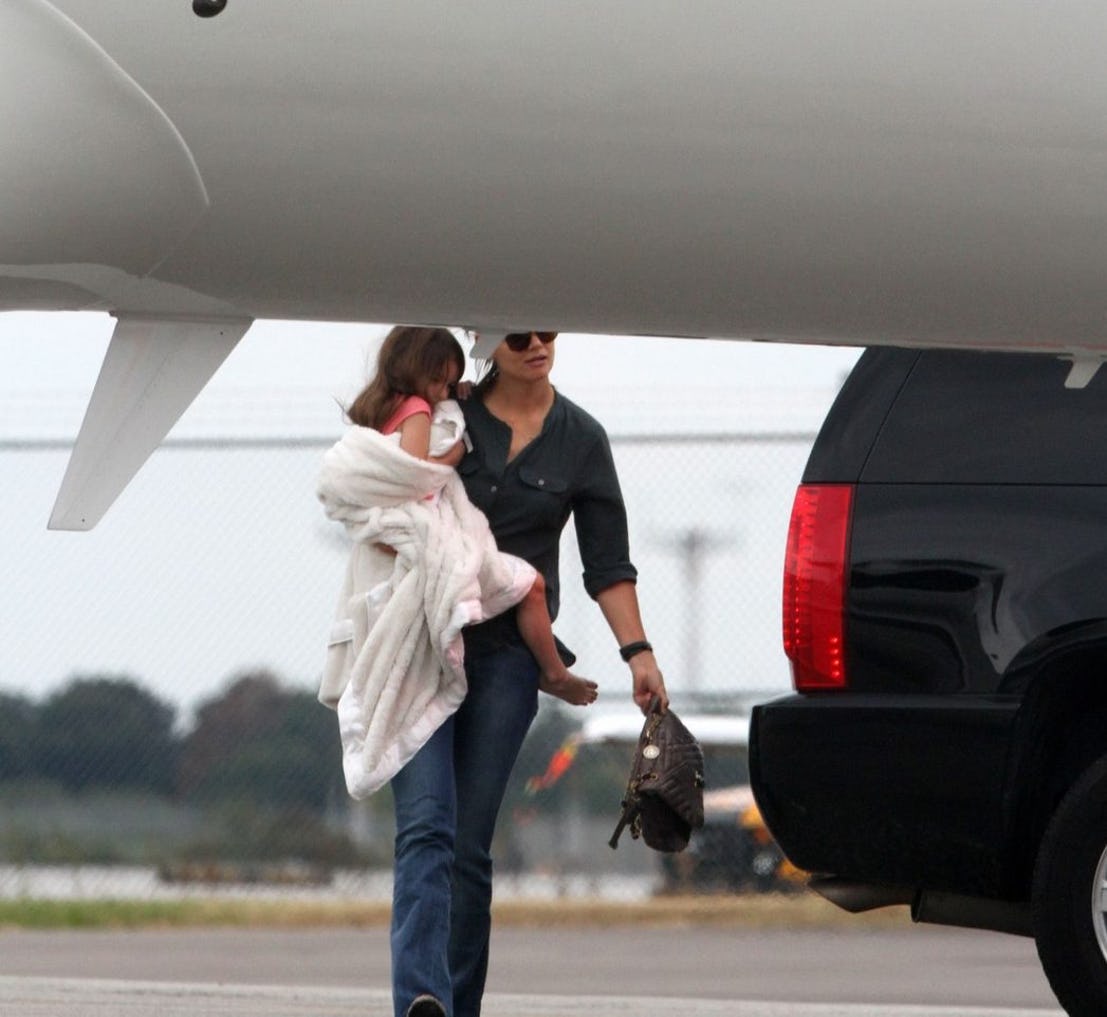 Even after Katie Holmes broke things off with Tom Cruise, she still lived the affluent life that Cruise introduced to her. She bought a NYC apartment and hired bodyguards for safety. She constantly travels with her boyfriend, Jamie Foxx, via private jet.
People and E! reported that the two take private jets to keep their relationship, well, private. She flew private to CA to stay at Foxx's house and they flew private both to and from Paris. There are more private jet reports, and it seems that Holmes likes doing the low-key thing as long as she's with Foxx.
2 MADONNA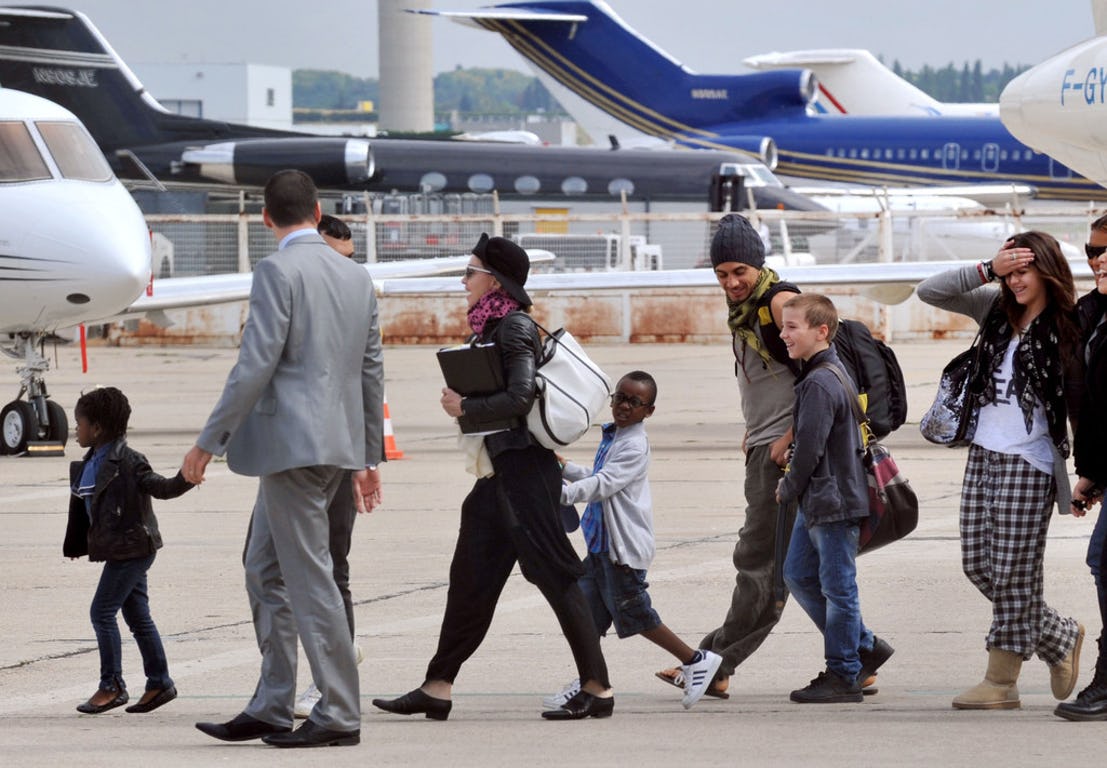 No, we didn't make a mistake and put the pop star Madonna on our list of movie stars. In 1985, early on in her career, Madonna starred in the hit Desperately Seeking Susan. She also starred in the biopic Evita a decade later. While she campaigns to help the climate crisis, recently she has come under fire by environmentalists who have called her a hypocrite because she used a private jet as if it were a car during her Rebel Heart tour.
In fact, according to Radar, Mad insists on flying private–even an hour-long ride–because she requires a separate seat for the Torah, books of Jewish scripture and writings. Well, then! That's a very good reason!
1 KRIS KRISTOFFERSON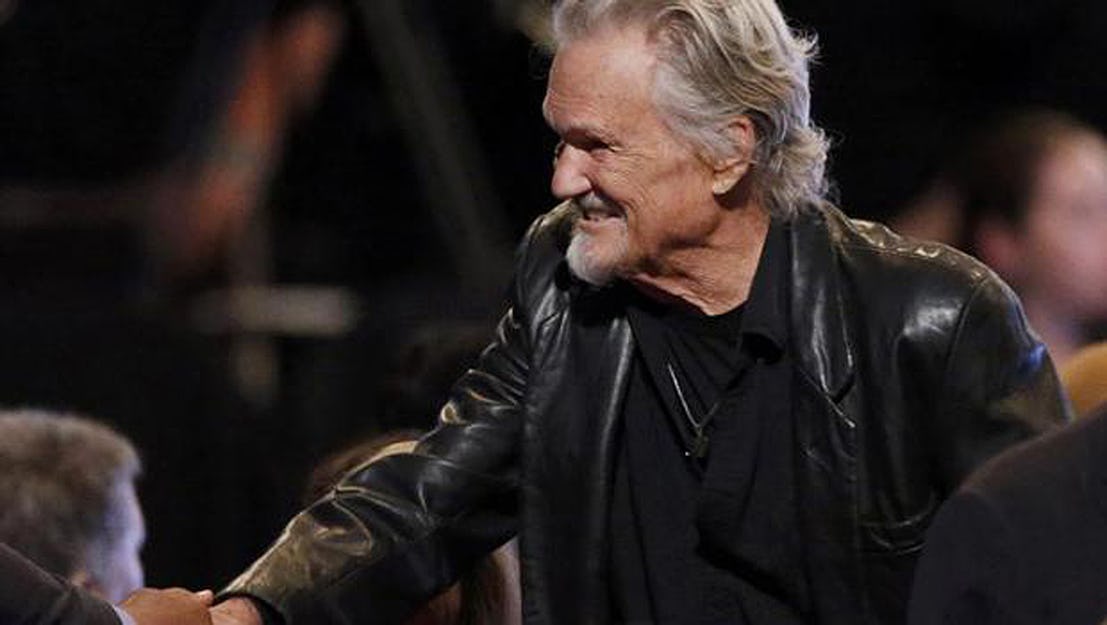 Many of us know Kris Kristofferson as a country music legend, but he's also an actor. In fact, if you've seen the new A Star Is Born, well, KK starred in the 1976 version. But before that a young KK was forced to follow in the footsteps of his father, an Air Force general, by joining the Army.
There, according to We Are The Mighty, KK trained as a Ranger and a helicopter pilot, and even reached the rank of Captain. He left the Army because his heart was not in it and he became the artist we know. He flew as much as he could when he was young.
Sources: Business Insider, Forbes, ppcorn.com, Daily Choices, Moneyish, Vogue, The Daily Meal, GQ, Radar, People, E!, Hollywood Life, World Life Style