10 Exotic Cars From Saudi Arabia That Nobody Talks About
Each country has its own culture, climate and spirit that sets it apart from others. The same goes for a country's automobiles, which can vary in style and features that automakers will cater to citizens. If there's one thing countries share across the board when it comes to cars, it's that consumers have similar tastes. A wide collection of vehicles from all over Saudi Arabia—as well as neighboring countries—are detailed below. Half of the list includes exotic cars fit for a prince.
10. BUGATTI CHIRON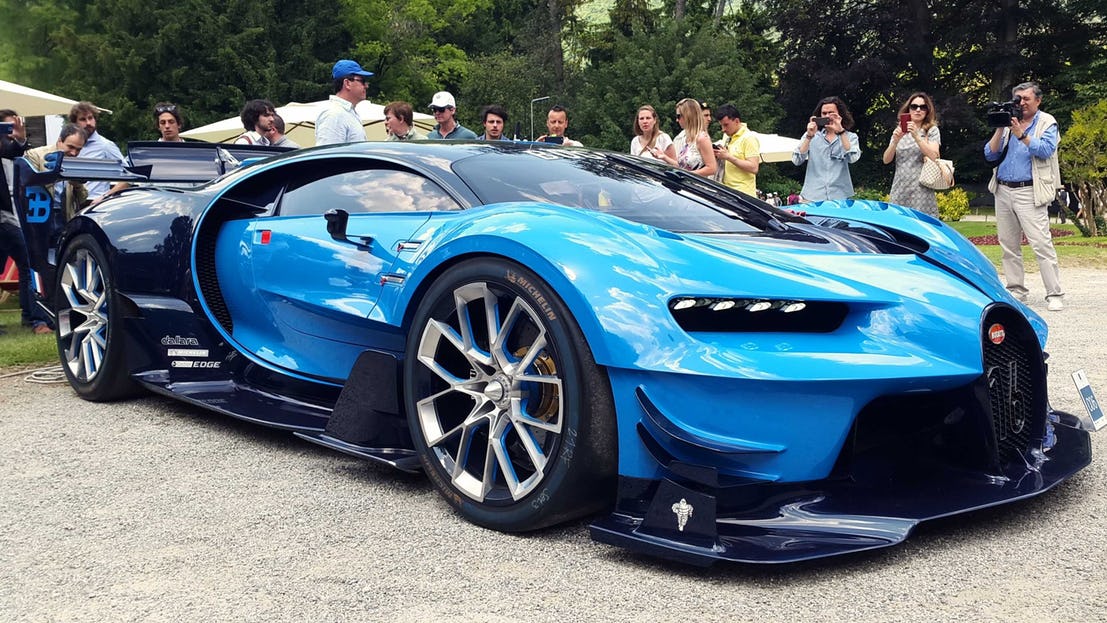 One of the most popular supercars today is the Bugatti Chiron. The Chiron has it all—an eye-catching design, insane performance due to an 8.0-liter turbo engine and the signature of a legendary automaker. It makes sense that the car is highly sought after.
According to Moto Networks, a Saudi Prince snatched up the first Bugatti Chiron back in 2016, shortly after they presented it to the world.
They report that the engine can do a mind-numbing 1,500 hp, which is hard for us to even wrap our heads around. The Bugatti Chiron is a car that's worthy of a Prince.
9. LAMBORGHINI AVENTADOR SV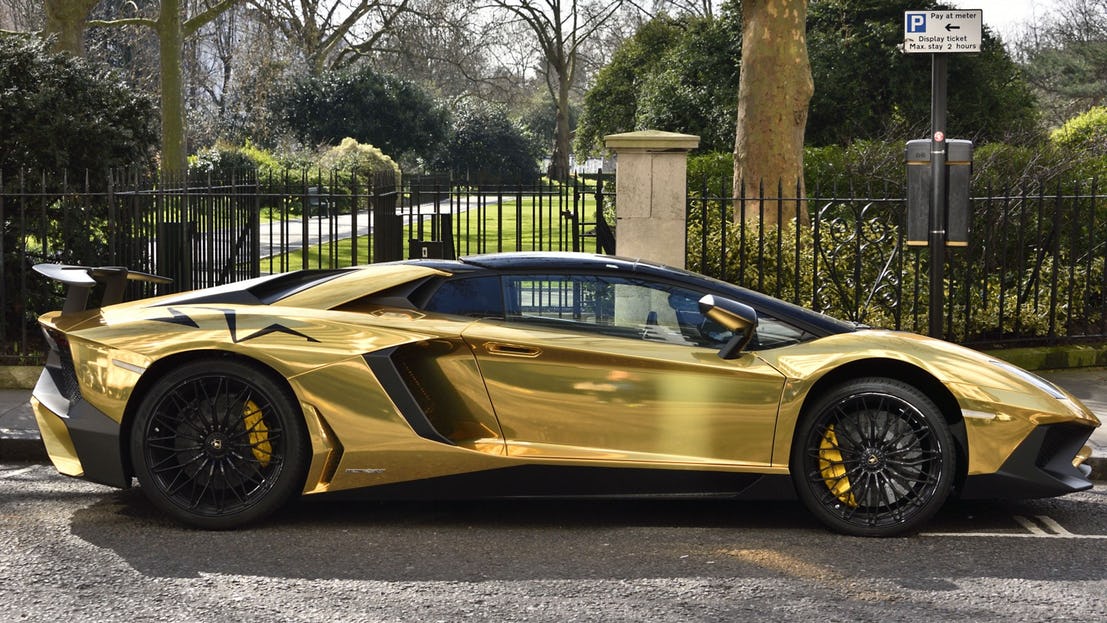 It doesn't get nicer than this. Here's a car fit for a prince. When Arab Prince Turki Bin Abdullah came to London, he did it in style. According to Real Clear Life, this is his Lamborghini Aventador SV wrapped in gold chrome.
Even when traveling overseas, the Prince doesn't shy away from showing off his gorgeous supercars. This is just one of three cars in the set, each one a rarity painted in the same gold coloring. The same source reports that these photos snapped all three of his cars just a couple of years ago in the Kensington neighborhood of London.
8. MERCEDES-BENZ G63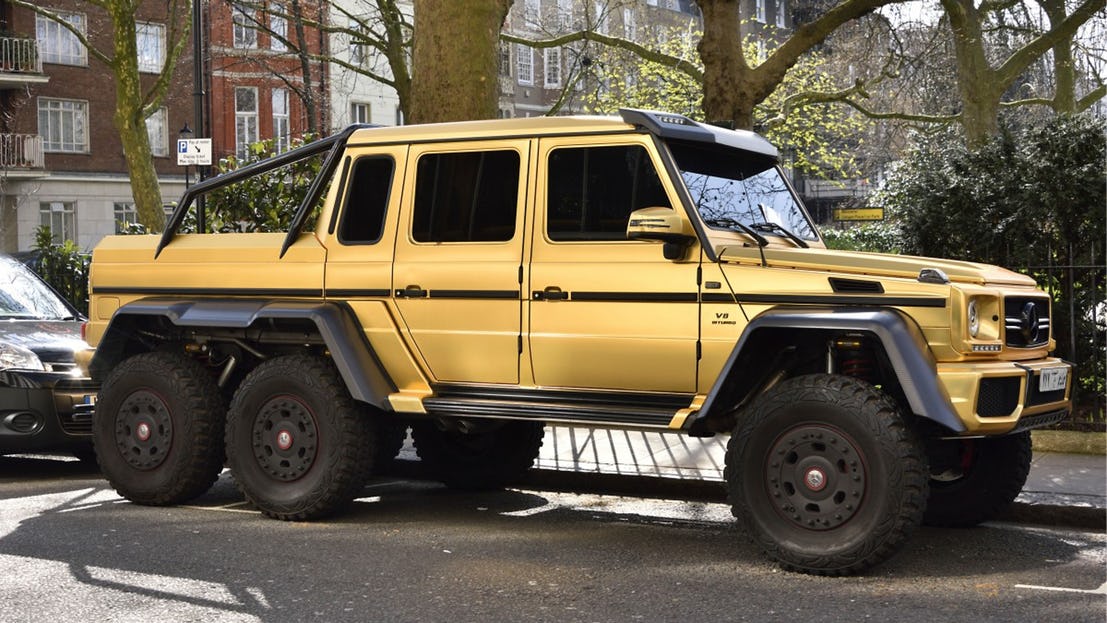 The next golden car among Turki Bin Abdullah's collection is the biggest one yet. Real Clear Life reports it's a Mercedes-Benz G63, which is a full-fledged 6×6. While technically a pickup, this car has less to do with hauling than it does performance.
The car arrived a few years back in the Kensington neighborhood within London where a photographer snapped this photo. Under the sun's gaze, the golden paint job glimmers that much brighter, showing off the wealth of the Arab Prince. This is just one of three cars in his collection of golden cars that all showed up in London.
7. KOENIGSEGG REGERA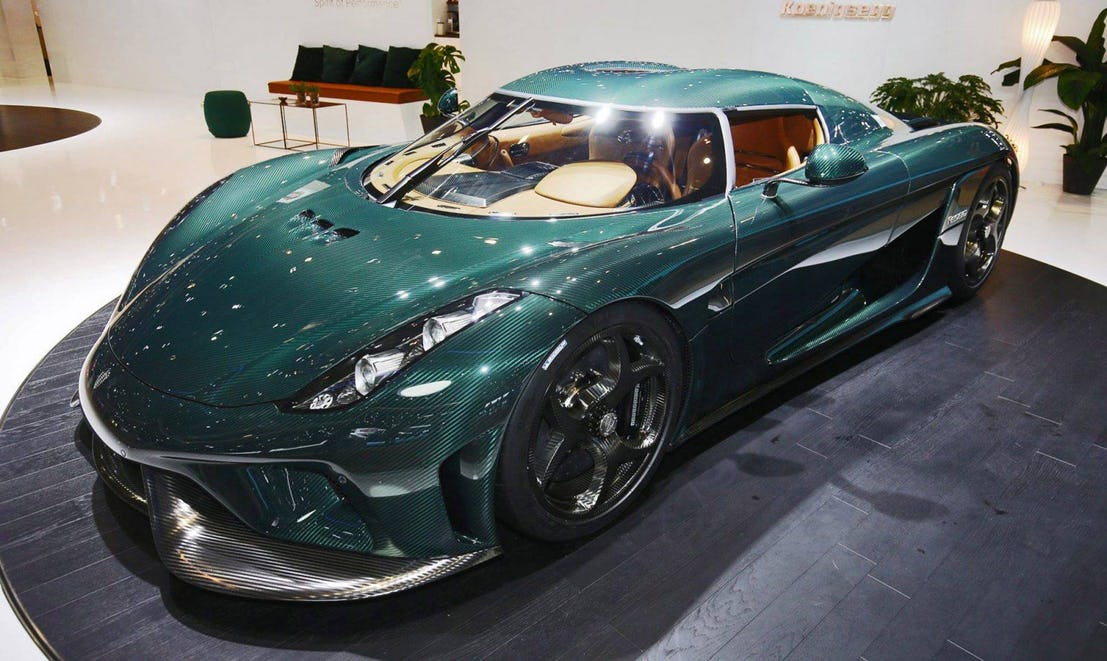 Few cars on this list manage to lift eyebrows as much as the Koenigsegg Regera, even among the exotics. Like the Bugatti Chiron, according to Jalopnik, these can also do 1,500 hp. What makes these supercars unique is the engineering behind them.
The same source reports that the Koenigsegg Regera only has one fixed gear, which is different from most performance cars. Instead, two sources power the car. There's electric power and then the combustion engine that allow it to go an impressive 248 mph. It's no wonder a car with this much power has attracted the wealthy in Saudi Arabia.
6. BENTLEY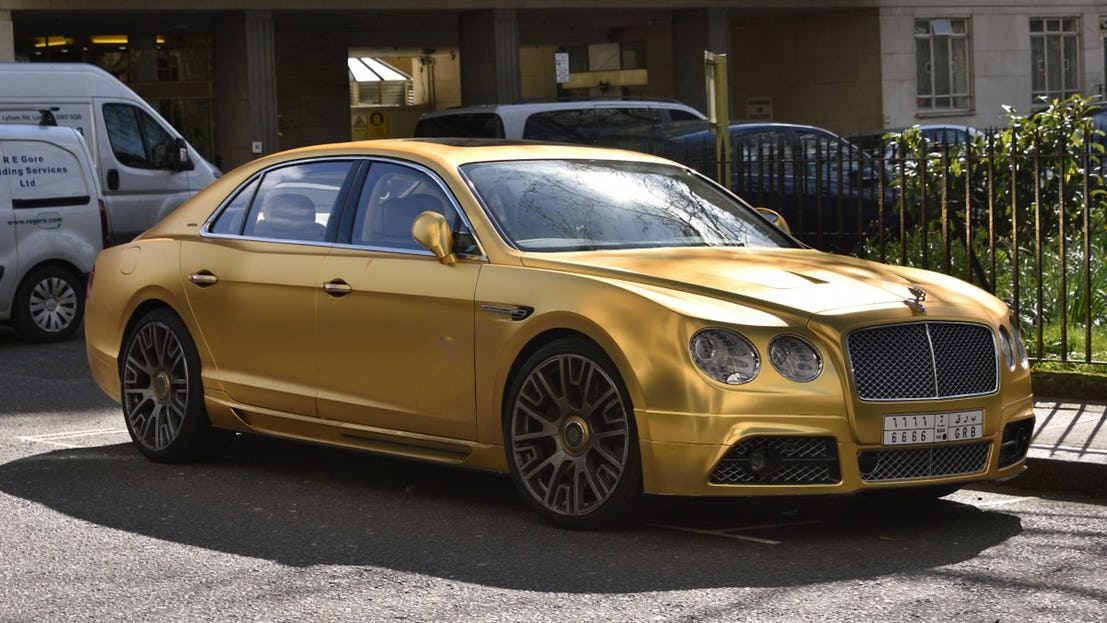 Last but not least, the third and final golden car in Turki Bin Abdullah's collection is also the classiest. So far, his collection has shown off performance in the Lamborghini, off-roading with the Mercedes and now it's time to roll out the Bentley.
Bentleys have long had a reputation that signifies class, prestige and sophistication. This is the heart of the collection. While many would choose the Lamborghini for its looks and speed, or the Mercedes for its off-roading abilities, nothing screams wealth and status more than a Bentley. By covering it in gold chrome, it only takes that image to the next step.
5. BUGATTI VEYRON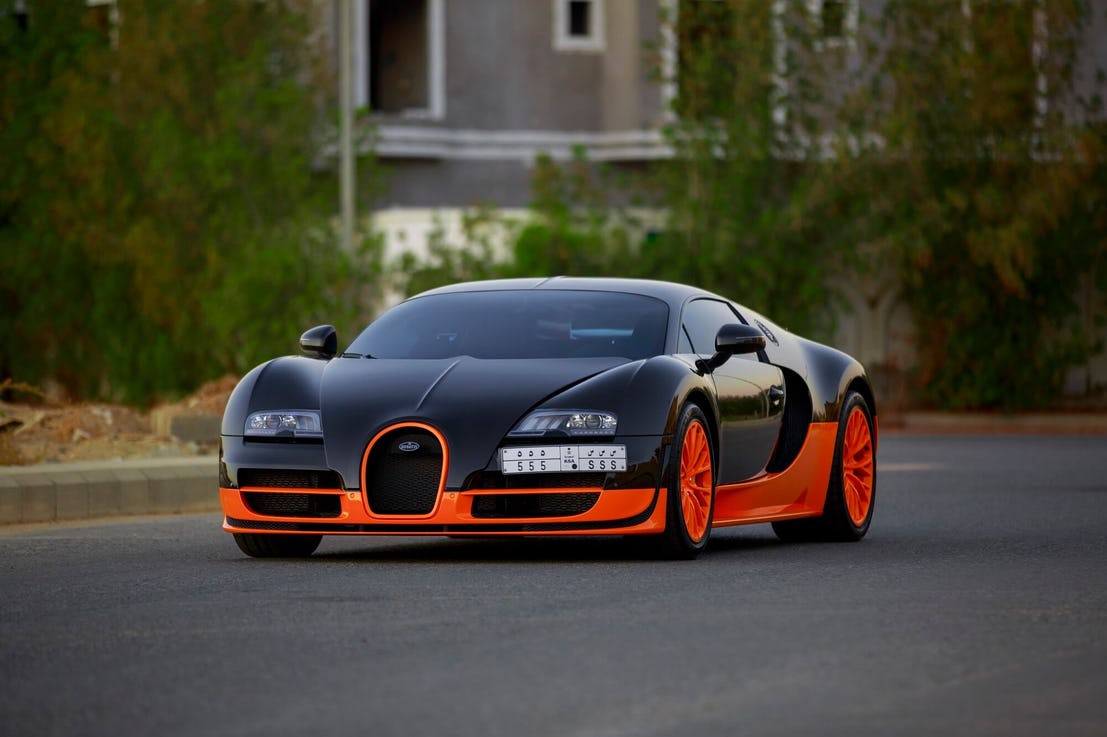 Some of the most beloved supercars on the planet are Bugattis. The Veyron Super Sport is a limited version even among Bugattis. Cars247 reports there are only 30 in existence. Supercar collector Hussein Musallam owns one and keeps it in Saudi Arabia full-time. The same source points out that they don't run cheap, setting back buyers more than $2 million.
All that money doesn't go to waste though, instead going into the performance. These Bugattis can reach an astounding 268 mph, making this one of the fastest cars in the world. The cherry on top is the black and orange paint job and styling on the outside that makes this car pop.
4. MERCEDES SLR MCLAREN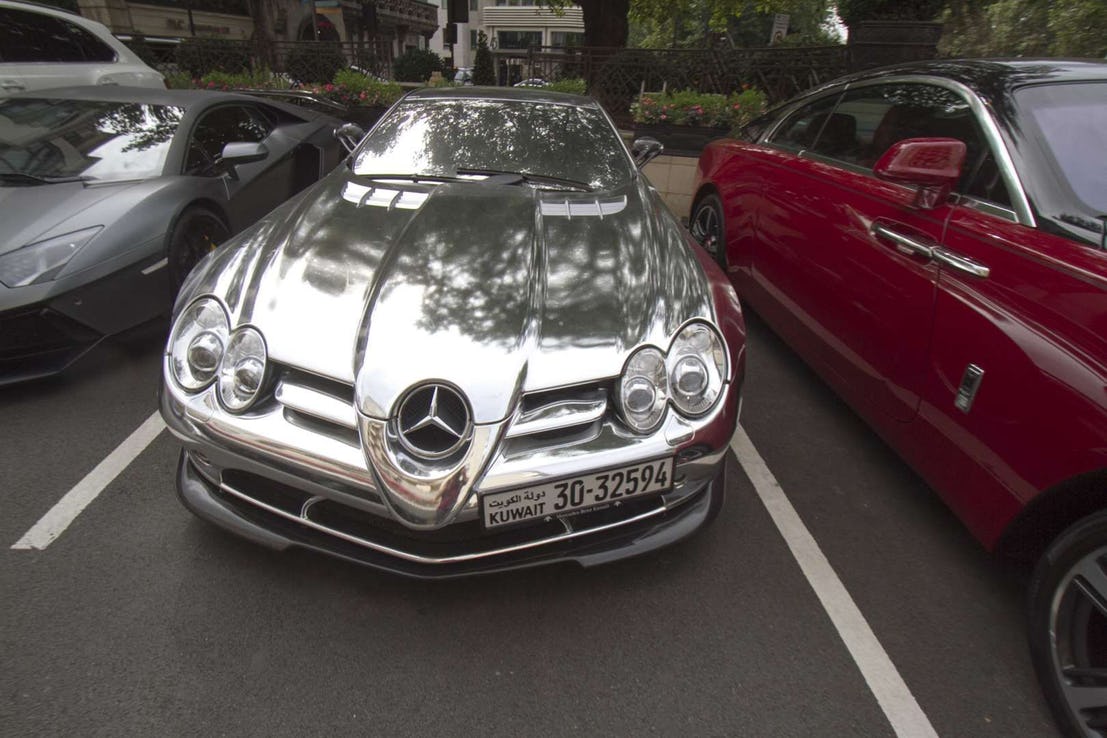 In comparison to the cars parked around it, including the Lamborghini on the left, this Mercedes-Benz SLR McLaren makes an impression. Not only is it a high performing car with style, but it's wrapped in chrome, making it that much more eye-popping.
As the photo posted on MSN reveals, upon a close look at the front license plate, the car comes from Kuwait, which is a neighboring country of Saudi Arabia. Pinterest user Kishore Patil points out that it's in the United Kingdom in this particular photo. Like all Mercedes cars, these represent luxury and status for its owners.
3. LAMBORGHINI MURCIÉLAGO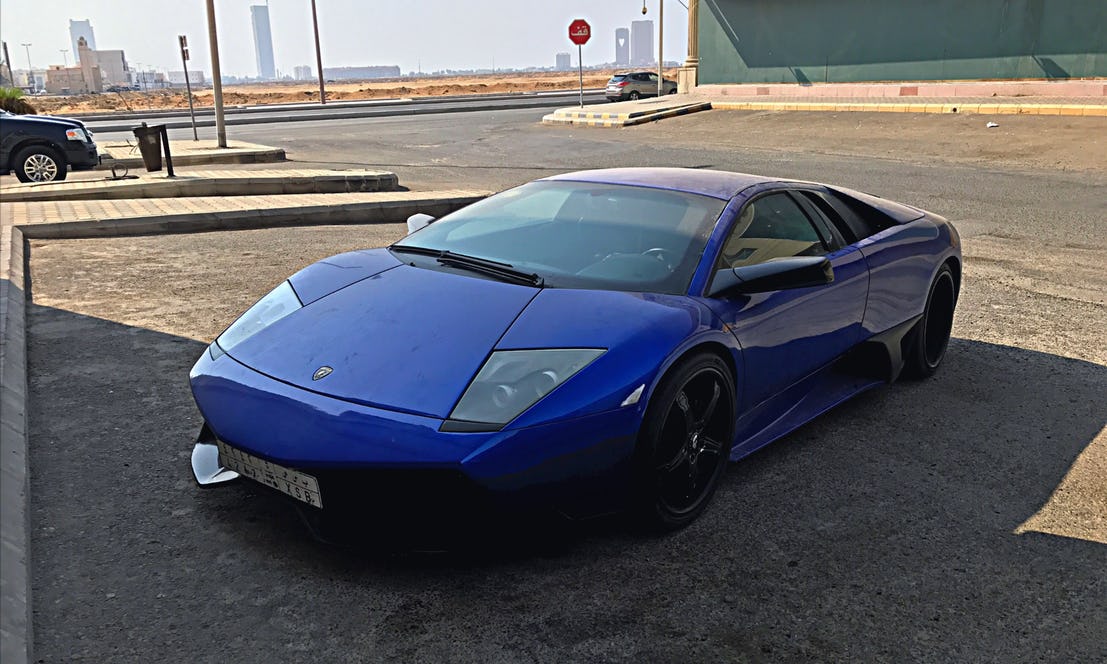 It's hard for most to imagine owning a Lamborghini Murciélago. This blue one appears to have been another abandoned vehicle found in Saudi Arabia.
According to Autogespot, at the time of this photo, it was in Jeddah, a major city in Saudi Arabia. Even exotic cars like these get left behind, though the reasons aren't always clear.
Aside from some dirt along the top, this Lamborghini still looks like it's in pristine condition, suggesting the owner took good care of it. No one wants to see an abandoned exotic. All it needs is a car wash to get back on its feet.
2. BRABUS G700 6X6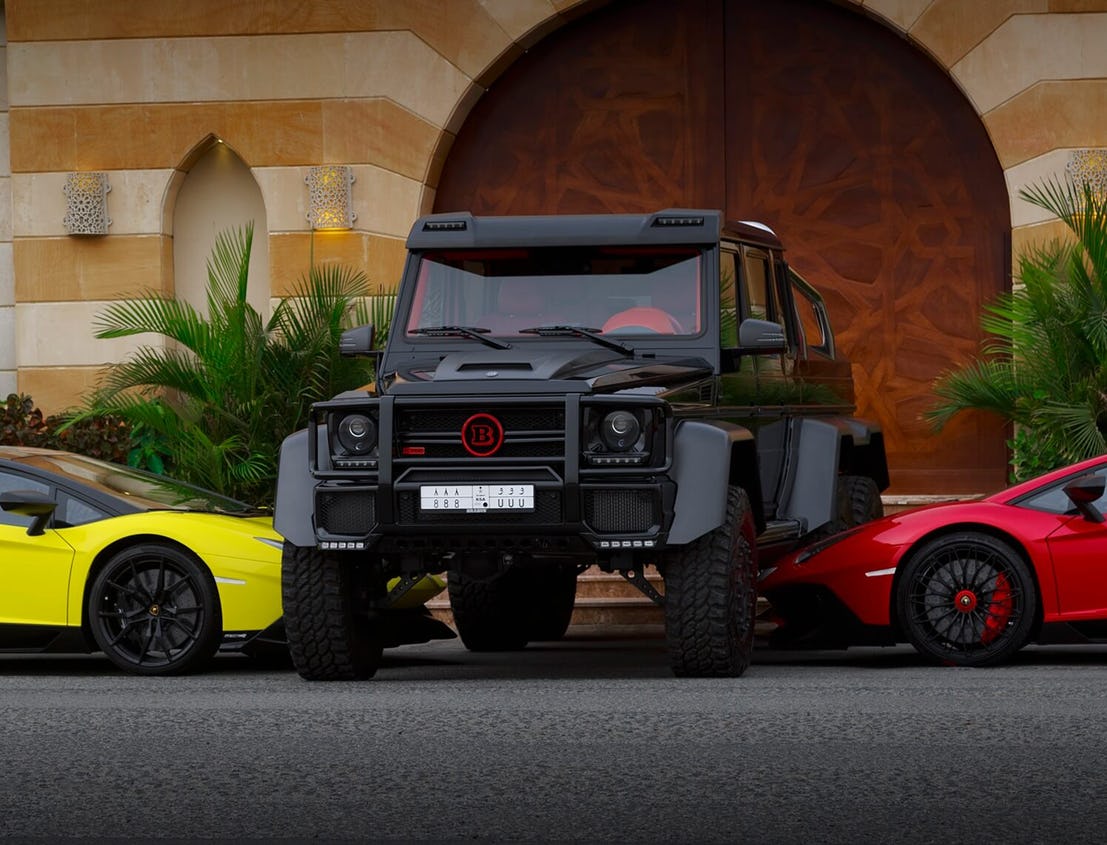 The rugged dunes of Saudi Arabia are some of the toughest in the world. Not only is the sun constantly beating down heat on the land, but the sand makes for poor driving conditions. That is, unless you drive a monster vehicle, like this Brabus 6×6.
According to Cars247, this is a one-of-a-kind edition of the popular Mercedes-Benz G63 G-Class. The same source notes that it's capable of doing a mind-boggling 690 hp and can reach 62 mph in a mere 4.4 seconds.
A powerful machine like this not only handles the Saudi Arabian desert with ease, but also boosts one's image at the same time.
1. LAMBORGHINI AVENTADOR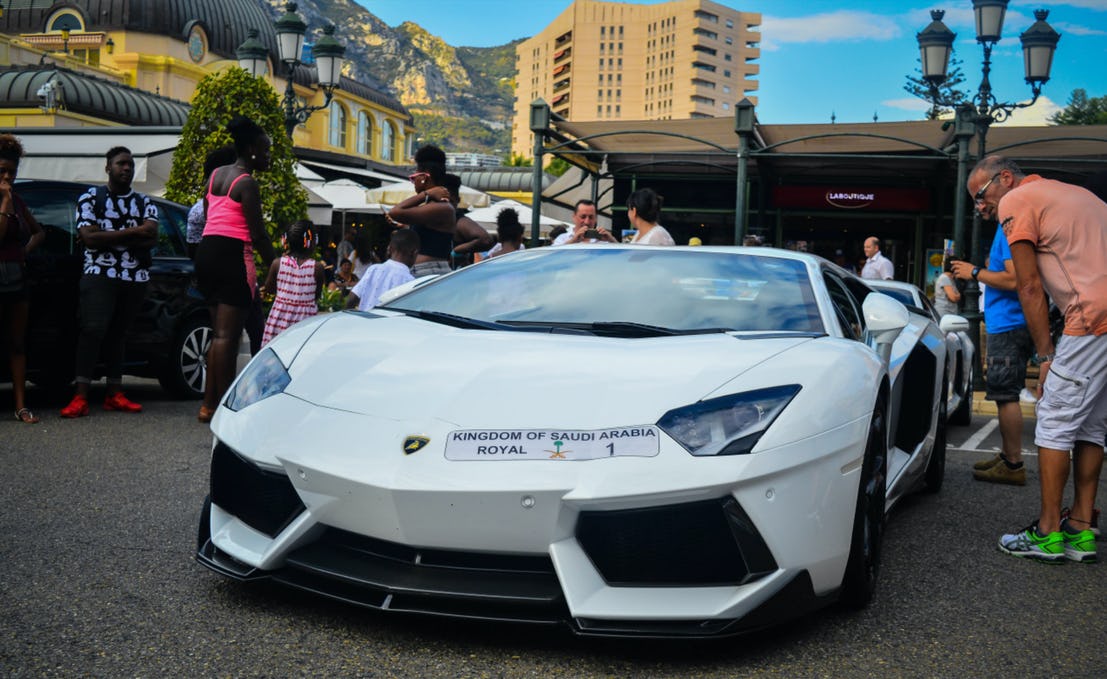 This white Lamborghini Aventador gets attention from passersby for good reason—it's a high performing car that looks good from every angle. Although the site Autogespot reports that someone took a photo of this car in Monaco, one can see it's from Saudi Arabia from the giant tag on the front.
According to the same source, these can do a top speed of about 217 mph, which is more than enough to satisfy speed freaks. Whether it's the United Kingdom, Monaco or other places around the world, the owners of these exotic cars are never afraid to venture outside of Saudi Arabia to show them off.