Businessman A P Prakash, who was sitting in the last row of a KSRTC bus travelling from the city to Kottayam in Kerala, was thrown off his seat and rendered paralysed due to the driver's recklessness
Speeding at over 80 kmph in the middle of the night, a semi-luxury bus went over a road-hump. The driver presumed that the passengers would be in deep slumber and none would crib.
Little did the driver realise that he was destroying a family: Businessman A P Prakash, who was seated in the last row, ended up being paralysed from toes to neck. The impact was such that Prakash, who was thrown up from the seat, hit the ceiling of the bus and crashed into a support-pole inside the bus.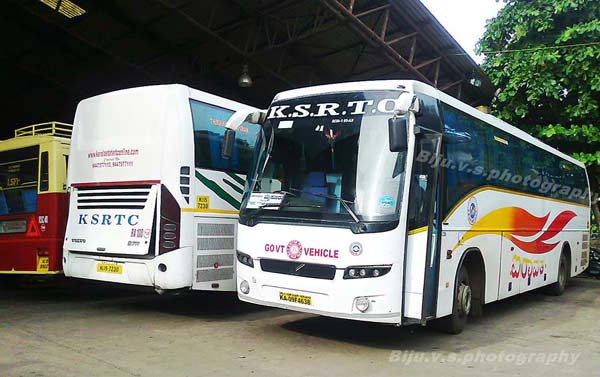 With over Rs 4 lakh being spent and Prakash continuing to be bedridden following injuries to his spine and bones, life has turned topsy-turvy for his family — the sole reason being the driver's negligence.
A complaint has been lodged against Karnataka State Road Transport Corporation (KSRTC) at Avinashi police station near Coimbatore in Tamil Nadu. Prakash spent over 45 days in a hospital in Kerala and underwent a 14-hour surgery for spinal injuries a few days ago. Adding to his woes, the KSRTC, which was supposed to bear his medical bills never made an attempt reach him.
The incident happened on September 18, when the victim was traveling with family members (wife and two children). He got seats only in the last row of the bus (KA 01 F 9347). The bus that started its journey from Shantinagar was on its way to Kottayam.
At around 1.30 am, the reckless bus driver hit a speed breaker. The effect was so bad that all passengers were thrown off their seats. Prakash's spinal injuries were so bad that other passengers, with minor injuries, told the driver to take the bus to the nearest hospital for his treatment. By the time he was hospitalized, his whole body got paralysed and he was rushed to a bigger hospital for further treatment.
Speaking to Bangalore Mirror over the phone (his wife held the phone near his ears as he was unable to lift his hands) Prakash said, "After I was thrown out of the seat and hit the pole, I could not even stand on my feet. Now, after 45 days, I am still motionless. Even after undergoing various surgeries for injuries, I am not feeling better. I am very skeptical about walking on my feet again. I am praying to God."
Dr Anu Thomas, neurosurgeon, Indo-American Hospital Brain and Spine Center in Vaikom, said, "He has suffered a paralysis of four limbs. There is a severe block in the neck. He is undergoing physiotherapy, but his condition is not very good".
Despite knowing that a complaint has been lodged against it, the KSRTC has shown complete apathy on the issue. When contacted, KSRTC managing director Manjunath Prasad said: "The incident has not come to my knowledge. KSRTC has given financial aid to victims of accidents who use our buses. We will definitely help the person in getting medical treatment."