Shaji pappan and team on Tourist bus Kerala; Video..
Aadu Oru Bheekara Jeeviyanu ("Goat is a Dangerous Animal") is a 2015 Indian Malayalam-language comedy road movie written and directed by Midhun Manuel Thomas. The cast includes Jayasurya, Vijay Babu, Vinayakan, Saiju Kurup, Vineeth Mohan, Srinda Ashab, Sunny Wayne, Renji Panicker, Sandra Thomas, Bhagath Manual, Chemban Vinod Jose, Indrans, Dharmajan, Biju Kuttan and Harikrishnan.
It was produced by Vijay Babu and Sandra Thomas under Friday Film House. The movie failed at the box office but upon its DVD release it received a CULT fan following among kerala youth. A sequel to the movie titled Aadu 2, was released on 22 December 2017.
What is Travel?
Travel is the movement of people between relatively distant geographical locations, and can involve travel by foot, bicycle, automobile, train, boat, bus, airplane, or other means, with or without luggage, and can be one way or round trip. Travel can also include relatively short stays between successive movements.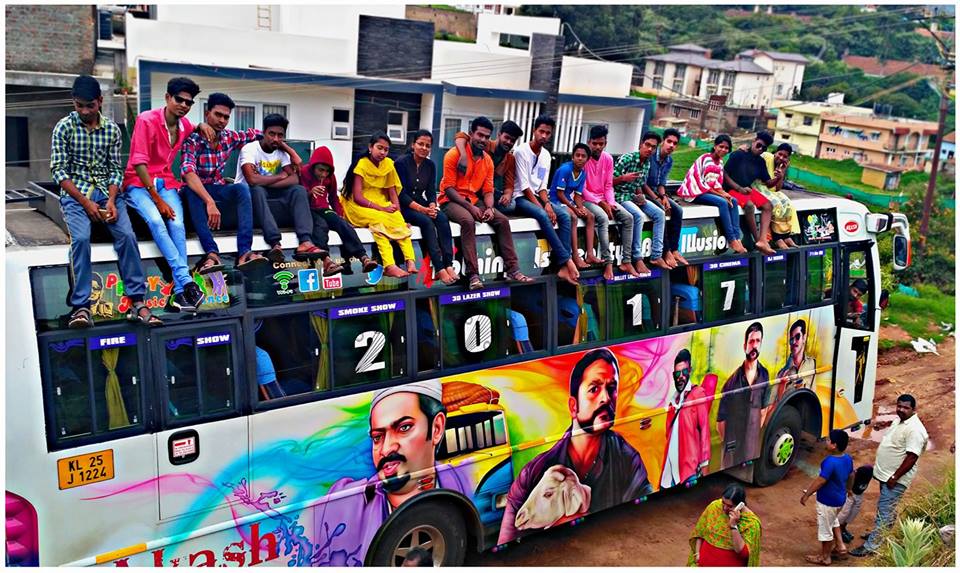 Reasons for traveling include recreation, tourism or vacationing, research travel the gathering of information, visiting people, volunteer travel for charity, migration to begin life somewhere else, religious pilgrimages and mission trips, business travel, trade, commuting, and other reasons, such as to obtain health care or waging or fleeing war or for the enjoyment of traveling. Travellers may use human-powered transport such as walking or bicycling; or vehicles, such as public transport, automobiles, trains and airplanes.
Travel by water often provided more comfort and speed than land-travel, at least until the advent of a network of railways in the 19th century. Airships and airplanes took over much of the role of long-distance surface travel in the 20th century.