Yesterday i traveled from Triavdnurm to Ernakulam by Low Floor A/c Bus, i really surprised the fare in Low Floor A/C bus it is 351Rs.
In Multi Axle Volvo A/C bus they charged 291Rs, I don't understand the logic behind this fare structure. I am thinking what all additional facility which they provide in Low Floor A/C Bus than Multi Axle Volvo A/C bus ?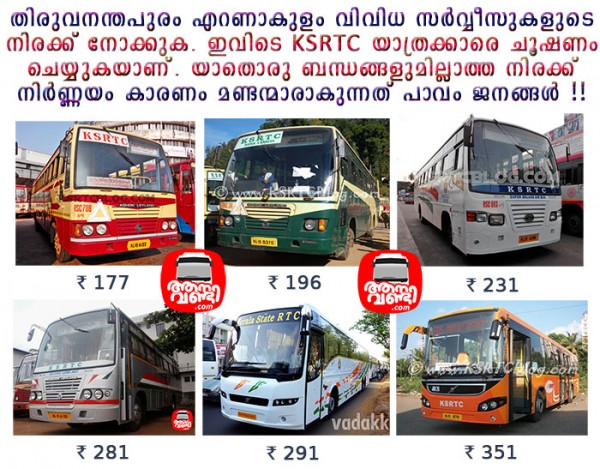 Low Floor Bus :
1-Normal Bucket seat – not a push back seat or at least headrest seat ( The TVM depot using Old Low Floor Bus)
2-Provide Music System only
3-Running time is 5 hours.
4-This bus is Limited Stop category but the fare charge is above the Multi Axle Volvo bus.(351Rs against 291Rs).
I think this route is given much profit to KSRTC that's the reason they are still running this schedule without any interruption.
Then why not they are think about to start a volvo buses(not low floor) in this route Or provide a low floor buses with Head Rest Seat facility.
On return from Ernakulam to Trivandrum I booked a ticket in Silver Line Jet bus ( Palakkad- Trivandrum). The scheduled time at Ernakulam Vytila hub is 20.20 PM but this bus reached there with 50 min late ie.9.10 PM. The fare is 281Rs but booked through online it is 311Rs, which is greater than Super Deluxe Air Bus(231Rs). When I board into the bus I felt that the Passenger Seat is much comfort than the Super Fast bus and Super Express Bus except the driver seat, rest of things are same like they are using the same chassis both in Super Fast and Super Express bus.They not provide Wifi service , i heard that it is only available in TVM-Kasergod bus.
Then why we pay this much charge for Silver Jet Buses?only for the limited stops and push back seats? yesterday's bus reached trivandrum with 10 minute delay only I really appreciated the driver who fulfilled the credibility of the Silver Line Jet Service.
Dear KSRTC please don't loot travelers money with in unfair facilities.
By: Deepak Aravind M