As the KSRTC offers new facilities for passengers, the private buses owners do not want to lag behind. With the Bus Day celebrations slated for Thursday, the private bus associations have decided to start a handful of projects to attract the public. Apart from issuing new smart cards for passengers, the associations are planning to start reservation in inter-district buses and to train its conductors and door assistants in etiquette.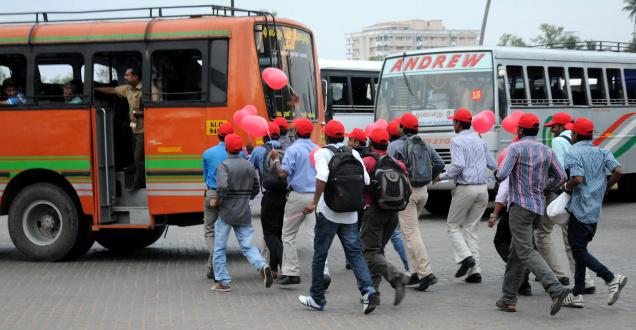 Various private bus owners associations and Vyttila Mobility Hub are organising the Bus Day during which various projects will be launched. As part of the programme, 6,000 coupons will be issued through petrol pumps and hotels to the people using two and four-wheelers which allow bus travel free of cost on the day. People can use the coupon to travel to any place. The money will be remitted by the Mobility Hub. We are planning to revamp the private bus services, usually called 'Red Killers' and change the wrong notion about us," Satheesh Oommen of Kerala Bus Transport Association said.
On Thursday, the private bus owners plan to start reservation facilities in inter-district buses. "Any person planning to travel to Kottayam, Thrissur or Cherthala can book their seats by online reservation. The seats can be booked half an hour prior to the time of travel for which Rs 10 has to be paid," Satheesh said.
The smart card project will also be launched. A passenger can purchase the card devised by a software company and swipe it while travelling in the private buses in the city limit. The card which comes in various amounts can be re-charged.
After receiving complaints on the misbehaviour of bus staff towards passengers, the associations are also planning to offer training to drivers, conductors and door assistants in etiquette.
"We had conducted a programme,'Thank You' intended to train staff in behaving well with the passengers. We are planning to start a similar training session for the staff," a member of KBTA said.
New Indian Express