We can look after buses too, say students, who cleaned up 28 KSRTC vehicles
Kahangad:  The easy target during the times of students' protest are the government-owned KSRTC buses. But a section of college students are here to prove that they are not only responsible for destruction of the government vehicles but can also protect and take care of them.
Students of NSS belonging to the Uduma Govt Arts and Science College reached the KSRTC depot at Chemmattamvayal and cleaned as many as 28 buses.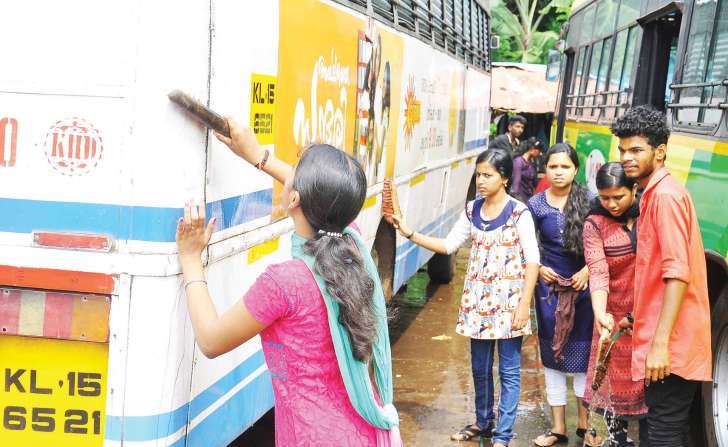 The students took to the cleaning exercise on Saturday and they plan to clean up more buses at the Kasargod depot on Sunday.
The cleaning drive held in Kahangad was inaugurated by the works manager of the KSRTC Kozhikode region M V Saharullah.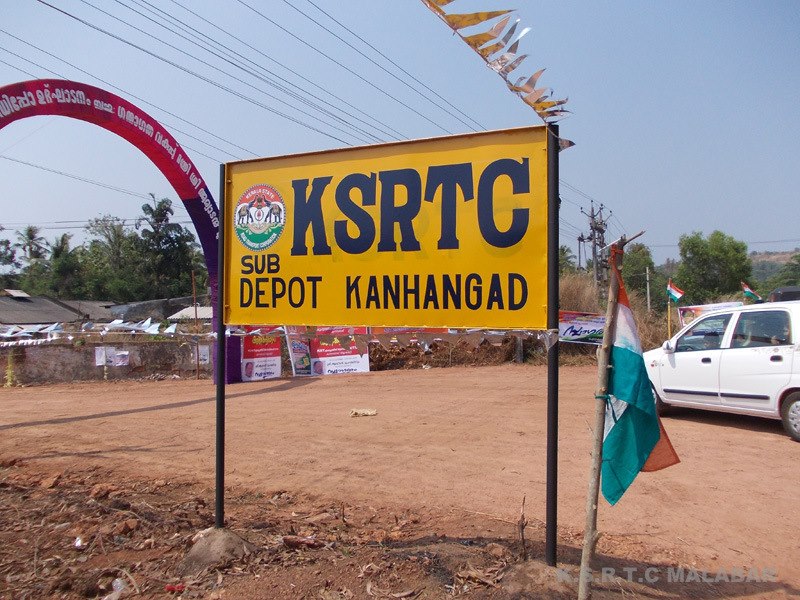 The cleaning drive was led by general controlling officer M V Kunhiraman, headquarters inspector K Ganesan, college principal Prof Swarnakumar, NSS programme officer Prof K Vidya among others.
About KSRTC..
KSRTC, the fond name for Kerala State Road Transport Corporation, connects the state well on road. As one of the oldest operated and managed public transports of India.
The history of Kerala State Road Transport Corporation began whilst the development of the transport industry it wasn't booming enough like today. The Travancore State Transport Department (TSTD) was constituted by the erstwhile Travancore Government with a view to reorganize the transport service of the State.Mr E.G. Salter, Assistant, Operating Supdt of London Passenger Transport Board was appointed as Supdt on 20.9.1937.
The State Motor Service was inaugurated by His Highness Sree Chithirathirunal on 20.2.1938. His Highness and his kin were the first passengers of the inaugration trip and Mr. Salter was himself the driver to that bus. This bus along with the 33 other buses brought on road driving through the Kawdiar Square was seen to be a beautiful attraction.
60 comet chassis fitted with Perkins diesel Engines were imported from England and the staff had built the body under the supervision of Mr. Salter himself. The selection of operating staff remains as a model which has been followed by the present staff as well. Those who were likely to lose their jobs in the private sectors due to the nationalization of Thiruvanathapuram-Kanyakumari route were given preference for appointment in the new department. Nearly a hundred Bachelor degree holders were given appoinments as Inspectors and Conductors.
At the time of transfer there were only a countable number of bus schedules – 661 bus schedules and 36 lorry schedules. It possessed a fleet of 901 buses 51 lorries and 29 other vehicles. The new working of the corpoartion started with 30 new buses and 8 new lorries. 10 old buses and 7 old lorries and one tractor trailer were converted for other uses. Plant and machinery owned by Kerala State Road Transport Corporation is extended throughout all its workshops in the whole of Kerala .