Spicejet aircraft skids off runway while landing at Calicut International Airport
A Spicejet aircraft from Chennai with 68 passengers on board skidded off the runway while landing at the Calicut International Airport in nearby Karipur today, airport officials said.
A few guiding lights on the runway were damaged as the aircraft swerved slightly to the left of the runway after landing at 8.30 am, they said.
No passenger was injured and all of them disembarked safely, they said.
Video – Manorama News
The airline said the incident happened when it was raining heavily.
"SpiceJet operated flight SG 3251 from Chennai to Calicut. A normal landing was carried out in heavy rains.
During landing run the aircraft right wheel momentarily went over the runway edge," a SpiceJet spokesperson said in a statement.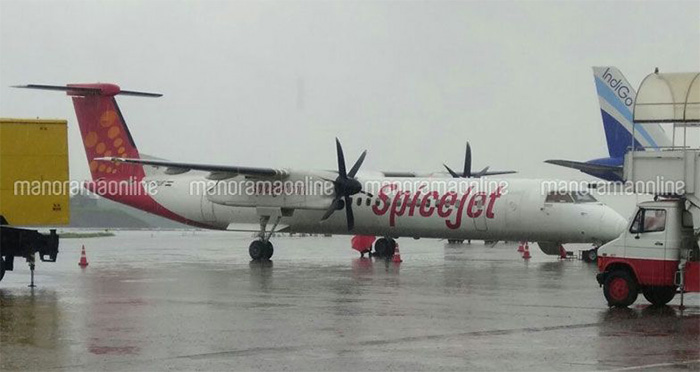 SpiceJet added that the aircraft continued its normal taxi to the apron.
The airline sources said two of their flights from here to Chennai and Bengaluru were cancelled following the incident.