Singer Aditya Narayan misbehaves with Indigo airlines staff; Video viral…
Singer Aditya Narayan, 30, son of playback singer Udit Narayan, was caught on camera abusing and threatening Indigo staffers at Raipur airport on Monday after the airline asked him to pay for 40 kg of excess baggage.
The viral video shows Aditya, who also anchors TV shows, losing his cool and abusing an Indigo staffer. The staffer appears to object to Aditya shooting a video in the airport lounge.
The video, which went viral on the internet, shows Aditya telling the Indigo employee: "At some point I will reach Mumbai and then I will show you. Teri chaddi na utari toh mera naam Aditya Narayan nahin."
Aditya is seen in the video telling the Indigo employee that he is free to use abusive language while shooting a video with his friends, and that it is none of their concern. The Indigo staffer points out that he is in a public place and there are people around. Aditya then says: "You are making this personal buddy. I didn't abuse you initially. I was making a video with my friend and I can say whatever I want to my friend. How is it your concern?"
In a statement, an Indigo spokesperson said, "Today, on 6E-258 (Raipur-Mumbai), Mr Aditya Narayan, travelling with a group of five people, was carrying excess baggage of 40 kg. The amount to be paid for the carriage of excess baggage came to 13,000 INR. He refused to pay this amount to the female check-in staff member and said he will not pay more than 10,000 INR for the excess baggage. He also used unparliamentary language with the female staff member."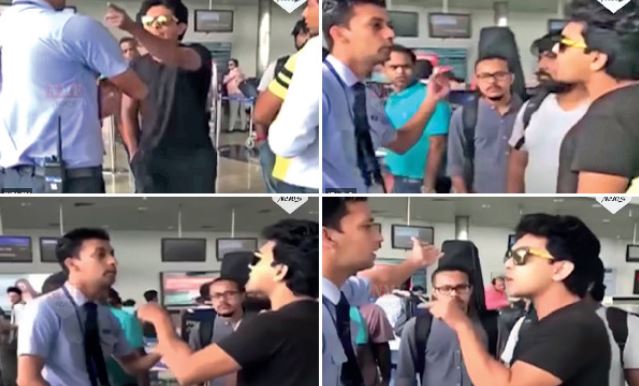 "While making a video, he pointed a finger at the duty manager and again used profanity. When politely asked to be civil and not use such language as there were other passengers and female staff members present, he started shouting even louder and used abusive words." The duty manager then told Narayan that if he continued to misbehave, he would be off-loaded.
"Later, passenger Mr Narayan apologised to the ground staff and thereafter was given the boarding cards. We at IndiGo can at no point compromise the dignity of our staff members or passengers," the statement said.
When Mumbai Mirror tried to contact Aditya, his phone was switched off and he didn't respond to text messages.
Narayan is best known for two songs, 'Ishqyaun Dhishqyaun' and 'Tattad Tattad' in Sanjay Leela Bhansali's Goliyon Ki Raasleela Ram Leela. He has also hosted several seasons of the TV show, Sa Re Ga Ma Little Champs and X Factor.