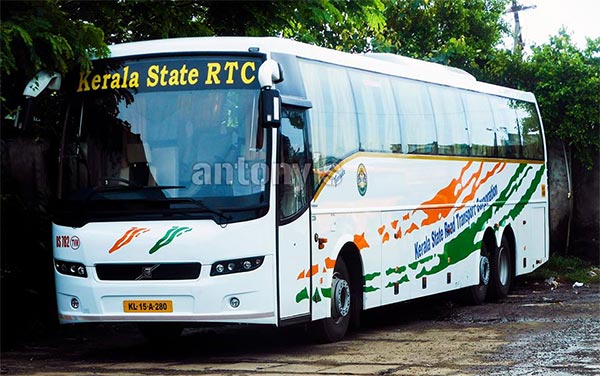 In a bid to gear up its inter-state services, the Kerala State Road Transport Corporation will run air-conditioned multi-axle Volvo buses to Goa, Puducherry, Andhra Pradesh, Telangana and Maharashtra soon. Discussions in this regard have been held with the transport undertakings of the respective states, Transport Minister Thiruvanchoor Radhakrishnan told reporters here on Thursday. Around 20 Volvo buses will be procured for the new interstate services, the Minister said.
According to an agreement reached with Kadamba Transport Corporation, the state transport undertaking of Goa, KSRTC will operate services from Kozhikode to Panaji. It will also operate services to Mumbai via Mangalore,Karwar, Goa and Pune.
Long-distance operations will also be introduced to Hyderabad, Tirupati and Puttaparthi from Kozhikode and Ernakulam, Thiruvanchoor said.
KSRTC has also reached an understanding with Tamil Nadu State Express Transport Corporation to immediately commence service in the Kottayam- Chennai and Thiruvananthapuram- Chennai routes. It has urged the Tamil Nadu Government to permit service in the Ernakulam-Puducherry route. "We believe that the new services will be of much help to those passengers who have to rely solely on rail transport in these sectors," The Minister said.
Plans are afoot to reschedule loss-making services and even wind them up which are not doing any good even after rescheduling.
He said that KSRTC's daily revenue, which was pegged at `4.50 crore until six months ago has now scaled up to `5.54 crore. On some days, the revenue even crosses `6 crore, he said.
To bring down the cashstrapped KSRTC's revenue deficit from the existing `1,200 crore to `700 crore, Thiruvanchoor called upon the financial institutions to cut down the interest on loans given to the state transport undertaking. He said that tendering process for leasing out space in newly-constructed bus terminals in Thiruvananthapuram, Tiruvalla, Angamaly and Kozhikode will soon be completed.
Thiruvanchoor said that KSRTC expected more financial support in the Budget.
News Indian Express