Thanks to the lack of coordination between Kerala State Road Transport Corporation (KSRTC) and Delhi Metro Rail Corporation (DMRC), passengers depending on KSRTC buses for night journeys are having a harrowing time. Without any prior information, labourers working for Kochi Metro are diverting KSRTC buses at various points between MG Road and Edappally Junction. As a result, important bus stops where passengers want to alight or board, are missed.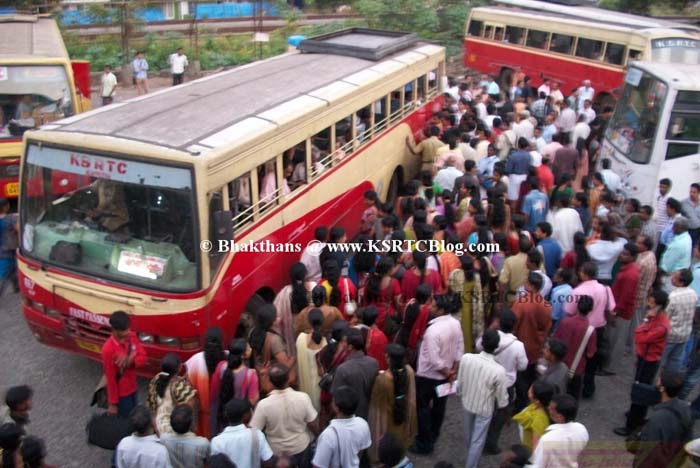 The diverted buses take narrow roads almost every day due to poor language skills by DMRC field-workers and they get stuck in these roads frequently. "Two weeks ago, a Bangalore-Ernakulam deluxe bus was stuck on the Ponoth Road after the DMRC field worker diverted it from Deshabhimani Junction. We had to bring the passengers in a smaller vehicle to the Ernakulam bus station. The deluxe bus was finally extricated and taken to the bus station after expert drivers were given the task. We lost three hours due to the exercise," said P Sasidharan, chief traffic officer of KSRTC, Ernakulam.
At present, KSRTC buses are diverted from many points namely MG Road, Kaloor Junction, Palarivattom, Deshabhimani Junction and Edappally Junction. "Sometimes, passengers have to explain the shortcuts and alternative routes to the bus crew as majority of them are new to the route. A better coordination about the diversion can be worked out by both agencies," said Monish Padmanabhan, an Aluva native.
KSRTC authorities pointed out that such incidents could have been avoided had the DMRC authorities informed about the diversions in advance. "We are well aware about the task given to DMRC. However, while they prepare the work chart for a day, they can share it with us so that we can announce the diversions at the bus station. That way, commuters are not left in the lurch," said another senior KSRTC officer.
At the same time, DMRC spokesperson P Narayanan said that they would soon resolve the issue. "The field workers, who divert traffic, are migrant labourers with limited communication skills. We will work out a route plan so that KSRTC night buses on long journeys are not affected," he said.
News: Times of India