Muvattupuzha shows the way in feeding the hungry
From now, nobody in Muvattupuzha municipality will go to bed hungry.
Nor will an underprivileged person struggle to pay medical bills. The youth in Muvattupuzha is on a mission to make the city hunger-free, by placing kiosks that offer food for the hungry, medicines for the needy and drinking water for the thirsty.
The kiosk, which has been named Snehathanal, started functioning at Kacherithazhathu junction, on September 1. "Our aim is 'Oru neram aahaaram ellavarkkum' (one meal a day for all). We are committed to fight hunger resulting from poverty," says KB Bineesh Kumar, Councillor, Muvattupuzha Housing Board Ward. The kiosk, placed under a tree, has shelves for food, medicines, clothes and drinking water.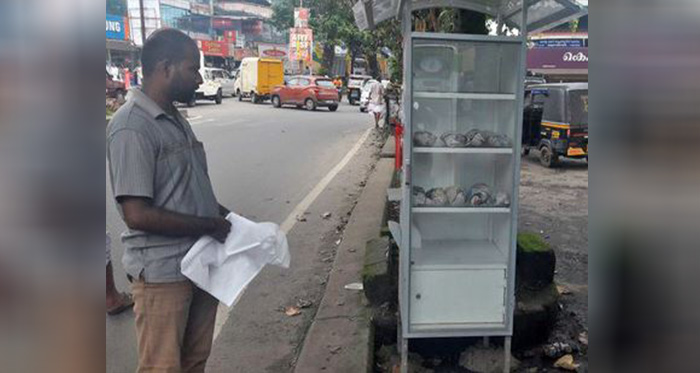 It all started when a few socially concerned youngsters set out to feed the hungry, two years back. They found that there are many senior citizens, especially elderly women, who stay hungry for four to five days in their municipality.
"We formed a trust, Sneham, and started working on the issue. We eventually expanded our work to a palliative care unit of the government hospital here. When we realised that the old and the destitute needed care, we decided to restart the Snehaveedu project of our municipality, an old age home for senior citizens, which had remained closed for nearly ten years," Bineesh says.
The youngsters re-opened the old age home and while feeding the 16 'ammas' residing there, they thought, 'why not pack some extra lunches and place it in the kiosk?' "We keep a few packets inside Snehathanal and give the rest to auto rickshaw drivers who deliver it to the needy as they ride around different parts of Muvattupuzha," says Bineesh, adding that every resident in the town is happy about the new mission.
"We were inspired by the nanma maram concept introduced by a restaurant in Kochi. We decided to expand it by providing medicines and clothes as well. Those who find it difficult to pay for medicines can keep the prescription with their phone number inside the medicine section of the kiosk. We will be helping them in no time," Bineesh says. Those who have medicines to donate can approach them and they will distribute it to the needy.
The food will be available at the kiosk from 12 pm to 2 pm. "Drinking water will be available here for 24 hours," he adds. The team is planning to keep another kiosk at the Muvattupuzha KSRTC bus stand as well. "We are on an experimental mode now. Depending on the response, we will install kiosks in different parts of Muvattupuzha," Bineesh sums up.