To enhance efficiency on inter-state transportation routes in the state, the Kerala State Road Transport Corporation (KSRTC) has planned to introduce double-decker buses on long-distance circuits.
KSRTC officials have started negotiating with companies such as Volvo and Scania, which have introduced a series of similar buses in several countries in the world, said KSRTC officials on Saturday.
The proposal for double-deckers has been put forward to the state government by the KSRTC after its MD Antony Chacko had made a study visit to Brazil, which is said to be home for the first Bus Transport Rapid System (BTRS) in the world.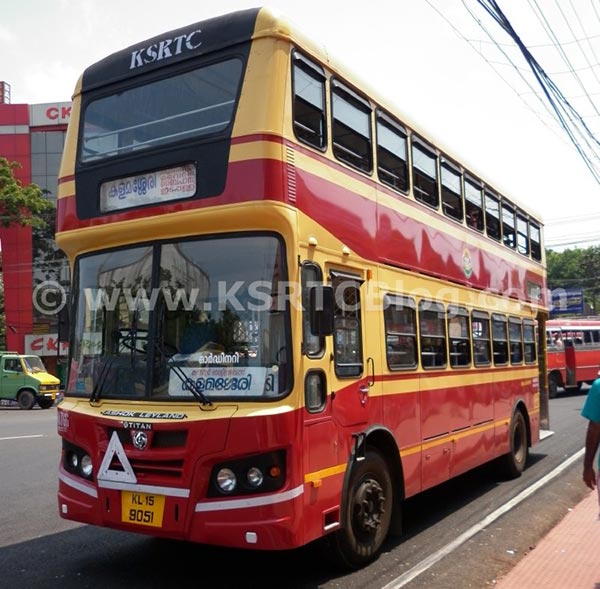 "We have been inspired by Brazil's transport system where double-decker buses are its part and parcel. That's why such a proposal has been placed before the government. We have informed the government about the benefits of a similar system here more because of its cost-effectiveness," said Antony Chacko.
Negotiations are on with Scania and Volvo companies about the feasibility of introducing such a system here for the KSRTC, said Antony Chacko, adding that they were thinking of introducing quad-axle double-decker coaches as they are more sturdy and as most of the buses operating in the state are of tri-axles.
The bus will be able to accommodate 70 persons, with 17 seats on the bottom deck and 54 on the upper deck.
According to officials, government can save a lot of money as BTRS will cost only one tenth of the fund required for a metro rail system.
The KSRTC currently owns two double-deckers, one being operated on the Angamaly-Aluva route and the other run solely for tourism purposes in Thiruvananthapuram.
With a quaint style, however, the buses will attract tourists as well as natives, said the officials.
News: New Indian Express