Since KSRC has stopped the circular service due to lack of buses, Techies are again in trouble for their travel needs.
Technopark express was the public transport mechanism of Technopark for years. Two buses were plying in peak hours of morning and evening in all working days, which was a great relief for techies in Technopark as it used to serve routes like Thrippadapuram and Karyavattom Junction in odd hours and peak hours alike.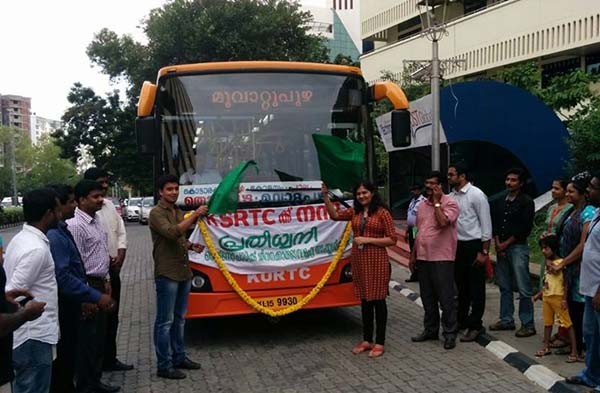 But, Technopark express has stopped it's service due to RTO's inspection during first week of September 2014. It is very unfortunate from a techies' point of view, as they have not got any alternative mechanism for the same. Women Staff used to avail this facility for hostel drops; especially at night.  Technopark express had a security staff as well, which ensured safety.
Later, KSRTC has started a circular service from Technopark to Kazhakoottam, that service partially covered the purpose of tech express. But KSRTC has stopped the circular route service now due to lack of good buses.
Prathidhwani, the Socio-Cultural Organisation of Technopark Employees, requested park centre authorities to take necessary steps to resume the service of tech express for employees as early as possible. This will help to have the Techies' service which will fulfill the exact requirement and timings of employees. It will be beneficial to start services with monthly passes/weekly passes as RTO inspection was for sale of tickets.
Prathidhwani also suggested the use of eco-friendly electric vehicles more effectively on peak times in morning and evening so that employees can commute to Front gate and other buildings easily.
News: Technoparktoday