KSRTC bus rams car, 5 from Bangalore dead
In yet another major accident in Krishnagiri district, five members of a family from Bengaluru died on the spot when a Karnataka State Road Transport Corporation (KSRTC) bus hit the car they were travelling in on the Hosur-Krishnagiri National Highway in Shoolagiri police station limits in the early hours of Tuesday.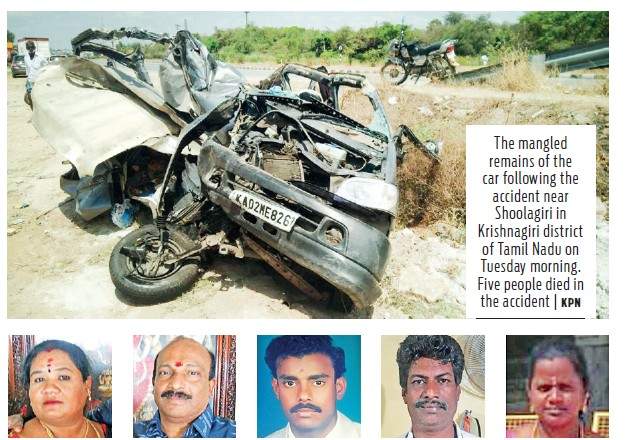 The family was returning to Bengaluru from Chennai where it had been to distribute wedding invitation cards of their daughter. The deceased have been identified as Shankar (40), Mani (30), Sumathi (35), Kuberan (32) and Sumathi (34) while another member of the family Ananth (38) sustained injuries and was admitted to Government Hospital in Hosur. All the victims were residents of Laskhminarayanapuram in Bengaluru.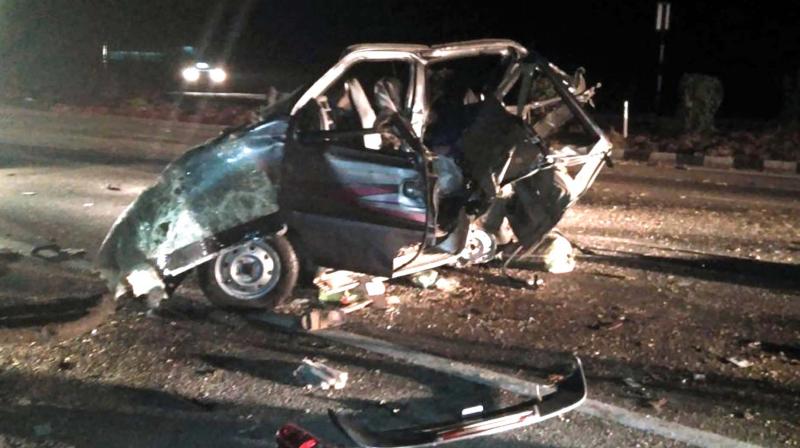 According to police, the accident happened near Shoolagiri when the driver of the KSRTC bus, heading to Chennai from Bengaluru, lost control over the vehicle after the tyre of the bus got burs. The bus jumped onto the other side of the road crossing the median and hit the car in which the family was travelling and later rammed into another car. The impact of the crash was such that both the cars got crushed in the accident. The Shoolagiri police registered a case and are investigating.
Meanwhile, another container vehicle, which was moving alongside the car, heading from Cuddalore to Mysuru, overturned when its driver M Siva (27) tried to avoid hitting on the car. The driver, who escaped with minor injuries, lodged a complaint against the KSRTC bus driver in Shoolagiri police station on Tuesday.Following this, police booked a case under IPC Sections 279, 337 and 304 (a).