The Karnataka State Road Transport Corporation ("KSRTC") has been using every possible strategy to woo passengers, backed by a fleet ranging from Scania Metrolink to Mercedes Benz and multi-axle Volvo.
On July 1, it comes out with 20 per cent discount on ticket fares for the Kochi-Bengaluru service. From time and again, the Karnataka State Road Transport Corporation has strived to make sure that it has an edge on its rival, the Kerala Road Transport Corporation (KSRTC)
The Bengaluru route, especially the trip from Kochi, is usually considered a money-spinner for both public and private transport entities. Though the Kerala Road Transport Corporation has the potential to turn the tide in its favour, at no time did it tried to capitalise on it.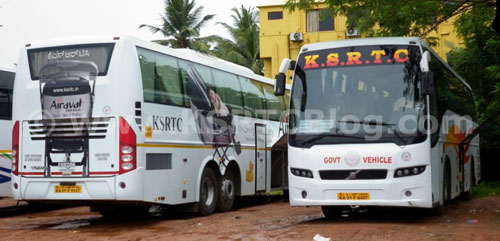 While its Karnataka counterpart is announcing discounts and offering a hassle-free journey, the Kerala RTC is left far behind.
Speaking about the market strategy, Karnataka RTC officer-in-charge Prasanth G K (for Kerala) told 'Express', "we are coming out with more passenger-friendly options, both in buses and in fares. Altogether, we are operating 35 services on the Bengaluru, Mysuru and Mangaluru routes, with primary focus on the Kochi-Bengaluru route where passenger traffic is heavy," he said.
The Karnataka RTC is operating two non-AC buses, one AC sleeper bus and four AC semi-sleeper buses on the Kochi-Bengaluru route, of which one is a passing service coming from Thiruvananthapuram. The Kerala RTC is operating only three 'deluxe' buses from Ernakulam.
"The ticket fare for non-AC buses is Rs 640, while the fare for AC buses is Rs 1,016-1,100. For AC sleeper, the fare is Rs 1,150. With Onam season round the corner, we have also started online booking," said Prasanth.
Talking to 'Express', the chief traffic manager of the Kerala RTC said that they had started giving discount on fares since last week, slashing the price to Rs 1,290 from the previous fare of Rs 1,360.
Commuter-friendly Measures
According to sources, Kerala State Transport Corporation officials are planning to adopt 'commuter friendly' measures in a bid to attract more passengers, especially on interstate routes.
As a first step, the public sector entity recently announced reduction in its fares. According to an official, it is the first time the KSRTC introduced fare discount on an interstate route (to Bengaluru), though on a trial basis.
It is learnt that the KSRTC is planning to submit a proposal before the State Government, seeking consent for fare revision on routes where there is fluctuation in fuel prices.
News: New Indian Express