Two planes Collide at Ben Gurion Airport in Israel
A plane crash at Ben-Gurion Airport in Tel Aviv caused two planes full of passengers to be evacuated. The crash took place between a Germania plane, bound for Berlin, and an El Al plane, bound for Rome. It was initially reported that the El Al plane was stationary on the tarmac, the Germania plane was attempting to take off. The tail then clipped the El Al plane, causing the collision.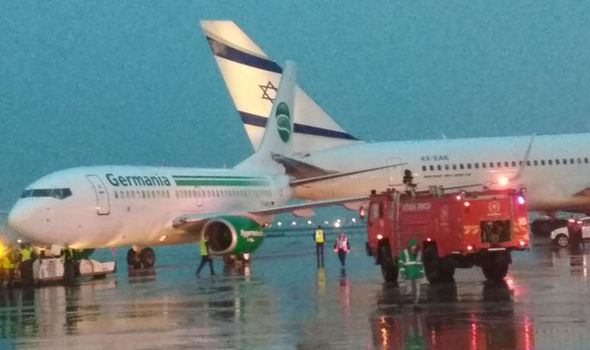 However a video shows that the Germania plane appears to have backed into the El Al Plane. Passengers were evacuated but no injuries have currently been reported. They were taken by bus back to the airport terminal to await an alternative flight.
Israel radio station Kan reporter Amichai Stein tweeted the video which shows the two planes being evacuated.
The damage of the two planes can be seen as the tail fins stuck are together after the crash. The El Al plane's vertical stabiliser is almost completely torn off.
An investigation has been launched, according to airport authorities to establish how the incident occurred. The damage could cost hundreds of thousands of pounds due to the collision.
Stein wrote: "#BREAKING: Near collision between 2 planes in Israel's Ben Gurion airport: The wing of a Germania plane crashed into an El Al Plane – No one was injured."
Twitter users remarked that it wasn't a near collision but an "actual collision".
According to the Jerusalem Post, one spoke to the Israeli army radio, and said: "the [other] passengers spoke of confusion and a sense of disarray."
El Al Airlines are yet to comment.
The Germania twitter account wrote: "Germania confirms that two planes of Germania and the Israeli company El Al have touched each other this morning on the apron of Ben Gurion Airport in Tel Aviv.
"According to current information no one was injured. Crew and passengers are all well."
A plane accident last month saw a United Airlines flight skid off the runway in Austin. Bad weather had already forced the plane to divert from Minneapolis. Whilst none were reported to be injured, one passenger told NBC: "You couldn't feel the brakes biting at all, and then suddenly bumpity bump, we're sitting in the weeds at the end of the runway."