Although district collector Biju Prabhakar last week announced an intense crackdown on parallel transport services in the district, the district administration has decided to keep the action on hold as it turns out to be a difficult task.
Officials of regional transport office believe it is a tough ask as even former transport commissioner Rishi Raj Singh could not complete the drive after opposition from people who relied on these services. RTO officials said Singh had initiated a drive against vehicles operating parallel services in Neyyattinkara region. But to his surprise, he faced stiff opposition from locals, who said that such vehicles could not be taken off roads unless the authorities provided them with alternative travel modes.
Acknowledging this crisis, the district collector said that the issue will be discussed in the next road transport authority meeting, scheduled to be held on April 6. "We might seek the help of National Transportation Planning and Research Centre Authorities again to conduct a user study and propose alternatives," said Prabhakar. Natpac is already conducting another field study on the possibilities of route changes requested by the private bus operators.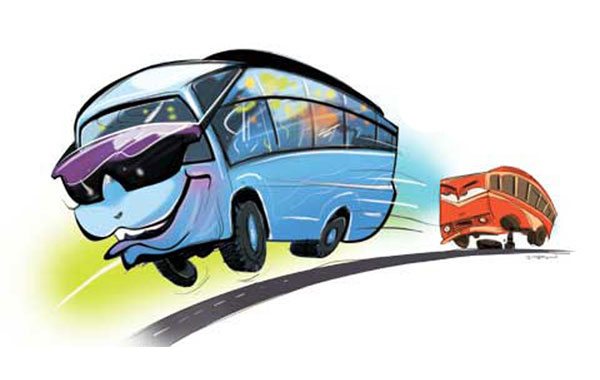 Meanwhile, KSRTC officials alleged that the drive by Singh was called off due to political pressure after he seized over 60 vehicles operating illegally in Neyyattinkara.
"If the district administration had the will, they could have curbed the menace well before," said a KSRTC official on condition of anonymity. "The excuse of lack of KSRTC services in rural district turning fodder for parallel transport services was not true. For example, most parallel service vehicles operate in Pothencode region. KSRTC operates as many as 1,262 trips to Pothencode from 27 depots in Thiruvananthapuram and Kollam daily. The situation is same in the case of Chirayinkeezh and Venjaramoodu routes as well," the official said.
"Parallel services, which have been eating away at KSRTC's revenue, are thriving with the help of corrupt police officers and politicians," the official said.
News: Times of India