School bus crash kills at least 23 children
A school bus plunged off a mountain road Monday into a deep gorge in the Himalayan foothills, killing 23 children, some as young as four, officials said. Four adults also died, said Sandeep Kumar, a local official. Ten children were hospitalized.
Initial reports indicated the bus driver was speeding as he took the children home and lost control at the edge of the gorge. The bus fell some 60 metres to the ground below, said police officer Sunil Kumar.
The adults killed included the bus driver, two teachers and another woman, officials said. Most of the children riding in the bus were believed to be in elementary school.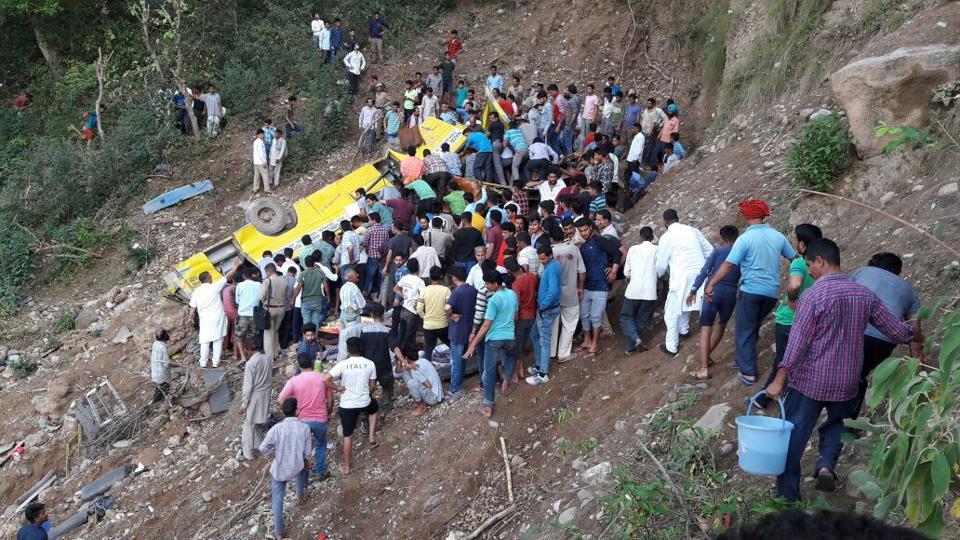 The crash occurred in the Kangra Valley, about 500 kilometres north of New Delhi. The search for survivors ended late Monday night, with the bodies of the dead lying on the concrete floor of the Nurpur mortuary, covered by sheets. India's roads, particularly in the hills, have long been feared for their deep potholes, reckless drivers and often a lack of guardrails. Fatal accidents are common.
"I am deeply anguished by the loss of lives," Prime Minister Narendra Modi said in a tweet. "My prayers and solidarity with those who lost their near and dear ones."
At least 13 seriously injured persons were rushed to a hospital in Pathankot where one of them succumbed to injuries, an official said. The condition of other injured persons was also critical, he said. The bus was carrying 40-45 people and most of those killed were students of elementary classes, aged below ten.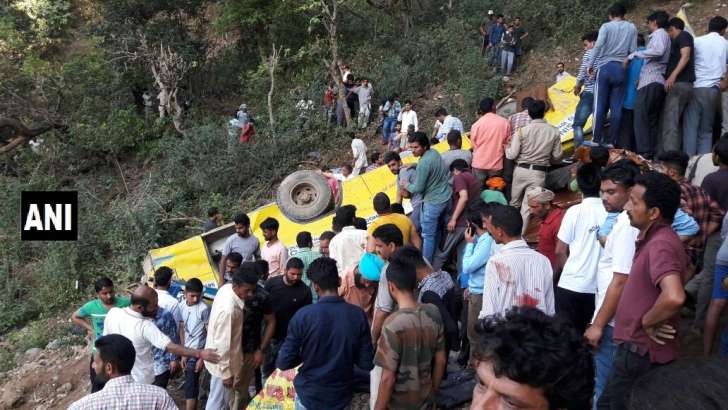 Chief minister Jai Ram Thakur announced an immediate relief of Rs5 lakh to the next of kin of each deceased.
A magisterial probe was ordered and preliminary enquiries suggested the accident occured as the driver lost control over the bus which veered off the road and fell into a deep gorge, an official said. A pall of gloom descended in the area as wailing parents rushed to the spot on hearing the news. Food and supplies minister Krishan Kapoor was among the senior state functionaries at the accident site to supervise rescue operations.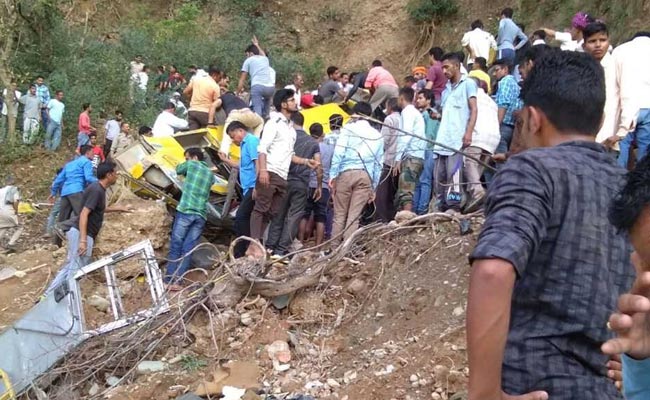 The bodies were extricated from the rubble with the assistance of local youth. Governor Acharya Devvrat ,Chief Minister Jai Ram Thakur, Union minister J.P.Nadda, transport minister Thakur, were among those who expressed deep shock over the tragedy.