5 killed as car collides with bus in Perumbavoor
Five persons were killed and two others injured when the car in which they were travelling collided with a bus at Perumbavoor. All the deceased were travelling in the car. They were identified as Idukki Elappara natives Jerin, Unni, Vijay, Kiran, and Janeesh. Sujith and Jibin, who sustained injuries, were hospitalised.
The accident took place by 12.45 am on Thursday. The car hit a bus in which a group of Sabarimla pilgrims from Andhra were travelling. There were a total of 7 persons in the car. They were going to the airport to see off Jibin to Gulf. All the five of them died on the spot. Jerin is the brother of Jibin. Others are relatives and friends.
According to police, the incident happened during the rain and the vehicle hit head on with the tourists' bus. The bus was heading towards Kalady direction from Perumbavoor while the car was heading towards Perumbavoor. The incident happened at a steep curve on the road when the car crossed a truck laden with wooden logs to ram the bus.
The front portion of the car got pushed into the vehicle crushing the youths in it. Five of them died on the spot while the rest two were rushed to a nearby hospital. While Jibin was taken to Sanjoe hospital in Perimbavoor, Appu was rushed to Rajagiri hospital in Aluva. Police said that they have collected CCTV footage from the area and an investigation is on. The driver of the tourist bus has been taken in custody though it is unsure whether there was any traffic violation from the side of the bus driver.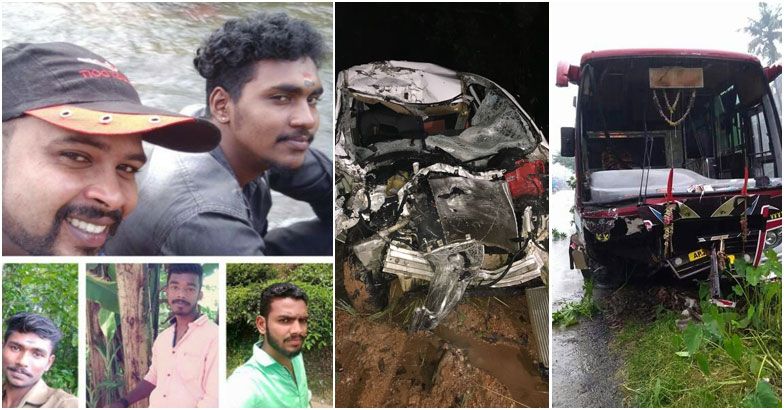 Police said that two other friends made narrow escape as they–who had also received a job abroad–had gone to the airport ahead of the group which met with the accident. Cleaner of the bus said that they didn't see the car coming and that it came from the backside of the truck suddenly to ram their vehicle.