4 dead, 13 injured as bus rams truck on Yamuna Expressway
Four people died and 13 sustained injuries when a passenger bus rammed a stationary truck on the Yamuna Expressway in the late hours of Friday.
Circle Officer (Khair) Tejveer Singh said, "An AC passenger bus belonging to Shatabdi Travels was carrying passengers from Delhi to Kanpur when it collided into a cement truck at 12.30 am, near Jewar. The bus skidded and hit the barricade on the side of the road. Due to the impact, it crushed a part of the barrier and crossed it. Four passengers were brought dead on arrival at Kailash Hospital in Jewar, and 13 others are undergoing treatment. One of them is critical."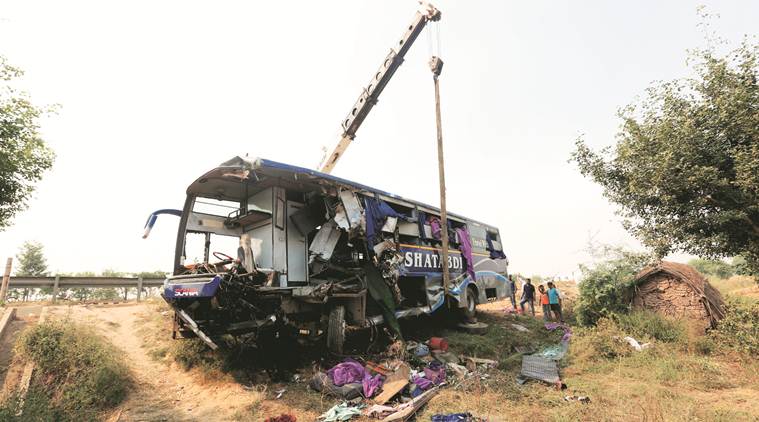 Three of the dead have been identified as Alok Pandey a resident of Auraiya; Aditya Goyal from Kanpur; and Avdheesh Kumar from Malviya Nagar in Delhi. The fourth victim has not been identified yet, but police suspect it could be the bus conductor.
According to police, when information about the accident was received, ambulances maintained by highway authorities and other nearby hospitals were mobilised immediately to initiate rescue operations. The front portion of the bus sustained maximum damage, added police.
The bus had a capacity of 72 passengers and was carrying 50 people at the time of accident.
Police are investigating if there were lapses on part of the driver. A complaint will be filed after taking statements from the injured, police said.
According to Kailash Hospital authorities, the bodies have been sent to a mortuary in Aligarh for post-mortem. An eyewitness and one of the injured, Vikas, said he was sitting right behind the conductor: "The road was empty and the streetlights were on as well. Suddenly, I heard a loud crash… I saw bodies all around me.."
Among victims, a father heading home
At 4 pm on Friday, Alok Pandey (35) received a call from a hospital in Kalyanpur that his wife Ranu Pandey (32) had given birth to a baby girl. An elated Alok distributed sweets to his colleagues and booked a ticket on Shatabdi Travels from Delhi to Kanpur. Three hours into the journey, he died in the accident.
Celebrations turned into mourning as news reached his family. "When I last spoke to him last, he said he was excited to see his daughter," said Shivbhan Singh, Alok's close friend and neighbour.