The Kerala State Road Transport Corporation (KSRTC) launched a special low-floor air conditioned bus from Malappuram to Cochin International Airport at Nedumbassery in connection with this year's Haj pilgrimage.
Flagging off the bus, P. Ubaidulla, MLA, said that the AC service would not only benefit pilgrims but hundreds of relatives and friends who accompany the Hajis to the airport.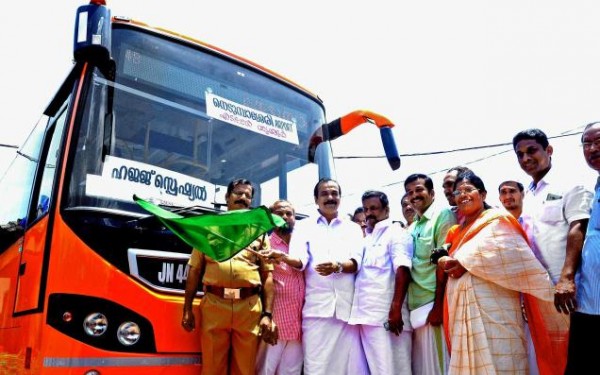 The KSRTC will conduct the service until September 16.
The bus will leave Malappuram at 11.30 a.m. and reach Nedumbassery at 3.15 p.m. It will be passing through Kottakkal, Valanchery, Kunnamkulam, Thrissur and Angamaly.
The bus will proceed to Vyttila hub from Nedumbassery and will leave for Malappuram at 6 p.m. It will reach Malappuram at 11 p.m. KSRTC will charge Rs. 240 from Malappuram to Nedumbassery. People can reserve their tickets at the Malappuram station.
Municipal vice chairperson K.M. Girija, councillor Veekshanam Mohammed and KSRTC officials attended the flag-off ceremony.
News: The Hindu