Kerala IPS officer becomes bus conductor on May Day
On this May Day, a top cop in Kerala decided to become a bus conductor. DGP Tomin Thachankary, an IPS officer, who is usually seen in his khaki uniform was spotted in a blue uniform dressed up as a conductor at Thiruvananthapuram Central Bus Station today.
In order to improve the relationship between the staff and commuters, the Managing Director of the state-run Kerala State Road Transport Corporation (KSRTC) decided to work as a conductor for a day.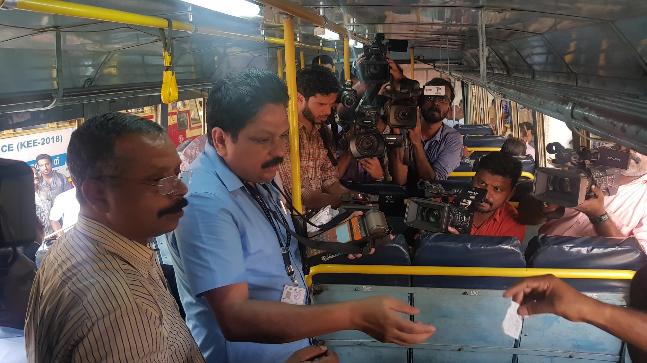 Tomin Thachankary, who obtained a conductor's license on Monday, reported for duty at 10 AM on Tuesday. Thachankary was assigned a duty in the 11 AM super fast schedule from Thiruvananthapuram to Kozhikode.
Thachankary reached the spot at exact 11 AM and squeezed in his way through the media and commuters inside the bus. Many commuters didn't recognise the conductor in the first go. But, as soon as he was recognised, the excited commuters approached him to click selfies with him.
After the initial chaos, Thachankary settled down at the back seat of the bus, doing a quick tally of the collection and the total pax.
Speaking to India Today, Thachankary said, "It's essential for the Chief Executive to understand the work pattern of various employees under him. In fact, KSRTC is one the largest public sector undertakings in the state which is also the largest loss-making corporation. Actually, I'm able to critically look into the system because I'm new to this sector. There are many issues in our corporation that needs to be addressed. We have started troubleshooting them one by one. On March 30th, we managed to disburse the monthly salaries of all employees. Usually, this is done only in the first or second week."
After a brief chat with India Today, Thachankary resumed his duty, walking the whole length of the bus, giving tickets and guiding the driver.
Written By – P S Gopikrishnan Unnithan.