How to Get from Kuala Lumpur to Singapore (Train, Bus, Plane)?
Are you traveling in Southeast Asia and want to know the best way to get from Kuala Lumpur to Singapore? Check our post below comparing 3 ways to make this travel and see what suits best to your travel needs.
Note : There are no Transit visa in Singapore. You have to apply proper tourist visa to Singapore before hand through an authorized visa agent or online.
Kuala Lumpur to Singapore: What you Should Know
Kuala Lumpur is the capital of Malaysia and Singapore is one of the wealthiest countries in Asia. These two cities are actually pretty close from one another, at a distance of just 350 kilometers. If you are traveling to Southeast Asia, they are definitely two of the most interesting places to visit in the region.
Traveling from Kuala Lumpur to Singapore is pretty easy and you will have plenty of options. You can take a bus, drive a car, fly or even ride the train from KL to Singapore. Most of the options are pretty affordable, and widely available in terms of schedule. Its important to remember that you will have to go through immigration on the border between Malaysia in Singapore, regardless of the type of transport.
Kuala Lumpur to Singapore by Bus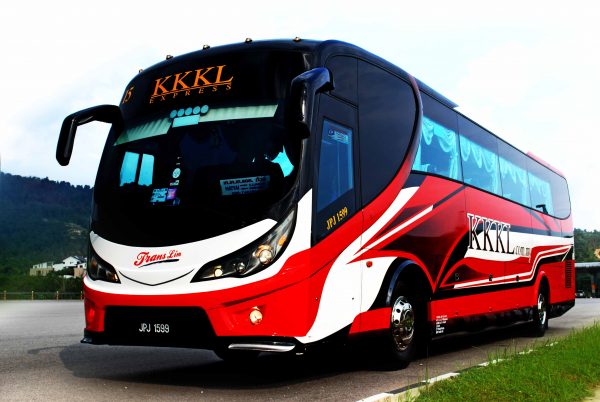 Road conditions from Kuala Lumpur to Singapore are really good, and there are many great bus operators in this route. In fact, considering the bus services and the fact that you start and end your journey in the city center, this is my favorite option.
There are many high class bus services, and you can get very comfortable seats for a quite low price. Many buses have WiFi which definitely help to pass time and make the journey go faster. Finally you still get to see the palm tree plantations in the countryside of Malaysia. The immigration process is also pretty smooth when traveling by bus, and even simpler than by plane.
Here is a timetable from some of the bus companies operating in this route. There are also many companies which run buses from KL to Singapore but are not in this timetable: Kuala Lumpur – SingaporeMore info / Tickets.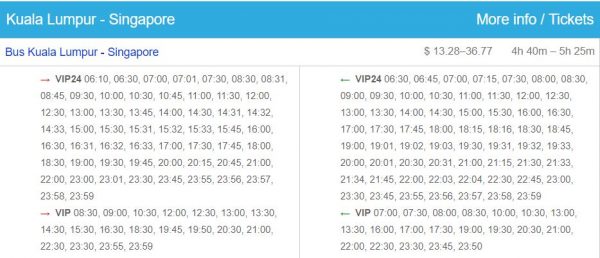 How to buy bus tickets from KL to Singapore
Buying bus tickets from Kuala Lumpur to Singapore is very easy and can be done online. Almost all (if not all) bus companies operating in this route allow you buy tickets online.
Some of the popular buses running from Singapore to KL are:
Numerous bus companies use one portal for reservations: https://www.busonlineticket.com.
Here are some websites allowing you to buy bus tickets from KL to Singapore.
EasyBook – one of the biggest travel websites in Southeast Asia and a great place to buy bus tickets in Malaysia and Singapore.
BusOnlineTicket – another great option to buy bus tickets in Malaysia and Singapore.
12go.asia – a great website for traveling in Southeast Asia, selling tickets for trips in various ASEAN countries.
Pros
Comfortable buses, often with WiFi
Departure from central Kuala Lumpur
High number of schedule options
Cons
Approximately 6 hours trip
Tips for Crossing the Border
Have your exit card ready and preferably marking the page in your passport that has your last stamp so that the border agent doesn't have to search for it.
Take off your hat and sunglasses. Don't use your phone in the immigration area.
Have your entry card for Malaysia completely filled out before getting into the immigration queue.
Bring your daybag/valuables with you rather than leaving them on the bus while you wait in the queue.
If coming from Malaysia into Singapore, remember that Singapore has very strict customs laws and restrictions for bringing in alcohol and cigarettes. You must declare whatever you are carrying or risk a big fine.
Smile, be courteous, and answer any questions: the agent's stamp wields a lot of power!
Kuala Lumpur to Singapore by Train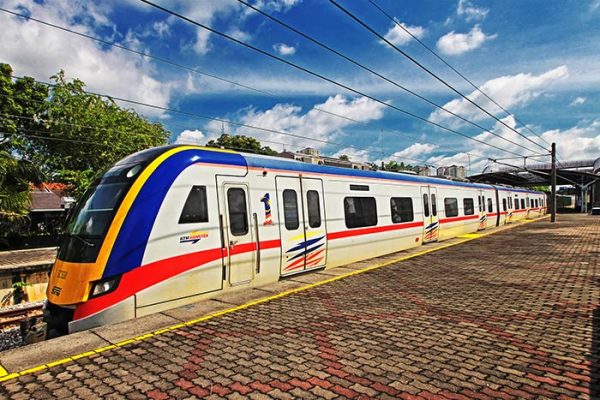 Not long ago, it was possible to take a direct train from Kuala Lumput to Singapore. This was probably one of the easiest and most comfortable options to travel from Kuala Lumpur to Malaysia. However, as of the beginning of 2018 there is no direct train line between these two countries.
That means, in order to travel from Kuala Lumpur Sentral station to Singapore, connections are required. Normally you will have to connect in Gemas and also in Johor Bahru, the last Malaysian city before Singapore. For that reason this trip is rather unpractical and is only a good idea if you are really a fan of trains.
Due to the connections in Gemas and Johor Bahru, followed by the border crossing, the train ride is also several hours longer than the bus.
How to buy train tickets from KL to Singapore
KTM operates the train service from Kuala Lumpur to Johor Bahru, and also a shuttle service from Johor Bahru to Singapore. You can buy the ticket online for all the journey. Click here to buy train tickets in Malaysia and Singapore on Easybook.
Pros
Great experience to enjoy Railways in Malaysia
Good option if you will visit Johor Bahru
Cons
Slowest option
Several connections required
Kuala Lumpur to Singapore by Plane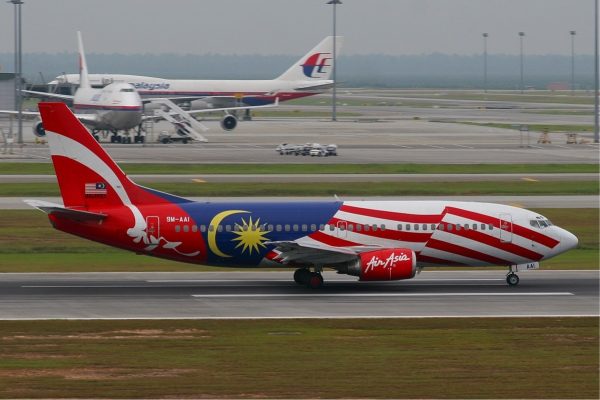 Traveling by plane from Kuala Lumpur to Singapore is certainly the fastest way to get between these two cities. However it is the less scenic way especially if you want to see the country side of Malaysia.
The one hour flight from KL to Singapore is pretty sure, and there are a number of airlines connecting these two cities directly. As you probably know, traveling by air requires arriving early at the airport for checking in and dropping your baggage. Even considering this extra time, flying is often faster than the bus or train however, not always).
It is also important to notice that there are two main airports in Kuala Lumpur. While some companies operate in the Kuala Lumpur International Airport, others use the Kuala Lumpur Sultan Abdul Azziz Shah Airport. Some of the companies operating on this route are Air Asia, scoot, Jet Asia, Malindo Air, Firefly and Silkair.
How to buy flight tickets from KL to Singapore
You can check Our Flight Tickets Search on the route from Kuala Lumpur to Singapore.
Pros
Fastest way to travel
Various airlines options
Good if you have a connecting flight in Singapore
Cons
Waiting to board in airport
Missing out the beautiful Malaysian countryside
Source – checkinprice, tripsavy.