Here is how you can contribute to Bharat Ke Veer
Bharat Ke Veer is a fund-raising initiative by the Ministry of Home Affairs, Government of India on behalf of members of the Indian paramilitary Forces.
The initiative was launched by Akshay Kumar and Rajnath Singh. It allows donations of up to ₹ 15 lakhs to an individual's account and donations to the "Bharat Ke Veer" corpus.
Bharat Ke Veer corpus would be managed by a committee made up of eminent persons of repute and senior government officials, in equal number, who would decide to disburse the fund equitably to the bravehearts family on need basis.
The amount so donated will be credited to the account of 'Next of Kin' of those of Central Armed Police Force (all seven) or National Disaster Response Force soldiers.
The official anthem of Bharat Ke Veer' was launched on 20 January 2018 by Home Minister Rajnath Singh along with bollywood actor, Akshay Kumar and other ministers Kiren Rijiju and Hansraj Ahir.
Home Minister Rajnath Singh also cautioned people against falling prey to platforms seeking fake donations. "It is also reported that some unscrupulous elements are soliciting contributions from people through other accounts. It is advised that people desirous of supporting families of martyrs of CAPFs should only contribute through the website bharatkeveer.gov.in," the Home Minister tweeted.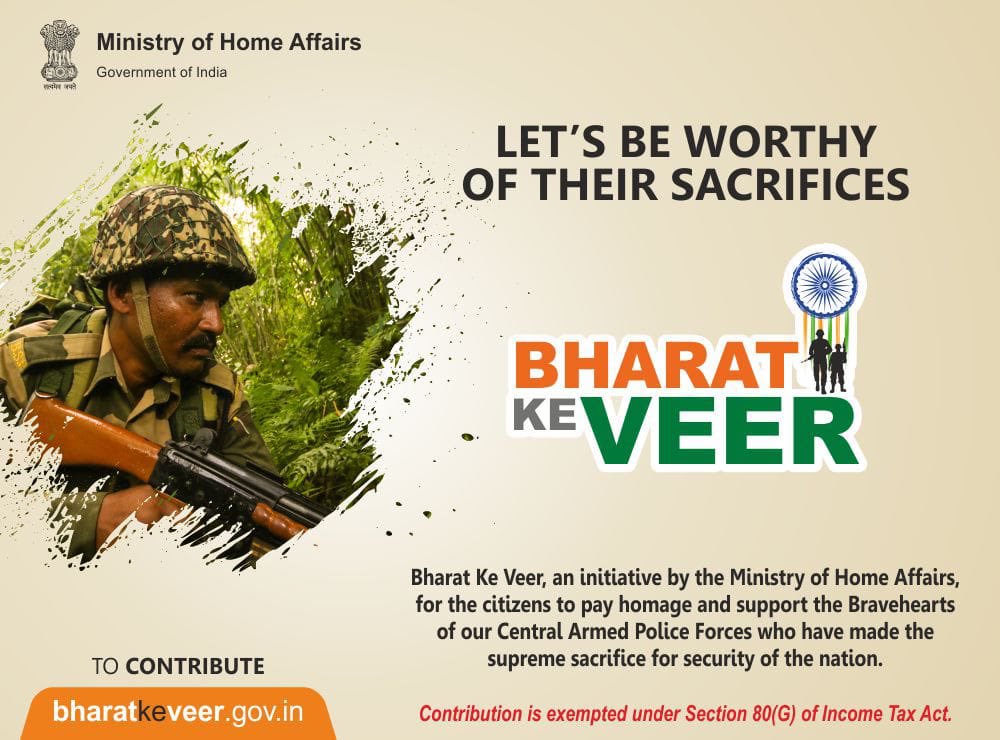 State Bank of India has created a UPI for Bharat Ke Veer initiative to help people make their monetary contributions easily. For all contributions made through this portal, Certificates will be generated only after the transaction is cleared through payment gateway. It may take 24 Hrs. to 72 Hrs. in some cases.
Certificates for contributions made through [email protected] will be generated later.
Bharat Ke Veer is a trust into which public can contribute voluntarily to support families of martyrs of Central Armed Paramilitary Forces – BSF, CRPF, CISF, ITBP, NDRF, NSG, SSB and Assam Rifles. This fund is managed by a committee comprising of Director Generals of CAPFs under the aegeis of the Ministry of Home Affairs.
Here is how you can make a donation
*Go to bharatkeveer.gov.in
*Click on Contribute To tab on the top and select Bharat Ke Veer Corpus Fund.