As a step towards launch of ethanol-run buses on commercial basis throughout India, the first ever bus running in the city on pilot basis has been taken for final test. Swedish bus maker Scania took the bus for homologation test to be conducted by Central Institute of Road Transport (CIRT). Homologation test is meant to ensure a vehicle meets the regulatory requirements of the country.
Mayor Pravin Datke told TOI the test will be conducted at Vehicle Research and Development Establishment (VRDE), Ahmednagar. "NMC had already requested city-based National Environmental Engineering Institute (NEERI) to conduct eco-friendly assessment test of the bus. NEERI conducted the tests and reports are awaited. Now CIRT has called the bus for homologation test which is considered as last examination," he said.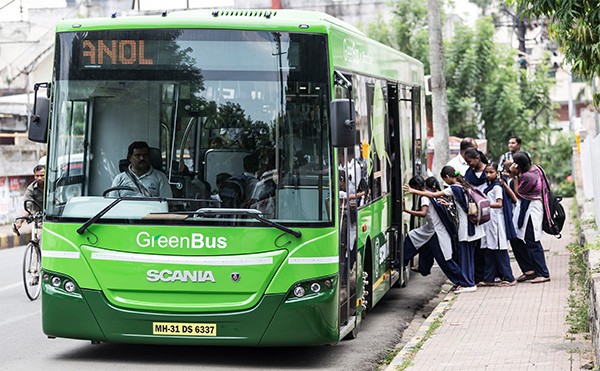 Datke added that the central government was likely to fund procurement of 55 ethanol-run buses for the city. "NMC had approved the proposal and submitted it to the Centre. NMC will run all 55 Green Buses and become role model for the entire nation in eco-friendly public transport," he said.
NMC sources told TOI bus was supposed to be taken to Automotive Research Association of India (ARAI), Pune, for final test. "Government seems to want CIRT to test the bus. Now ARAI testing will not be required. Homologation certification must to launch any new or modified vehicle commercially," they said.
Union minister for road transport and highways Nitin Gadkari initiated use of ethanol-run buses for public transport. He managed to get the bus for pilot test with the help of NMC in city. Soon after assuming charge, Gadkari launched the pilot project on August 22, 2014. On that day itself, Gadkari had claimed to get approval for 500 ethanol-run buses from the Centre.
The pilot project was to be launched with five but it was eventually done with only one bus and was supposed to be complete by November 2014. The project was extended to May this year and will now run up to August. Claiming the trial run was successful, Sivakumar V, director (sales) of Scania, said, "The bus will be handed back to NMC for operation after homologation test by month end. Nagpur is the first city to adopt the environment friendly technology. It has attracted a lot of interest from other states as well. NMC was very supportive to take the bus off for homologation testing. Now there is huge interest in biofuel-powered buses that are viewed as a solution to tackle climate change and create employment opportunities as well as reduce the nation's dependence on imported fossil fuels," he said.
Based on the bus' daily operation report, TOI had highlighted that the it cannot be viable for city bus service. Not only is the mileage of the bus, at 1.33 to 1.56 kilometre per litre, less than half that of diesel-run buses, but the cost of the bus is also 3-5 times more. Considering the past experiences, the bus is likely to get clearance in all tests especially with Gadkari's backing.
News: Times of India