The cash-strapped Kerala State Road Transport Corporation (KSRTC) have been incurring heavy losses in widely-profit making routes, for the past two months, because of its failure to repair the Electronic Ticket Machines (ETMs).
For eg, the Aroor-Cherthala route, which receives an average collection of Rs 10,000 per single shuttle service have been witnessing a decline of `1,000 on most days. The Ernakulam-Guruvayoor, Aluva-Ernakulam and Perumbavoor routes are also facing similar issues due to the dearth of ETMs used for issuing spot tickets.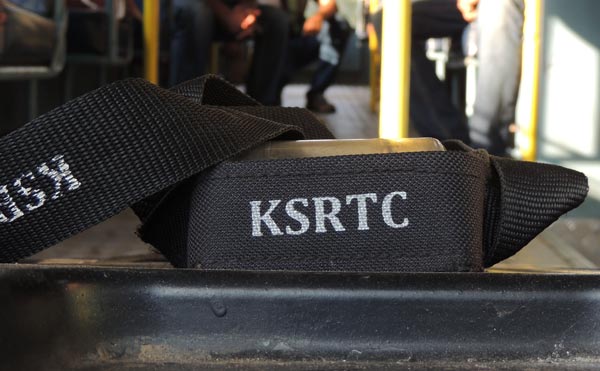 "The failure of the corporation in fixing the Electronic Ticket Machines (ETM) in a time-bound manner is discouraging personnel from performing their duty. It is reported that per day, at least ten 10 to 15 services from major depots are being cancelled," said a top-level officer with the KSRTC.
CITU-affiliated Kerala State Road Transport Employees Association (KSRTEA) Ernakulam district secretary T P Venu said that many of the newly-appointed conductors are taking duty leave because they are not provided with the ETMs. "Most of the machines are in need of repair since they have been in use for the past four years. However, the KSRTC has failed in undertaking due responsibility for the repair," Venu said. Ordinary buses, which have more passenger patronage, are the most affected as conductors without machines find it difficult to keep tab on them. "By the time, we reach the passengers in the front or back, they would have gotten down," a conductor said. Instead of repairing the machines, the KSRTC management has asked the employees to make-do with the old rack system which requires more manual effort.
Most of the conductors who are new recruits, have only been trained in using the user-friendly ETM's, and feel discouraged because of the old system. According to officials, the reluctance of the conductors is usually seen whenever they are asked to do 'Double duty' (a priority in the Corporation given the fact that there is a paucity of conductors).
The KSRTC which is planning to introduce ticketing machines with GPS in the next few months, is looking at companies which can provide such products. Since, these companies would be losing a major bulk buyer, they have opted out as part of their non-cooperation. Transport Secretary Elias George said the issue would continue for few more months till the GPS-enabled ticketing machines are in place.
He however said the department would have to investigate why the repairs were not taking place.
Source: The New Indian Express