Now passengers can finally rely on city bus timings given out by the hub authorities. This is due to the introduction of the punching system for private buses on Saturday that will record the time in and time out of the buses besides ensuring that not even a single trip is cancelled.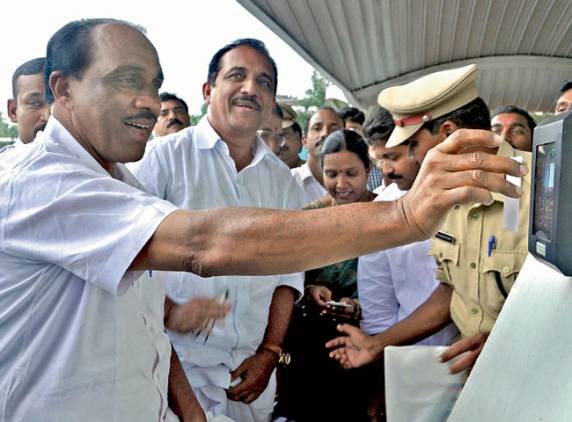 A tie-up with the city traffic police, under the initiative of the hub authorities, has ensured that the staff of every bus needs to swipe a card — that has already been provided to them — upon entering the hub.
This will record and compare the time of arrival with the original scheduled arrival time.
"Upon swiping the card, the details of the bus will be transferred to the control room through a computer networking system. Authorities can immediately take action if the bus is delayed or times are not recorded even after the scheduled arrival," said hub MD M. Beena.
Currently, there are complaints that many buses to destinations like Titiyoor, Eroor and Kumbalam cancel their trips during non-peak hours and many other buses skip the hub.
This system will also cut out racing by "killer" buses. "In many routes in Ernakulam city like the Aluva-Mattancherry and Aluva-Kakkanad routes, the gap between two buses is only one minute which often leads to their competing with each other," the minister said.
At present, conductors have to go to the machine on platform three and swipe the card. Mayor Tony Chammani hoped an advanced system of the process would be set up in the hub shortly under which details of the bus would be automatically recorded when it entered the hub.
Meanwhile, KSRTC buses may be exempt from the exercise. "It's not possible for our long-distance buses coming from destinations as far as Bengaluru and Coimbatore. A lot depends on the road traffic," said KSRTC zonal officer Sebastian Thomas.
Source: Deccan Chronicle