Transport Minister Aryadan Mohammed said that a KSRTC bus service will be started from Arthungal in Alappuzha district to Velankanni in Tamil Nadu within a week.

Speaking before flagging off the passenger-cum-tourist boat service as part of the 'See Kuttanad' project of the State Water Transport Department here on Wednesday, Mr. Mohammed said that he was seeking a week's time to get the bus ready for the purpose. The Minister's announcement came following a demand for the same from the Union Minister of State for Power K.C. Venugopal.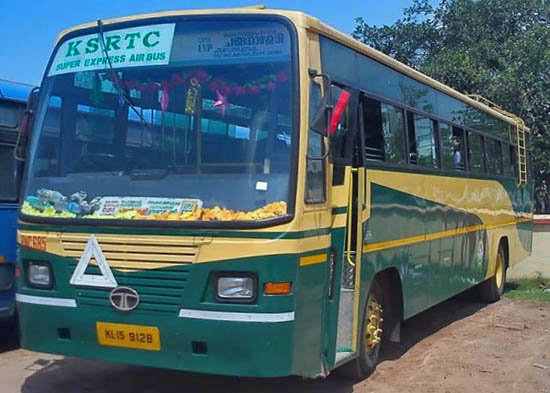 ആകെപ്പാടെ ഒരു വേളാങ്കണ്ണീ സർവ്വീസും ഉണ്ട്, അത് ഹരിപ്പാട് നിന്നു വേണോ അതോ ആലപ്പുഴയിൽ നിന്നു തുടങ്ങണോ അതോ കേരളം മുഴുവൻ ചുറ്റി പോണോ?
ഞാൻ ഒരു റൂട്ട് സജസ്റ്റ് ചെയ്യാം, തിരുവനന്തപുരത്ത് നിന്ന് തുടങ്ങി, കൊല്ലം, കൊട്ടാരക്കര, പത്തനാപുരം, പത്തനംതിട്ട, തിരുവല്ല, ചങ്ങനാശ്ശേരി, ആലപ്പുഴ, ആർത്തുങ്കൽ, എറണാകുളം, കൂത്താട്ടുകുളം,  പിറവം, മൂവാറ്റുപുഴ, കോതമംഗലം, ത്ര്ശൂർ, പാലക്കാട് വഴി വേളാങ്കണ്ണിക്ക് പോകട്ടെ, അപ്പോൾ എല്ലാ എം എൽ എ മാരുടെയും മണ്ഡലത്തിലൂടെ വേളാങ്കണ്ണി ബസ്സ് ആകും. 😛 😛 😛