Stating huge losses, the Kerala State Road Transport Corporation has threatened to pull out its services from the Vyttila Mobility Hub. The failure of private buses to operate services on a timely basis from the hub is being cited as the reason.
The KSRTC has incurred a loss of Rs 20 lakh to Rs 30 lakh last month alone, the officials say. "This was mainly because the private buses were lobbying many of the passengers from outside the hub. Most of the private buses plying in the Tripunithura route never entered the hub after 8 in the night or before 8 in the morning," they said. The rule says all the buses should operate from the hub round the clock. But this is hardly followed by private buses.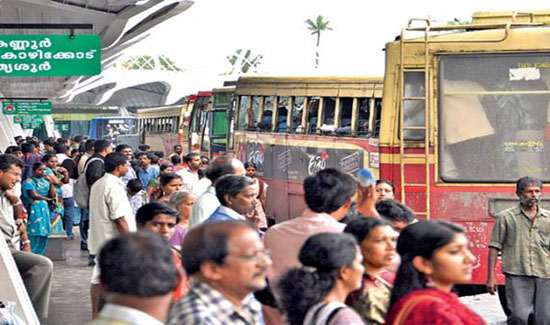 The private buses are flouting the norms though it is mandatory for all buses to go through the hub," said Venu, district secretary of the Kerala State Road Transport Employees Association.
The KSRTC officials allege that the police who monitor the services in the night were hand in glove with the private bus operators.
However, the private bus operators have refuted the statements and claim that all their services pass through the hub till 10.30 pm.
"It is not our fault if the passengers prefer our services. The allegations are baseless," Nawas K of Private Bus Operators Union said.
The KSRTC unions have brought the issue before the State Transport Officer. They plan to send a statement to Mobility Hub managing director M Beena and City Police Commissioner stating that they would withdraw their services if no action is taken within a week.
"We are not willing to run the servicessuffering a huge loss and we will counter every action that threaten us," Venu said.
However, Beena said the issue has not come to her notice.
"The KSRTC need not take a threatening stand. We are planning to install the Radio Frequency Identification Control Access System (RFID) next week, which will strictly monitor the entry of all buses," she said.
Source: Express Buzz